Meeting Breivik Halfway
August 5, 2011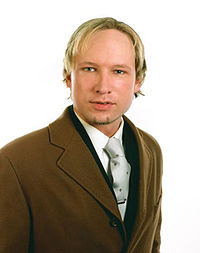 "When the smoke cleared from [Anders] Breivik's terrorist rampage across Norway," writes journalist Max Blumenthal, "American Islamophobes went into intellectual contortions, condemning his acts while carefully avoiding any criticism of his views."
Indeed, while much of the discourse in the early hours of Breivik's attacks pivoted around the assignment of blame — with prominent neoconservatives and Islamophobes, along with many in the mainstream media, erroneously divining "jihadist" origins in the attacks — subsequent developments have revealed far more profound malignancies than mere prejudice or journalistic laziness. Breivik's 1,500-page manifesto explicating his anti-Islamic proclivities — along with his passionate support for the state of Israel and his hatred for multiculturalism, or "cultural Marxism" — offers considerable praise to prominent American Islamophobes like Robert Spencer, Pamela Geller, Daniel Pipes, and Frank Gaffney, among many others. Commenting on the irrevocably American provenance of these influencers, Right Web contributor Jack Ross situates these actors within a broader mode of paranoid American politics. "There is no denying that Breivik's manifesto and beliefs are rooted in a distinctly post-9/11 ideology of anti-Islamism," he writes. "This relatively new ideology of anti-Islamism reveals much about the deeper pathologies in current U.S. politics."
To discover that the assailant was a right-wing extremist who had so thoroughly and approvingly referenced their own work (or that of their fellow travelers) was undoubtedly an uncomfortable moment for those pundits who had so eagerly pinned the blame on European Muslims. Some, like the Washington Post's Jennifer Rubin or Red State's Erick Erickson, issued half-retractions, more or less admitting their error but explaining their prior assumptions on the grounds that Muslims are somehow more prone to violence than Christians or "blond Norwegians."
But if these figures have merely affirmed their right to their own prejudices, others have all but endorsed the rationale for Breivik's attacks, either by signifying their agreement with Breivik's political views or else casting aspersions on the victims of his shooting spree at Utoya. MSNBC contributor and former GOP presidential candidate Pat Buchanan, for example — if not a militarist on all matters of foreign policy, then certainly an Islamophobe with a history of making racist remarks — speculated that "Breivik may be right" about "a climactic conflict between a once-Christian West and an Islamic world."
Piling on, commentator Glenn Beck likened the Labor Party youth retreat where Breivik killed 68 people to a "Hitler Youth" camp. Daniel Greenfield, writing for David Horowitz's deeply anti-Islamic FrontPageMag, disagreed slightly. Beck, he writes,"was close, but not entirely right. The roots of the Workers Youth League are actually Communist. … The Utoya camp literally was a Communist youth camp." He adds that, like the Germans of the 1930s, today's "Norwegians are encouraged to blame their problems on the Jews."
This last remark is certainly puzzling, but it may be a bizarre allusion to the suggestion by Norway's ambassador to Israel that Israeli policy in the Occupied Territories may influence the occurrence of Palestinian terrorism, a suggestion that incensed many on the right. Similarly, some Utoya campers were photographed prior to the shooting demonstrating support for the anti-occupation BDS movement and the Gaza Freedom Flotilla.
This last revelation caused Pamela Geller, founder of the blog Atlas Shrugs and a leading anti-Islamic crusader in the United States, to intone that "the jihad-loving media never told us what antisemitic war games [the campers] were playing on that island. Utoya Island is a Communist/Socialist campground, and they clearly had a pro-Islamic agenda." She says the camp was "not Islamist," but determines that it was nonetheless something "not much more wholesome." While ostensibly condemning the attack, she adds that there is "no justification for Norway's antisemitism and demonization of Israel," and that Beck "was not far off when he compared [the camp]" to the Hitler Youth. More troublingly, Think Progress' Lee Fang notes that in a now-removed caption to a photo of the campers, Geller said to "Note the faces which are more MIddle Eastern [sic] or mixed than pure Norwegian," injecting an unabashed racial element to her critique.
These writers have not called for a Breivik-style assault on Muslims or members of the Western left. But the militarist intonation of such Islamophobia is hard to miss. "They [prefer]," writes Blumenthal, "the 'shock and awe' brand of state terror perfected by Western armies against the brown hordes threatening to impose Sharia law on the people in Peoria." Nonetheless, their subsequent endorsements of Breivik's "clash of civilizations" worldview and their screeds against the campers at Utoya suggest that they are discreetly celebrating his choice of target, even as they are condemning his methods.
U.S. Islamophobes are meeting Breivik halfway, issuing statements that are perilously close to Breivik's own assessment of his actions: "atrocious, but necessary."
— Peter Certo