Richard Grenell
last updated: February 25, 2019
Please note: The Militarist Monitor neither represents nor endorses any of the individuals or groups profiled on this site.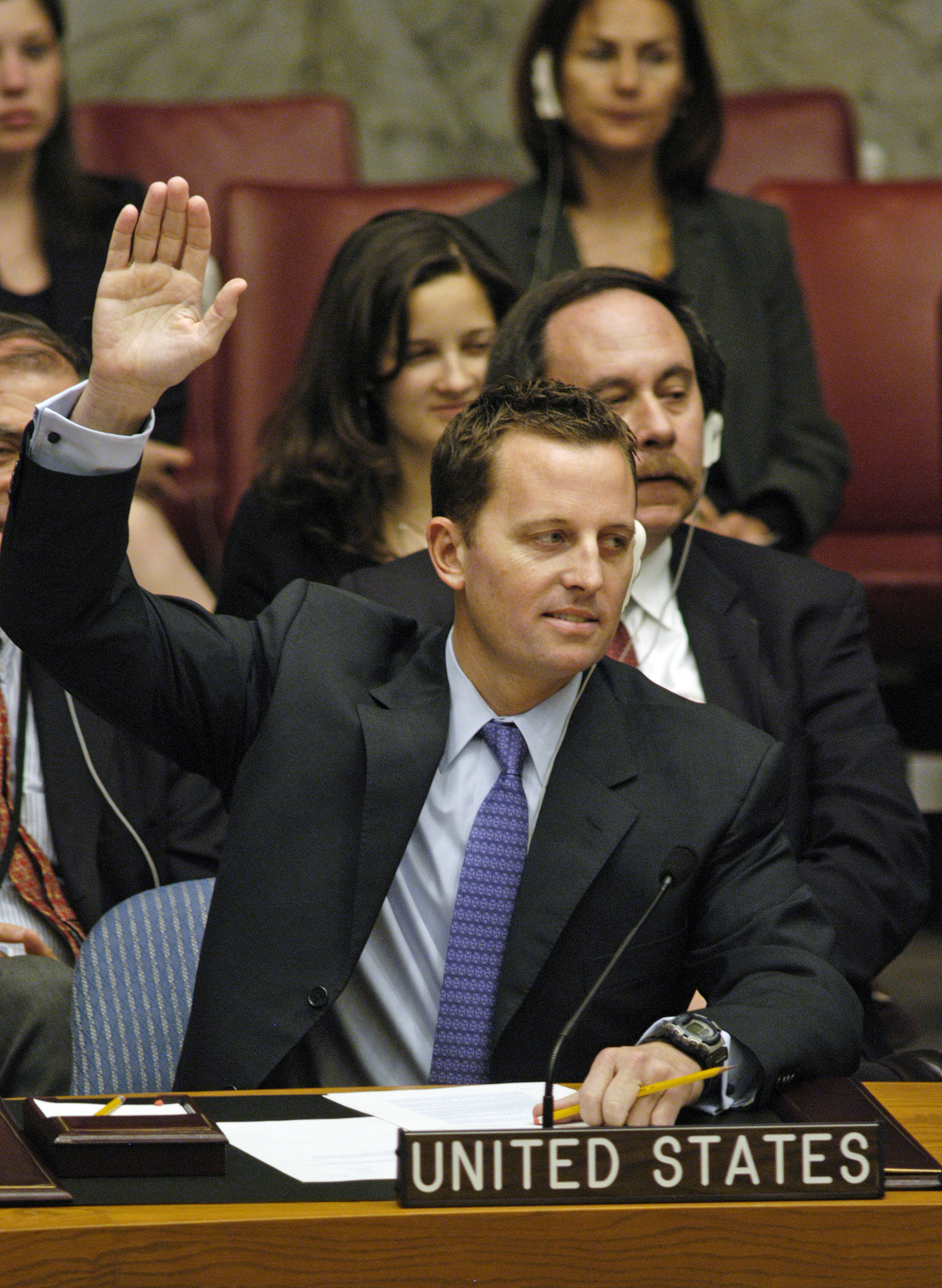 AFFILIATIONS
Capitol Media Partners: Founder
Newsmax Media: Advisory Board (former)
Langley Intelligence Group: Advisory Board (former)
GOVERNMENT
Ambassador to Germany (2018- )
Director of Communications and Public Diplomacy, Ambassador to the United Nations: (2001-2008)
EDUCATION
Harvard University, John F. Kennedy School of Government:Masters, Public Administration
Evangel College: Bachelors, Government and Public Administration
Richard Grenell is the U.S. ambassador to Germany for the Donald Trump administration. Trump considered him for the post of ambassador to the United Nations twice, before settling first on Nikki Haley[1] and then on Kelly Knight Craft.[2] During the administration of George W. Bush he served as director of communications and public diplomacy for the ambassador to the United Nations, working with ambassadors John Negroponte, John Danforth, John Bolton and Zalmay Khalilzad.
Grenell is an advocate for gay rights, including marriage equality and decriminalization of homosexuality around the world. In February 2019, he announced that he would be leading a U.S. push to decriminalize homosexuality, although the State Department had not yet made a formal announcement of such a program. According to Grenell, the campaign would target all countries where homosexuality is still illegal, but he raised concerns by singling Iran out for criticism, after recent reports of the hanging of a gay man in the Islamic Republic.
"This is not the first time the Iranian regime has put a gay man to death with the usual outrageous claims of prostitution, kidnapping, or even pedophilia. And it sadly won't be the last time," Grenell wrote. "Barbaric public executions are all too common in a country where consensual homosexual relationships are criminalized and punishable by flogging and death."
Whether he could find a way to use this cudgel against Iran in a way that would not also affect U.S. allies—particularly in the Middle East—was unclear.[3]
A controversial ambassador
In April 2018, the Senate confirmed Grenell as ambassador to Germany. The vote was not an easy one, as Democrats raised concerns about his history, mostly on Twitter, of comments disparaging women. A spokesperson for Sen. Jeff Merkley (D-OR) said there were worries about Grenell's "significant history of making misogynistic and other incendiary statements online." She also noted that Grenell was "dismissive" of concerns about Russian meddling, a concern since Germany was a key NATO ally in any confrontation with Russia.[4]
LGBT groups associated with both parties greeted Grenell's appointment with enthusiasm. The president of the Log Cabin Republicans—a conservative LGBT group—said, "Despite the interminable delays of Democrats hell-bent on standing on the wrong side of history, today the United States Senate confirmed a gay nominee not 'in spite of' Republicans, or 'with Republican support,' but because of Republican support."
Similarly, the chairman of the Democratic National Committee's LGBT caucus said, "Having a Republican president appoint an openly gay man as an ambassador to one of our important allies such as Germany speaks volumes to the influence that the LGBTQ [community] has in politics in the United States."[5]
Grenell found himself embroiled in controversy again, mere hours after assuming his post in Germany. Donald Trump had pulled out of the Iran nuclear deal the same day, and Grenell, over Twitter, warned German businesses to wind down any dealings with Iran "immediately." This was viewed in Germany as insulting and interpreted as a threat.[6] One German ex-ambassador replied to Grenell, tweeting, "Ric, my advice, after a long ambassadorial career: explain your own country's policies and lobby the host country—but never tell the host country what to do, if you want to stay out of trouble. Germans are eager to listen, but they will resent instructions."[7] Grenell was unapologetic, stating that he had simply repeated the White House talking points.[8]
Only a few weeks later, another controversy boiled around Grenell. In an interview with the alt-right publication Breitbart News, Grenell said "I absolutely want to empower other conservatives throughout Europe, other leaders. I think there is a groundswell of conservative policies that are taking hold because of the failed policies of the left." He emphasized that he wanted to empower "anti-establishment" conservatives.[9]
The German foreign ministry immediately asked for clarification, and German politicians responded with indignation. One parliamentarian said, "In the past, Germany was fortunate to have had great US ambassadors who built bridges and did not do party politics. … I am irritated to hear from Ambassador Grenell about our allegedly failed policies. … I hope this irritation will not be repeated."
Another German MP said bluntly, "At least the Russians make an effort not to be seen to be meddling in other countries' affairs."[10]
Over the next few days, German calls for Grenell's expulsion grew, and even some U.S. politicians and former diplomats considered recalling him. But, as one observer pointed out, given President Trump's own prickly relations with Germany, Grenell was not the main issue.[11] He stayed out of the news for a while, and the Department of State came to his defense, with spokesperson Heather Nauert stating, dubiously, that an ambassador has a right to free speech, and that sometimes others may not like his opinions.[12]
Although calls for his ouster eventually subsided, Grenell remained isolated in Germany. In December 2018, after the revelation that a reporter for the German newspaper Der Spiegel had fabricated numerous stories, Grenell wrote a letter to the editors of the paper. He said that the reporter was symptomatic of a campaign of anti-American institutional bias in the mainstream German media.[13]
When a Der Spiegel reporter was preparing an article on Grenell in January 2019, he responded to a list of questions by accusing the reporter of pushing a "false narrative" with anonymous sources. As a result, the article was based on interviews "more than 30 sources who have come into contact with Grenell." The result was "…an unflattering portrait of the ambassador, one remarkably similar to Donald Trump." They described Grenell "as a vain, narcissistic person who dishes out aggressively, but can barely handle criticism. His brash demeanor, some claim, hides a deep insecurity, and they say he thirsts for the approval of others."
Der Spiegel reported that few, aside from members of the extreme right Alternative for Germany party, wanted to associate with Grenell at all. The mainstream of German politics, including Chancellor Angela Merkel shunned him.[14]
Career Trajectory
In 2012, Grenell was a spokesman for Mitt Romney in his bid for the White House, making him the first openly gay spokesman for a Republican presidential candidate.[15] While conservative foreign policy experts applauded his appointment, social conservatives criticized Romney for bringing a gay man on to his team. Recalling anti-gay slurs from earlier periods, critics made the case that Grenell's identity made him untrustworthy. One conservative columnist mused, "Suppose Barack Obama comes out—as Grenell wishes he would—in favor of same-sex marriage in his acceptance speech at the Democratic National Convention. How fast and how publicly will Richard Grenell decamp from Romney to Obama?"[16] Grenell's personal history—having worked as a communications staffer for numerous well-known Republicans including Newt Gingrich, when other gay rights issues could have similarly tempted him—did not change the conservative calculus.
Grenell did not help his position by stirring up controversy with tweets that many perceived as sexist. He attacked the appearances of then-secretary of state Hillary Rodham Clinton, MSNBC commentator Rachel Maddow, and Newt Gingrich's then-wife, Callista.[17]
After two weeks, Grenell resigned. While some thought his Twitter activity might have been the cause, most believed it was his identity that had led to his departure. Conservative columnist Jennifer Rubin reported, "Although Grenell also raised the ire of liberal commentators with now-deleted tweets about certain prominent women, none of the sources I spoke with mentioned the tweets as a factor in his resignation decision."[18]
In 2009, Grenell established Capitol Media Partners, a communications and media strategy firm in Los Angeles. He was a regular contributor to Fox News until his appointment as Donald Trump's ambassador to Germany,[19] and his writing appeared in many mainstream and right-wing outlets.
Grenell was a vocal critic of the policies and effectiveness of Barack Obama. For example, in December 2009, as Obama was finishing his first year in office, Grenell wrote, "Internationally, it may now appear to be more popular but that is largely because we are not asking countries to do much these days. The Obama team is not leading the world. They have chosen the easy path of non-confrontation. …Sadly, the administration has confused popularity with progress." On Iran, he described Obama's policy as "a complete failure and has only strengthened Iran's resolve." He condemned Obama's call for a freeze on Israeli settlement building a "misstep" and lectured him, saying "Obama must learn that the Palestinians and the Israelis must each bargain and agree to the terms of any peace deal on their own if it is to last."[20]
In November 2012, when Obama become the first U.S. president to visit Burma. Grenell used the opportunity to credit the first free elections in the Southeast Asian country—which occurred under Obama's watch in 2010—to the "hard work" of the George W. Bush administration for which he had worked, and to again lambast Obama for doing little work of his own. He asserted that Obama's "administration has refused to do the heavy lifting necessary for future presidents to celebrate others' achievements," and had ridden Bush's coattails to his own victorious moments. "It's a selfish strategy that will undoubtedly produce great headlines today but leaves more work and less ribbon cutting for the next president. Ironically, President Obama's victory lap in Burma today is also the direct result of the unilateral actions of the previous administration—actions he routinely ridicules."[21]
SOURCES
[1] David Martsoko, "Trump picks openly gay former diplomat and cancer survivor Ric Grenell as ambassador to Germany," Daily Mail, September 4, 2017, https://www.dailymail.co.uk/news/article-4851124/Trump-picks-openly-gay-diplomat-ambassador-Germany.html
[2] Kylie Atwood, "Candidates vie to be Trump's next UN ambassador," CNN, February 21, 2019, https://www.cnn.com/2019/02/20/politics/un-ambassador-candidates/index.html
[3] Josh Lederman, " Trump administration launches global effort to end criminalization of homosexuality," NBC News, February 20, 2019, https://www.nbcnews.com/politics/national-security/trump-administration-launches-global-effort-end-criminalization-homosexuality-n973081
[4] Antonia Blumberg, "Senate Confirms Richard Grenell, Trump Nominee For Ambassador To Germany," Huffington Post, April 26, 2018, https://www.huffingtonpost.com/entry/senate-confirms-richard-grenell-trump-nominee-for-ambassador-to-germany_us_5ae1fb3ae4b02baed1b7e9f4
[5] Ariel Jao, "Openly gay U.S. ambassador to Germany makes Republican history," NBC News, April 27, 2018, https://www.nbcnews.com/feature/nbc-out/openly-gay-u-s-ambassador-germany-makes-republican-history-n869641
[6] Rick Noack, "Hours into his new job, Trump's ambassador to Germany offends his hosts," Washington Post, May 9, 2019, https://www.washingtonpost.com/news/world/wp/2018/05/09/hours-into-his-new-job-trumps-ambassador-to-germany-offends-his-hosts/?utm_term=.ebd108944b48
[7] Wolfgang Ischanger, Twitter, May 9, 2018, https://twitter.com/ischinger/status/994113518604636160
[8] Antonia Blumberg, "New U.S. Ambassador To Germany Offends Hosts Just Hours Into His First Day," Huffington Post, May 9, 2019, https://www.huffingtonpost.com/entry/new-us-ambassador-to-germany-offends-hosts-just-hours-into-his-first-day_us_5af337d2e4b0859d11cfcd5f
[9] Chris Tomlinson, "Trump's Right Hand Man in Europe Wants To 'Empower' European Anti-Establishment Conservatives," Breitbart News, June 3, 2018, https://www.breitbart.com/europe/2018/06/03/trumps-right-hand-man-in-europe-wants-to-empower-european-anti-establishment-conservatives/amp/?__twitter_impression=true
[10] Philip Oltermann, "New US ambassador to Germany under fire for rightwing support," Guardian UK, June 4, 2018, https://www.theguardian.com/world/2018/jun/04/new-us-ambassador-to-germany-under-fire-for-rightwing-support
[11] Joshua Keating, "Germany's Real Problem Isn't With Trump's Trollish Ambassador. It's With Trump," Slate, June 7, 2018, https://slate.com/news-and-politics/2018/06/germanys-real-problem-isnt-with-trumps-trollish-ambassador-its-with-trump.html
[12] Robbie Gramer, "State Department Defends Trump's Man in Berlin After Diplomatic Firestorm," Foreign Policy, June 6, 2018, https://foreignpolicy.com/2018/06/06/state-department-diplomacy-defends-richard-grenell-breitbart-interview-germany-calling-for-expulsion-trump-white-house-transatlantic-relations/
[13] Kate Connolly and Josie Le Blond, "Der Spiegel takes the blame for scandal of reporter who faked stories," Guardian UK, Devcember 23, 2018, https://www.theguardian.com/world/2018/dec/23/anti-america-bias-der-spiegel-scandal-relotius
[14] Konstantin von Hammerstein, "Trump's Ambassador Finds Few Friends in Germany," Der Spiegel, January 11, 2019, http://www.spiegel.de/international/world/u-s-ambassador-richard-grenell-is-isolated-in-berlin-a-1247610.html
[15] "Richard Grenell," U.S. Department of State, April 26, 2018, https://www.state.gov/r/pa/ei/biog/281314.htm
[16] Michael Barbaro, Helene Cooper, Ashley Parker, "Romney Camp Stirred Storm Over Gay Aide," New York Times, May 2, 2012, https://www.nytimes.com/2012/05/03/us/politics/richard-grenell-resigns-from-mitt-romneys-foreign-policy-team.html
[17] Nia-Malika Henderson and Aaron Blake, "Mitt Romney adviser Richard Grenell faces backlash over tweets, sexual orientation," Washington Post, April 24, 2012, https://www.washingtonpost.com/politics/mitt-romney-adviser-richard-grenell-faces-backlash-over-tweets-sexual-orientation/2012/04/24/gIQAVhwhfT_story.html?utm_term=.b98fa9ad9557
[18] Jennifer Rubin, "Richard Grenell hounded from Romney campaign by anti-gay conservatives," Washington Post, May 1 2012, https://www.washingtonpost.com/blogs/right-turn/post/exclusive-richard-grenell-hounded-from-romney-campaign-by-anti-gay-conservatives/2012/05/01/gIQAccGcuT_blog.html?utm_term=.0e70b5f0f654
[19] "Richard Grenell," Fox News, https://www.foxnews.com/person/g/richard-grenell
[20] Richard Grenell, "'A year of little change for Obama," Al Jazeera, December 30, 2009, https://www.aljazeera.com/focus/2009/12/200912301195192887.html
[21] Richard Grenell, "Obama Praises Burma, Ignores Strife in Iran, Syria," Newsmax, November 19, 2012, https://www.newsmax.com/TheWire/burma-syria-grenell-obama/2012/11/19/id/464748/