Zalmay Khalilzad
last updated: March 5, 2020
Please note: The Militarist Monitor neither represents nor endorses any of the individuals or groups profiled on this site.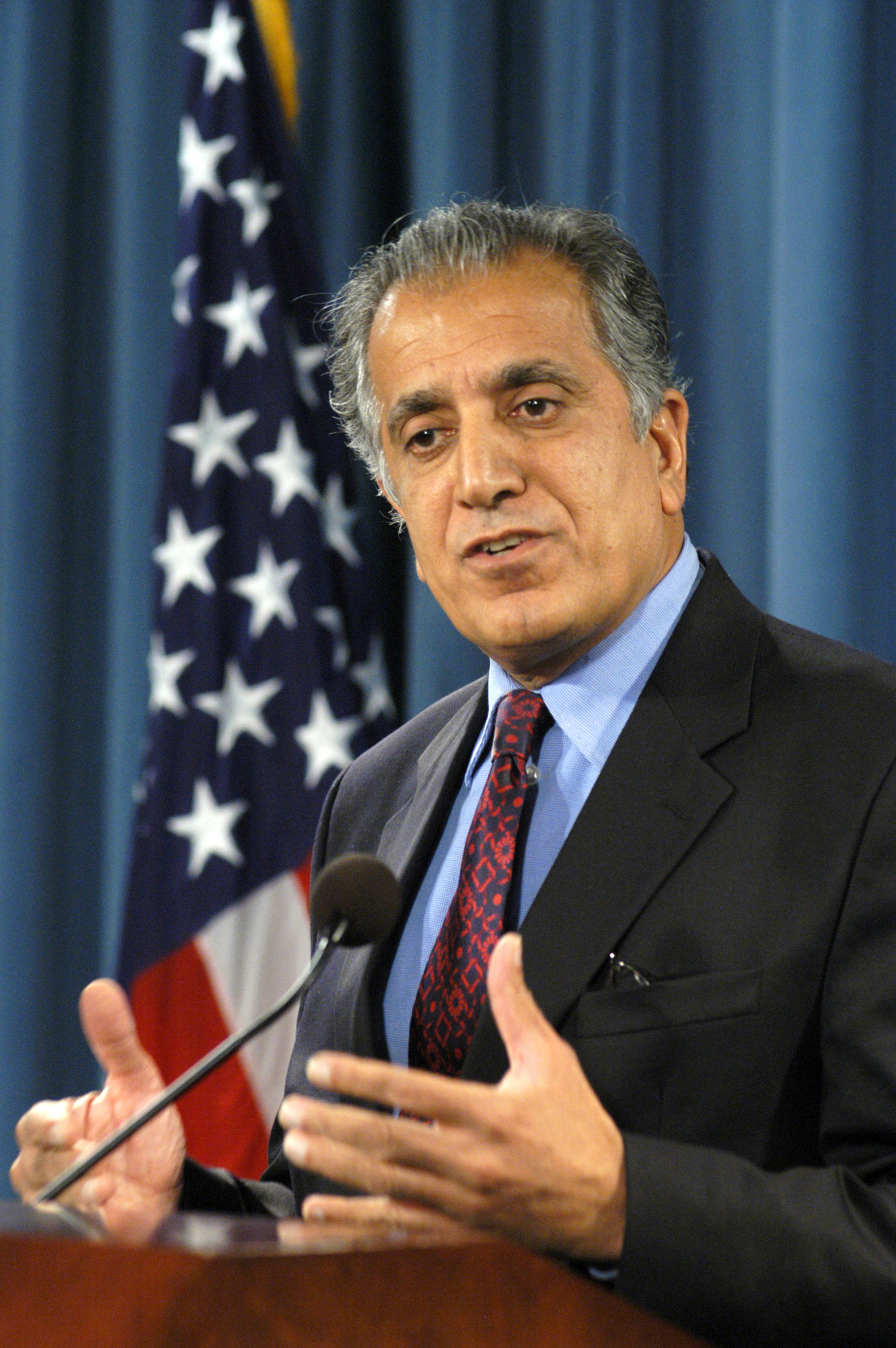 Affiliations
Center for Strategic and International Studies: Counselor
National Endowment for Democracy: Board member
American University of Iraq in Sulaimaniya: Board member
Project for the New American Century (PNAC): Signatory of PNAC's statement of principles and two letters
American Friends of Afghanistan: Former Executive Director
RAND Corp.: Senior Political Analyst, 1993-1999
Afghanistan Foundation: Board Member, 2001
Government
U.S. Special Representative for Afghanistan Reconciliation: 2018 –
United Nations: U.S. Representative, Nominated January 2007
Ambassador to Iraq: 2005-2007
Ambassador to Afghanistan: November 2003-June 2005
Special Presidential Envoy to Afghanistan: 2002-June 2005
Special Presidential Envoy to the Free Iraqis: 2002-2003
National Security Council: Senior Director for Islamic Outreach and Southwest Asia Initiatives, Senior Director for Gulf, Southwest Asia, and Other Regional Issues, 2001-2003
Department of Defense: Assistant Deputy Undersecretary for Policy Planning, 1991-1992
Department of State: Special Adviser to Under Secretary of State for Political Affairs, 1985-1989
Business
Khalilzad Associates: President
Cambridge Energy Research Associates: Consultant to Unocal Oil Company
Education
American University of Beirut: B.A. and M.A.
University of Chicago: Ph.D., 1979
Zalmay Khalilzad is U.S. special representative for Afghanistan reconciliation, a State Department post created during the Donald Trump administration. A past supporter of various neoconservative advocacy campaigns, Khalilzad served as U.S. ambassador to Afghanistan, Iraq, and the United Nations under President George W. Bush. He subsequently worked as a counselor to the Center for Strategic and International Studies;[1] as president of Khalilzad Associates, an international consulting firm;[2] and as a member of the board of directors of the National Endowment for Democracy.[3]
2020 Taliban Agreement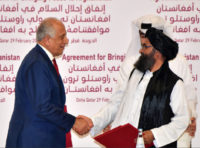 In February 2020, Khalilzad brokered a controversial peace agreement ending an 18-year conflict with the Taliban, which was hailed by some observers as a "great opportunity" for the U.S. "to achieve its goals diplomatically and set in motion a broader realization that the use of military force has limited utility and exorbitant costs."
Politicos on the hawkish right, however, were highly critical of the deal, arguing that it more closley resembled a "retreat." Rep. Elizabeth Cheney (R-WY), a bombastic foreign policy hawk, accused the White House and Secretary of State Mike Pompeo of lying to Congress about the deal, which includes withdrawing U.S. forces and prisoner exchanges between the Taliban and the Afghan government, even though this was rejected by the president of Afghanistan.
For his part, President Trump hailed the agreement, which he celebrated by having a "very good talk" over the telephone with the Taliban leader, the first ever direct contact between a U.S. president and a Taliban leader. However, almost immediately after the agreement was signed, the Taliban began attacking government positions and the U.S. began "defensive" airstrikes against the Taliban.
Amidst the controversy, Khalilzad's role received scant attention. But some observers pointed to the irony of Khalilzad brokering a deal to end a conflict that he was instrumental in starting during the U.S. "war on terror." The Independent reported, "When the 68-year-old known as Zal was chosen to find Mr Trump a way out of his Afghan quagmire, many Afghans and international observers also remarked on the irony of the choice. The man tasked with forging a political settlement that would allow a US troop withdrawal is also held by some to be responsible for many of the failings which led America to its current predicament. The mistakes Mr Khalilzad and America made setting up a new Afghan political order in 2001 and 2002 sowed the seeds for the Taliban to return."
Return to Afghanistan
Khalilzad's Afghanistan posting was part of the Trump administration's effort to extract the United States from Afghanistan beginning in 2018. The war was about to enter its eighteenth year, the longest war in U.S. history. Trump had pledged to end the war but had authorized an increase in U.S. troops. By the end of the summer in 2018, he was losing patience and wanted out. But by that time, the situation on the ground had grown worse, with an increasing number of militant groups engaged in fighting in various parts of the country.[4]
Khalilzad ingratiated himself to Trump during the 2016 presidential campaign, hosting Trump for a major foreign policy speech despite the latter's anti-Muslim rhetoric.[5] Khalilzad was also critical of Barack Obama's decision to set a departure date for some U.S. forces. He had complimented Trump for increasing troops in 2017, saying, "It is very important that you signal the desire that you're prepared to stay there for as long as it takes."[6] Trump was, therefore, positively disposed toward Khalilzad.
Khalilzad's detailed knowledge of the various players and ethnic groups in Afghanistan was clearly an advantage, but there were several concerns regarding his appointment. He had been critical of Pakistan over the years and the Pakistanis held him in a negative light as a result. This was problematic, as even Khalilzad's boss, Secretary of State Mike Pompeo understood that Pakistan was key to creating a sustainable dialogue.[7]
One minority rights activist in Afghanistan said of Khalilzad that he had "slowly whittled away the authority of non-Pashtuns" in his earlier tenure in Afghanistan. Another analyst said that many viewed Khalilzad with suspicion because of prior U.S. meddling and empowering certain ethnic groups and individual warlords in Afghanistan over others, but that other sectors supported Khalilzad based on direct dealings with him. "Of course, he has many friends, supporters, in the current elite. They see him as a powerful Afghan-American who has a better understanding of Afghanistan, who has been involved in shaping the politics over the past 17 years, and he has continued to be useful since. That's their view."[8]
Khalilzad was able to take advantage of the willingness on the parts of both the Taliban and the Trump administration to engage in direct talks. The difficulty he encountered was that the Taliban insisted on direct talks with the U.S. and was not yet willing to sit down with the Afghan government.[9]
Trump complicated matters for Khalilzad in December 2018, when he suddenly and without consultation or coordination of any kind announced that he was going to cut U.S. forces in Afghanistan by half. According to the New York Times, Afghan officials who had been meeting with Khalilzad had been told that Trump was losing patience and they needed to act with urgency, but that he "seemed to believe he had months to push for that breakthrough, and that he was unlikely to have known" what Trump was going to do.[10]
In January 2019, Khalilzad announced a tentative deal with the Taliban, but it was far from comprehensive. According to his announcement, the Taliban agreed that they would not allow terrorist groups to use Afghanistan as a haven as they had with al-Qaeda in exchange for the partial withdrawal that Trump had already announced. But observers pointed out that then Taliban had held this position for many years, and Khalilzad was certainly aware of that. Moreover, Khalilzad and the Taliban had negotiated this limited agreement without the participation of the Afghan government, whom the Taliban would not meet, further undermining its value. This led to journalists asking of Khalilzad was destined to become known as the man who "lost Afghanistan."[11]
Khalilzad has continued his efforts to bridge gaps and remained steadfast that Pakistan must be involved in a resolution and that, ultimately, the deal has to be between the Afghan government and the Taliban who, as of February 2019, continued to refuse such a meeting. In a bid to support Khalilzad's position, acting U.S. Secretary of Defense Patrick Shanahan said that there would be no "unilateral" U.S. withdrawal, though skepticism over whether he could offer much assurance based on Trump's capricious history remained.[12]
Between the Bush and Trump years
Although strongly aligned with the neoconservatives in George W. Bush's administration and in agreement with their interventionist view of U.S. foreign policy, Khalilzad at times has show more of an inclination toward diplomacy.
In March 2016—while many Iran hawks were busily attacking the previous summer's Iran nuclear deal—Khalilzad was contending that broad-based negotiations between the United States and Iran were necessary. "The Middle East cannot be stabilized without an agreement between Iran, Saudi Arabia and Turkey, not only on the region's ongoing conflicts, but also on a sustainable architecture that can contain sectarian tensions," he wrote. "While its influence has declined in the region, the United States is the only power that can broker such an understanding. Just as the United States invested resources, energy, and time in "normalizing" the geopolitics of Europe and East Asia during the Cold War, we must make a generational commitment to do so in the Middle East."
Khalilzad contended that the U.S. should combine "hard-headed" action with deep diplomatic engagement designed to both check Iran's growing hegemonic ambitions in the region and to reach the sort of regional compromises between Iran, Turkey, and Saudi Arabia that were necessary to ease tensions between those powers and among the increasingly splintered sectarian factions throughout the region.
Khalilzad did not note that this was precisely what the Obama administration had hoped would be the long-term outcome of the nuclear deal with Iran. In fact, he didn't mention the Iran nuclear deal at all. Nor did he note that the status quo ante of "dual containment" had held Iran's regional ambitions in check until the administration he worked for invaded Iraq. Finally, and remarkably, Khalilzad's prescriptions completely omitted any mention of Israel and how it might fit into his planned diplomacy.[13]
Yet during the height of the "Arab Spring" in early 2011, Khalilzad was an outspoken critic of the Obama administration's response to events, arguing in a March 2011 Washington Post op-ed that it was "inadequate to both the challenges and the opportunities arising from the political turbulence." Underscoring his belief that the United States could dictate events, Khalilzad wrote: "In Iraq, Tunisia, and Egypt, the United States should steer the transitions underway toward full democratic consolidation. In Iraq, we need to assist in the implementation of the recent power-sharing agreement and prod the government to deal with corruption and improve services. In Egypt and Tunisia, we can increase the odds of stable democracies emerging by levelling the playing field between moderate, secular democrats, and their Islamist and sectarian opponents." Khalilzad apparently saw a need to deter a purported Iranian threat in the region, writing: "We can do so by making sure good election laws are put in place and by providing liberal parties and civil society groups with assistance to counter the aid that Iranian (sic) and others provide to Islamist parties."
In the same article, Khalilzad promoted ousting Libya's Muammar Gaddafi, writing that it was "the immediate challenge" of U.S. foreign policy in the Middle East. Pitching themes promoted by many neoconservative figures,[14] Khalilzad argued that the overthrow of the Libyan dictator would bring about a "pro-American" government that would help counter Iranian influence in the Mideast: "Gaddafi's overthrow and the consolidation of a liberal, pro-American regime would bolster prospects for reform in Iran and Syria by countering Iranian propaganda that the current revolts are Islamist in character and directed only at partners of the United States."[15]
Khalilzad repeatedly warned of a threat from Iran, especially when it came to Iraqi affairs. In a November 2010 Wall Street Journal op-ed, he wrote: "Iran is playing a dangerous game right now in Iraq. Seven months after Iraq's inconclusive election, Tehran has emerged as the key power broker in the country, expanding its regional influence by fostering sectarianism and a government dominated by it. If we hope to prevent a serious strategic setback, American leadership is required immediately." Khalilzad promoted active U.S. interference in the Iraqi government.[16]
Along with other former Bush administration figures who served in Iraq—like former "mayor of Baghdad" Jay Garner—Khalilzad has kept close contacts with Kurdish leaders as part of business ventures, including serving as a paid advisor and as a board member for DNO, a Norwegian oil company and major player in the Kurdish oil market. He also sits on the board of the American University of Iraq in Sulaimaniya.[17]
Bush Administration Service
In early January 2007, the Bush administration announced that it was nominating Zalmay Khalilzad, at the time the ambassador to Iraq, to succeed John Bolton as the U.S. representative to the United Nations. Replacing Khalilzad in Iraq would be Ryan Crocker, a veteran diplomat who once opposed the overthrow of Saddam Hussein because of the sectarian strife that would ensue.[18] In announcing the nominations, Secretary of State Condoleezza Rice said: "If confirmed, Ryan and Zal will have two of the hardest and most consequential jobs in the world."[19]
Khalilzad was an original member of the Bush presidential foreign policy advisory team from 2000, when he headed the Bush-Cheney Defense Department transition team. He became an adviser to Defense Secretary Donald Rumsfeld and then shifted to the National Security Council, where he worked under Rice. After briefly serving as presidential envoy to Afghanistan, in late 2002 President George W. Bush appointed him "special presidential envoy and ambassador at large for the free Iraqis." In 2003, he became the ambassador to Afghanistan, a post he held until 2005, when he took over as ambassador to Iraq.[20]
A long-time associate of key hardliners and neoconservatives within the Republican Party, Khalilzad's membership in the U.S. foreign policy elite dates back to the early 1980s, when he was recruited by Paul Wolfowitz to serve on the Reagan administration's State Department policy planning staff, which produced the notorious 1992 draft Defense Policy Guidance.
In his book Rise of the Vulcans, author James Mann writes that Khalilzad was one of a handful of staffers brought on by Wolfowitz to serve on his staff at this time who would go on to form, "over the following two decades, the heart of a new neoconservative network within the foreign policy bureaucracy." Other members of Wolfowitz's staff at the time included I. Lewis "Scooter" Libby, the former chief of staff to Vice President Dick Cheneywho was indicted for allegedly giving false testimony to the special prosecutor; Francis Fukuyama, the famous author of the end-of-history thesis who eventually turned against his erstwhile ideological brethren in announcing his opposition to the war in Iraq; Alan Keyes, the former presidential candidate and outspoken conservative; and James Roche, an associate of the hardline Center for Security Policy who has served as secretary of both the army and air force in the administration of George W. Bush.
Although sometimes described as a skillful, moderate diplomat, his numerous policy proposals, and support for hardline advocacy efforts over the years seem to belie this characterization. In a New Yorker interview (December 19, 2005), Zbigniew Brzezinksi, President Jimmy Carter's national security adviser, described Khalilzad as a "broad-minded pragmatist and insightful strategist."[21] But others conclude that Khalilzad's ideology of U.S. supremacy has resulted in a long series of foreign policy disasters. Foreign policy analyst Anatol Lieven said in 2002, "If he was in private business rather than government, he would have been sacked long ago."[22]
Trajectory
A native of Afghanistan, Khalilzad obtained his master's degree at the American University in Beirut. Khalilzad enrolled in the doctorate program at the University of Chicago, where he studied under Albert Wohlstetter, a fiercely anticommunist military strategist who became political mentor to a number of leading neoconservatives, including Khalilzad and Wolfowitz.[23] Wohlstetter believed that a first-strike nuclear weapons doctrine was essential to achieving and maintaining U.S. global dominance-to securing what militarists called a "permanent peace." Wohlstetter's theory of dominance through U.S. military superiority-and the overwhelming use of force-became a core idea in neoconservative strategic thinking.[24]
While at the University of Chicago, Khalilzad formed lasting political bonds with the likes of Wolfowitz and Ahmed Chalabi, the notorious former leader of the Iraqi National Congress. Khalilzad also worked under Wohlstetter at his Pan Heuristics consulting firm, which had contracts with the State and Defense departments. Khalilzad earned his Ph.D. in 1979 after completing a dissertation on Iran's nuclear program.
Khalilzad joined the Reagan administration after a teaching stint at Columbia University and a one-year fellowship with the State Department sponsored by the Council on Foreign Relations. Khalilzad directed the U.S. effort to provide military, logistical, and humanitarian support to the mujahideen resistance to the Soviet occupation and successfully advocated that these fundamentalist "freedom fighters" receive heat-seeking Stinger missiles-a couple of hundred of which remained in the hands of the Islamist militants and associated warlords after the Soviet Union left Afghanistan. The well-armed mujahideen came back to haunt the United States after many of them joined al-Qaida and the Taliban. In addition to his focus on Iraq, Khalilzad supervised U.S. policy regarding the Iran-Iraq War.[25]
Khalilzad also worked for Wolfowitz when he later served as undersecretary of defense for policy during the last two years of the George H.W. Bush administration. Then-Defense Secretary Cheney tasked Wolfowitz with producing a military strategy for the post-Cold War world. The resulting 1992 draft Defense Planning Guidance (DPG) articulated for the first time a proposed strategy of U.S. global supremacy based on overwhelming U.S. military power. Khalilzad was given the job of doing the actual drafting of the DPG, working in tandem with Wolfowitz and Libby, as well as an outside group of advisers that included Richard Perle and Wohlstetter. A surge of criticism following a New York Times report on the classified document led to the toning down of the draft guidance. It outlined a national security strategy that, in hindsight, seems to have served as a blueprint for neoconservative efforts during the 1990s to craft a new rationale for U.S. military activity throughout the globe.
Although the White House rejected the draft, the document had its supporters, as James Mann points out in Rise of the Vulcans. Khalilzad told Mann that Cheney was impressed by the document, allegedly telling Khalilzad: "You've discovered a new rationale for our role in the world." Neoconservatives outside government, like Charles Krauthammer, were also impressed. In a Washington Post column, Krauthammer asked: "What is the alternative? The alternative is Japanese carriers patrolling the Strait of Malacca, and a nuclear Germany dominating Europe.".
Nor did the draft DPG entirely disappear after the White House rejected it. According to Mann, the revised final version produced by Libby merely softened some of the hard edges of the earlier draft while preserving some of its core concepts, such as actively shaping the security environment, acting alone when necessary, and maintaining a dominant edge in military capabilities. The next decade would see the repeated revival of many of the ideas contained in the draft DPG and it served as a broad framework for building a new neoconservative consensus, whose preeminent expression would ultimately arrive in the form of President George W. Bush's 2002 National Security Strategy.
During the Clinton administration Khalilzad was based at the RAND Corporation, where he founded the Center for Greater Middle East Studies and was the director of strategy for the think tank's Project Air Force. Khalilzad also served as board member of the Afghanistan Foundation, which advocated that the Taliban join forces with the anti-Taliban resistance. While at RAND, Khalilzad in 2001 coauthored with Abram Shulsky, a Straussian scholar who headed the Pentagon's Office of Special Plans in the lead-up to the Iraq War, a paper that was entitled "The United States and Asia: New U.S. Strategy and Force Posture."
Khalilzad's close connections to Islamic extremists in South Asia and to the oil giant Unocal have been the subject of sharp criticism. As Truthout opined in a 2001 piece, "Simply put, Khalilzad's appointment means oil. Oil for the United States. Oil for Unocal, a U.S. company long criticized for doing business in countries with repressive governments and rumored to have close ties to the Department of State and the intelligence community. Zalmay Khalilzad was an adviser for Unocal. In the mid-1990s, while working for the Cambridge Energy Research Associates, Khalilzad conducted risk analyses for Unocal at the time it had signed letters of approval from the Taliban. The analyses were for a proposed 890-mile, $2 billion, 1.9-billion-cubic-feet-per-day natural gas pipeline project that would have extended from Turkmenistan to Pakistan. In December 1997, Khalilzad joined Unocal officials at a reception for an invited Taliban delegation to Texas."[26]
Despite the connections to the Taliban he developed when he aided the Reagan administration's anti-Soviet activities in Afghanistan, Khalilzad quickly changed his tune when Osama bin Laden's connections to the group surfaced.
In 1997 Khalilzad was a charter signatory of the Project for the New American Century (PNAC) founding statement of principles, and he signed two subsequent PNAC letters. A January 1998 PNAC letter to President Bill Clinton, cosigned by Wolfowitz, Perle, Rumsfeld, and Bolton, among others, warned: "We may soon face a threat in the Middle East more serious than any we have known since the end of the Cold War." The PNAC letter said that the policy of containing Iraq had failed and advocated "removing Saddam Hussein and his regime from power." Warning that Iraq would almost certainly develop weapons of mass destruction, the PNAC associates concluded: "Although we are fully aware of the dangers and difficulties in implementing this policy, we believe the dangers of failing to do so are far greater."
Earlier, in 1997, Khalilzad co-wrote with Wolfowitz an article for the neoconservative Weekly Standard titled "Overthrow Him," which called for using military force to overthrow Hussein. They added: "Military force is not enough. It must be part of an overall political strategy that sets as its goal not merely the containment of Saddam but the liberation of Iraq from its tyranny."
Immediately prior to joining the George W. Bush administration, Khalilzad codirected RAND's Transition 2001 Panel, which included some 40 foreign policy elites, including a number of influential hawks and neoconservatives. It aimed to provide the winner of the 2000 presidential campaign with a blueprint of priorities on national security policy.[27]
Khalilzad's the books include: Strategic Appraisal: The Changing Role of Information in Warfare; United States and Asia: Toward a New U.S. Strategy and Force Structure; Aerospace Power in the 21st Century; and The Government of God: Iran's Islamic Republic, which he coauthored with his wife, Cheryl Bernard. In 1995 Khalilzad wrote "Losing the Moment? The United States and the World after the Cold War," a Washington Quarterly essay that articulated the need to assert U.S. supremacy in a unipolar world. Khalilzad earned his B.A. and M.A. degrees from the American University of Beirut, as well as a Ph.D. from the University of Chicago.[28]
[1] Center for Strategic and International Studies, "Zalmay Khalilzad," http://csis.org/expert/zalmay-khalilzad
[2] Gryphon Partners, "Our Team," http://www.gryphon-partners.com/our-team/
[3] Gryphon Partners, "Our Team," http://www.gryphon-partners.com/our-team/
[4] Michele Keleman, Diaa Hadid, Vanessa Romo, "Zalmay Khalilzad Appointed As U.S. Special Adviser To Afghanistan," NPR, September 5, 2018, https://www.npr.org/2018/09/05/641094135/zalmay-khalilzad-appointed-as-u-s-special-adviser-to-afghanistan
[5] Kathy Gannon, "New US adviser to Afghanistan raises hackles in region," Military Times, September 5, 2018, https://www.militarytimes.com/flashpoints/2018/09/05/new-us-adviser-to-afghanistan-raises-hackles-in-region/
[6] Michele Keleman, Diaa Hadid, Vanessa Romo, "Zalmay Khalilzad Appointed As U.S. Special Adviser To Afghanistan," NPR, September 5, 2018, https://www.npr.org/2018/09/05/641094135/zalmay-khalilzad-appointed-as-u-s-special-adviser-to-afghanistan
[7] Tara Copp, "Pompeo, Dunford hopeful US-Pakistan relations can restart," Military Times, September 5, 2018, https://www.militarytimes.com/flashpoints/2018/09/05/pompeo-dunford-hopeful-us-pakistan-relations-can-restart/
[8] Michele Keleman, Diaa Hadid, Vanessa Romo, "Zalmay Khalilzad Appointed As U.S. Special Adviser To Afghanistan," NPR, September 5, 2018, https://www.npr.org/2018/09/05/641094135/zalmay-khalilzad-appointed-as-u-s-special-adviser-to-afghanistan
[9] Carol Morello, "For new U.S. envoy to Afghanistan, 'deja vu all over again,'" Washington Post, September 26, 2018, https://www.washingtonpost.com/world/national-security/for-new-us-envoy-to-afghanistan-deja-vu-all-over-again/2018/09/26/f9d5e2d9-9866-45cf-97e2-2b4ecb274da0_story.html?utm_term=.fd0180a128eb
[10] Mujib Mashal, "In Afghanistan, Alarm and a Sense of Betrayal Over U.S. Drawdown," New York Times, December 21, 2018, https://www.nytimes.com/2018/12/21/world/asia/afghanistan-troops-pullout.html
[11] Michael Hirsh, "Will Zalmay Khalilzad Be Known as the Man Who Lost Afghanistan?" Foreign Policy, January 29, 2019, https://foreignpolicy.com/2019/01/29/will-zalmay-khalilzad-be-known-as-the-man-who-lost-afghanistan-envoy-taliban/
[12] Lorne Cook, Robert Burns, "Shanahan: US will not unilaterally withdraw from Afghanistan," Washington Post, February 14, 2019, https://www.washingtonpost.com/world/the_americas/nato-weighs-future-of-afghan-mission-seeks-to-support-talks/2019/02/14/c2eb577a-3032-11e9-8781-763619f12cb4_story.html?utm_term=.730eb5c80f21
[13] Zalmay Khalilzad, "The Neoconservative Case for Negotiating With Iran," Politico, March 28, 2016, https://www.politico.com/magazine/story/2016/03/iran-negotiation-foreign-policy-middle-east-213772
[14] See, for example, Jack Ross, "Whither the Party Line on Egypt?" Right Web, February 1, 2011, https://rightweb.irc-online.org/articles/display/whither_the_party_line_on_egypt
[15] Zalmay Khalilzad, "A regional strategy for democracy in the Middle East," Washington Post, March 15, 2011, http://www.washingtonpost.com/opinions/a-regional-strategy-for-democracy-in-the-middle-east/2011/03/14/ABR8d1Z_story.html
[16] Zalmay Khalilzad, "How to Outmanuever Iran in Iraq," Wall Street Journal, November 10, 2010, http://online.wsj.com/article/SB10001424052748703514904575602341835694642.html
[17] Sam Dagher, "Prospects Abound Among the Kurds," New York Times, July 15, 2010, http://www.nytimes.com/2010/07/15/world/middleeast/15erbil.html
[18] Rajiv Chandrasekaran, "On Iraq, U.S. Turns to Onetime Dissenters," Washington Post, January 14, 2007, http://www.washingtonpost.com/wp-dyn/content/article/2007/01/13/AR2007011301372.html
[19] "Bush to Name Khalilzad to UN Post," Associated Press, January 8, 2007, http://www.washingtonpost.com/wp-dyn/content/article/2007/01/08/AR2007010800469.html
[20] Zalmay Khalilzad, State Department biography, http://web.archive.org/web/20050804160210/http://www.state.gov/r/pa/ei/biog/50305.htm
[21] Jon Lee Anderson, "American Viceroy," The New Yorker, Dec. 19, 2005, http://www.newyorker.com/archive/2005/12/19/051219fa_fact2
[22] Kim Sengupta and Andrew Gumbel, "New US Envoy to Kabul Lobbied for Taliban Oil Rights," Independent, January 10, 2002, http://www.independent.co.uk/news/world/asia/new-us-envoy-to-kabul-lobbied-for-taliban-oil-rights-662688.html
[23] ]Issam Nashashibi, "Zalmay Khalilzad: The Neocon's Bagman to Baghdad," CounterPunch, http://www.counterpunch.org/issam04172003.html
[24] Eric Pace, "Albert Wohlstetter-Expert on U.S. Nuclear Strategy Dies," New York Times, January 14, 1997, http://www.nytimes.com/1997/01/14/world/albert-wohlstetter-83-expert-on-us-nuclear-strategy-dies.html?pagewanted=all&src=pm
[25] Joe Stephens and David Ottaway, "Afghan Roots Keep Adviser Firmly in the Inner Circle," Washington Post, Nov. 23, 2001, http://www.washingtonpost.com/ac2/wp-dyn/A3401-2001Nov22?language=printer
[26] "Khalilzad and the Bush Agenda," Truthout, January 13, 2001, http://web.archive.org/web/20020520110810/http://www.truthout.org/docs_01/01.14A.Zalmay.Oil.htm
[27] Transition 2001 Update: Bipartisan Panel Offers National Security Action Plan for the President-Elect," RAND, Transition 2001 Update:  Bipartisan Panel Offers National Security Action Plan for the President-Elect, http://www.rand.org/natsec_area/products/presidentreportupdate.html
[28] Gryphon Partners, "Our Team," http://www.gryphon-partners.com/our-team/