American Conservative Union
last updated: June 8, 2015
Please note: The Militarist Monitor neither represents nor endorses any of the individuals or groups profiled on this site.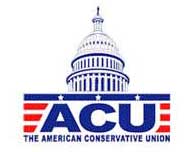 Contact Information
American Conservative Union
1331 H St NW Suite 500
Washington, DC 20005
Ph: (202) 347-9388
Fx: (202) 347-9389
Website: http://conservative.org/
Founded
1964
Mission (as of 2015)
"Founded in 1964, the American Conservative Union (ACU) is the oldest and largest grassroots conservative organization in the nation. For more than forty years, ACU has served as an umbrella organization harnessing the collective strength of conservative organizations fighting for Americans who are concerned with liberty, personal responsibility, traditional values, and strong national defense. As America's premier conservative voice, ACU is the leading entity in providing conservative positions on issues to Congress, the Executive Branch, State Legislatures, the media, political candidates, and the public."
Staff (as of 2015)
Dan Schneider: Executive Director
Larry Hart: Director of Government Relations
Jessica Springer: Executive Assistant and Human Resource Director
Carin Walters: Director of Events & Conferences
Carol A. Apelt: Director of Operations
Tom Robinson: Director of Development
Lauren Bullard: Deputy Director of Government Relations
Monica Sansonetti: Coordinator of Events & Conferences
Board of Directors (as of 2015)
Joseph Bast
Bob Beauprez
Morton C. Blackwell
John Bolton
Jameson G. Campaigne, Jr.
Alberto R. Cardenas
Ron Christie
Muriel Coleman
Kellyanne Conway
Tom DeLay
Becky Norton Dunlop
John Eddy
Carly Fiorina
Luis Fortuno
Amy Noone Frederick
Charlie Gerow
Alan M. Gottlieb
Van D. Hipp, Jr.
David A. Keene
James V. Lacy
Michael R. Long
Carolyn D. Meadows
Grover G. Norquist
Anne Northup
Ron Robinson
Ned Ryun
Matt Schlapp
Fred L. Smith, Jr.
Mark Stephens
Lew Uhler
The American Conservative Union (ACU) describes itself as "the nation's oldest and largest conservative grassroots lobbying organization." It was founded in 1964 by William F. Buckley and several other leading right-wing figures with the aim to "effectively communicate and advance the goals and principles of conservatism through one multi-issue, umbrella organization." ACU states on its website that it fights for Americans who are "concerned with liberty, personal responsibility, traditional values, and strong national defense."[1]
In 2014, Matt Schlapp, who served as White House political director during the first term of President George W. Bush, became AUC's chairman. According to the Washington Times, Schlapp's goals include moving the Republican Party to "the right on everything from equal opportunities and freedom to fairness and common sense."[2]

Although largely focused on domestic policy issues, the ACU has a long track record of supporting militarist foreign and defense policies. During the Cold War, ACU participated in a number of hardline advocacy efforts as a member of the Coalition for Peace through Strength and actively supported rightist groups in Latin America and elsewhere, including the Nicaraguan Contras.[3]
Although some of its members were initially unenthusiastic over the George W. Bush administration's decision to invade Iraq after the 9/11 terrorist attacks, the organization was generally supportive of the administration's "war on terror."
After a Pentagon-sponsored visit to Iraq in late 2003, ACU Vice Chairman Donald Devine wrote an op-ed for the Washington Times in which he assured readers that the war was soon coming to an end. He wrote: "I had been opposed to United States ground forces in Iraq but was impressed that Secretary Donald Rumsfeld had insisted that the number of American troops on the ground be limited—only enough to win the war but not so many to become bogged down afterwards. … But, with the pressure from influential U.S. voices to increase troop levels substantially and to remain indefinitely until a functioning democracy could be created, I signed up for the rigors of the trip to the combat zone to learn whether the secretary's message had reached the troops. The news from Iraq is good. The end of the U.S. occupation is in sight and the military and civilian leaders are moving enthusiastically and rationally to implement the plan."[4]
AUC's activities focus on organizing the annual Conservative Political Action Conference (CPAC), which it claims is the "nation's largest gathering of conservatives," and producing "congressional ratings" that measure how "conservative" members of Congress are.[5]
AUC says its congressional ratings measure the stances of elected officials on "taxes, wasteful government spending, cultural issues, defense and foreign policy."[6] Among the members of Congress who have received the "100% conservative" score from AUC are 2016 Republican presidential candidates Sens. Ted Cruz (R-TX) and Marco Rubio (R-FL).[7]
While AUC alleges it ratings are done with the aim of "informing grass-roots conservatives and the public—in an unbiased, transparent manner—on where individual members of Congress fall on the ideological spectrum," the New York Times revealed in 2013 that AUC, at the behest of defense and transportation industry executives, has sought to "incorporate favorable votes on military and infrastructure spending into its widely cited Congressional voting scorecard." The Times added about the revelations: "The documents shed light on a rarely public corner of Washington lobbying, where industry lobbyists join with grass-roots groups that offer ideological credibility and deep mailing lists of sympathetic activists—sometimes for a price."[8]
AUC has reportedly received funding from companies in the arms, oil, and cigarettes industries. A 2014 Salon report highlighted the tens of thousands of dollars AUC has received from the National Rifle Association, the Koch brothers' energy companies, as well as the cigarette company Altria.[9]
Since the election of President Barack Obama, the group has focused mainly on domestic policy, including efforts to push the Republican Party further right and contest Obama's health care initiative and economic bailout program.
A highlight of the 2009 annual Conservative Political Action Conference, held shortly after President Obama's inauguration, was right-wing radio pundit Rush Limbaugh's declaration that he hoped the new president would "fail." The audience gave Limbaugh loud ovations after he stated: "This notion that I want the president to fail, this shows you the problem we've got. This is nothing more than common sense. … [Democrats] hoped George Bush failed. So what is so strange about being honest and saying I want Barack Obama to fail if his mission is to restructure and reform this country so that capitalism and individual liberty are not its foundation?"[10]
The ACU's efforts to derail Obama administration initiatives, however, have had some controversial results. In mid-July 2009, Politico reported that the group was embroiled in an ethics controversy regarding an alleged "pay-to-play" scheme. Politico secured a letter from ACU to FedEx—then at loggerheads with UPS over Obama-supported regulatory reform—offering to provide lobbying services if the company paid $2-3 million. Shortly after FedEx declined the offer, ACU's Chairman David Keene contributed his name to a letter addressed to UPS, saying that he and his co-signatories sided with UPS on the issue.[11]
The affair, which Politico's Mike Allen called "black-and-white proof of the longtime Washington practice known as 'pay for play,'"[12] was swiftly downplayed by the ACU. In a press release, the group's vice chairman, Dennis Whitfield, wrote, "David Keene's name was on a letter prepared by another organization. This was a personal decision on his part and he was not representing ACU at the time."[13]
ACU's board has included many influential right wing figures, including Jeffrey Bell, former head of the Manhattan Institute and a signatory of the neoconservative Project for the New American Century; hawkish former U.S. ambassador to the United Nations John Bolton; Morton Blackwell, a founding member of the secretive Council for National Policy; the NRA's Wayne LaPierre; Jesse Helms; Grover Norquist, Morton Blackwell; and L. Brent Bozell III.[14]