Israel-Firsters Declare Victory in NY-9
September 14, 2011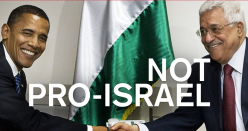 Republican businessman Bob Turner has defeated Democratic state Rep. David Weprin in a special election to fill the congressional seat of disgraced former Rep. Anthony Weiner.
The real winner, arguably, is the right-wing "Israel lobby," led most visibly by the Emergency Committee for Israel (ECI), a pressure group set up by neoconservatives like William Kristol and Rachel Abrams. Recognizing that neither candidate supported President Obama's policies toward Israel—something of a tradition in the heavily Jewish district—ECI used the dynamic to embarrass the president rather than cast its lot explicitly for Turner.
In the final weeks of the campaign, ECI launched an advertisement featuring Weprin and Turner each casting aspersions on the president's supposed slights of Israel. The video concludes with the tagline, "Obama: a uniter, not a divider… except of Jerusalem." On the eve of the election, ECI blanketed New York with billboards accusing the president of various other sins against the country. One, for example, claims that the president "attacks Israel at the UN," while another asserts that Obama "pressures Israel to apologize to terrorists"—an apparent reference to the administration's efforts to repair Israel's relationship with Turkey after Israeli soldiers killed nine unarmed Turkish activists on an aid flotilla to Gaza last year.
The Israeli newspaper Ha'aretz interviewed ECI director Noah Pollak about the campaign, entitled simply "Not Pro-Israel." After Pollak reiterated the campaign's various claims about Obama's behavior toward Israel and declared "Those are the facts," the paper mused: "Although Pollak talks about facts, several statements seem inaccurate."
In fact, Israeli officials themselves have repeatedly expressed their gratitude for the president's support. As Think Progress blogger and Right Web contributor Ali Gharib has noted, Prime Minister Benjamin Netanyahu himself recently praised President Obama for using "every considerable means and influence of the United States to help us." Netanyahu was thanking the president for his help in resolving a standoff in which the Israeli embassy in Cairo was nearly overrun by demonstrators, but Gharib adds that the prime minister likely also appreciates Obama's steadfast support for Israel at the UN, increased security cooperation, and diplomatic posturing against Iran. Earlier this year, Israeli Defense Minister Ehud Barak told Fox News that he could "hardly remember a better period" of U.S. support for Israel than "right now."
ECI claims as its mission "to provide citizens with the facts they need to be sure that their public officials are supporting a strong US-Israel relationship." In the case of its "Not Pro-Israel" campaign, however, the group appears to be manufacturing an illusory consensus around unconditional U.S. support for right-wing Israeli policies—all facts aside.
—Peter Certo