The Islamophobic Echo Chamber
August 31, 2011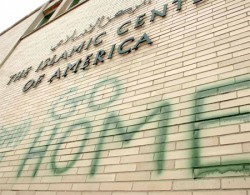 While it sometimes enjoys the trappings of a grassroots campaign, the anti-Islamic movement in the United States—which exploded after 9/11 and whose popular presence has increasingly been felt since the election of President Barack Obama—is in fact coordinated by a small coterie of right-wing foundations, think tanks, media figures, and bloggers, according to a new report by the Center for American Progress.
The report, entitled "Fear Inc.: The Roots of the Islamophobia Network in America," details the "echo chamber" created by right-wing think tanks and advocacy organizations like Frank Gaffney's Center for Security Policy (CSP), Daniel Pipes' Middle East Forum (MEF), David Yerushalmi's Society of Americans for National Existence (SANE), Robert Spencer's Jihad Watch and Stop Islamization of America, and Steven Emerson's Investigate Project on Terrorism.
The reports produced by these self-professed experts on Islam are aggressively promoted by a coterie of like-minded bloggers like Pamela Geller; sympathetically reported by right-leaning media outlets like Fox News, the Washington Times, and David Horowitz's Front Page Magazine; and ultimately regurgitated by rightist politicians like Newt Gingrich, who use the base instinct of fear to motivate the electorate. According to the report's authors, this propaganda machine has been funded by seven key foundations, which have provided nearly $43 million in funding for the network over the last decade.
The subjects of the report and their sympathizers have not reacted kindly to its findings.
David Horowitz called the document a "typical fascistic attempt to silence critics…[who] inform the American public about the threats we face from the Islamic jihad." Robert Spencer dismissed the authors' characterization of him as "anti-Muslim" as "manipulative and propagandistic"—attributing the report to the work of the "Islamic supremacist propaganda machine," apparently without irony. Outdoing the lot of them, Pamela Geller compared the document to "a Mein Kampf treatise," likening it to "Goebbels attacking the Jew," before unsubtly including a plug for her book on the "Islamization" of the United States.
Some of the foundations identified in the CAP report, like the Bradley Foundation and those run by Richard Scaife, have long been associated with various right-wing causes. Others are less well known, so the impact of the report on their funding activities remains to be seen. At least one foundation has reportedly expressed discomfort with having been publicly connected to the Islamophobia campaign. On the other hand, if the rather boldly hysterical reactions of the funders' beneficiaries and sympathizers are any indication, no one need worry that the money will dry up anytime soon.
—Peter Certo