The Truly Rapid Withdrawal: Neocon Support for Obama
July 1, 2011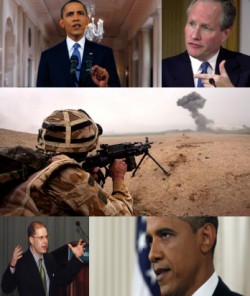 With President Obama's announcement that he would withdraw 10,000 U.S. troops from Afghanistan in 2011 and an additional 23,000 the following year, the president effectively ruptured the uneasy alliance his administration had maintained with prominent foreign policy hawks and neoconservatives ever since his progressive base began to question his escalation of the war. However much Obama's conservative critics accused him of "dithering" in advance of his earlier decision to "surge" U.S. forces in the country, they were nonetheless among his more reliable backers when it came to the war in Afghanistan.
This alliance, however, is no more.
Only months after praising the president's "sound policies" and christening him a "born-again neocon," William Kristol declared last week that Obama's Afghanistan policy was being "determined by [political advisor] David Axelrod, not by [Gen.] David Petraeus." The main critique—which has been echoed by Max Boot, Peter Wehner, and many others—is that Obama "overruled" his generals' preferences for a more limited or nominal pullout in order to score points with war-weary voters in advance of the 2012 election. Wehner accused the president of allowing "politics of the Obama kind to infect his decisions," while Boot said that Obama had crippled the "well-thought-out campaign plan designed by Gen. David Petraeus" because "he wants the surge troops out before he must face the voters in 2012."
Withdrawal, according to such neoconservatives, "ups the odds of defeat," imperils "fragile gains" in the south end east of the country, and generally represents "a recipe for failure." Worse still, they sometimes add, Obama refuses even to use the word "victory"!
Of course, while the wisdom of extended counterinsurgency is treated as self-evident within the neoconservative universe, it is less so on the outside. If war is ultimately a political undertaking, then it's fair to allege that the political objectives of the Afghanistan surge are not being met. While NATO soldiers have had some successes dislocating insurgents from the south and east of the country, it is often only a matter of pushing them into Pakistan, where they wait until conditions change—as inevitably they must.
Meanwhile, the north of the country has seen a parallel increase in violence as militants trickle in from Uzbekistan and upward from the Pashtun provinces. The Afghan security and police forces have grown impressively over the years, but they remain largely non-Pashtun, indicating an ongoing failure to bring the country's largest ethnic group into the political fold.
Violence against civilians—which has increased dramatically with the U.S. surge, even though most casualties are caused by the Taliban—continues to rise, and in fact set a monthly record in May of this year. Max Boot first used this fact to suggest that the Taliban was growing "desperate," indicating the surge was working. Days later, after the attack on Kabul's Intercontinental Hotel, Boot confessed that he was as "shocked as anyone" that militants had been able to execute the attack. Even as he insisted that security in the region remained "better than in Baghdad" (a dubious standard), he declared that the violence should preclude any more talk about withdrawing. Violence against civilians is thus set up both as evidence of the surge's success and a stumbling block to its conclusion.
It's true that military leaders have acknowledged their initial misgivings about the president's plan. But unlike the neoconservatives, military leaders have also acknowledged that their role in a democratic system is to implement strategy, not to set it. By ascribing political motivations to Obama's gradual withdrawal—indeed, even if they are correct—these hawks acknowledge, and dismiss, a popular desire to wind down the conflict. More subtly, the calls by Robert Kagan and William Kristol for Obama simply to "clarify" that withdrawal timetables remain anchored to "facts on the ground"—a seemingly low bar to meet for the heaps of criticism they've leveled at him—indicate their growing awareness of their own marginalization, which is also reflected in their obvious anxiety about the war-readiness of the Republican presidential field.
Moreover, by glazing over the fact that troop levels will remain double what they were when Obama took office even after the initial withdrawal, they overlook the argument that Obama's remarks are as much about justifying continued investment in a conflict that he acknowledges must end. Indeed, the pace of the outlined withdrawal is gradual enough to cast doubt on any political gain the president may gain from, and Phyllis Bennis has lambasted the plan as embodying the same old "war-on-terror" mindset.
—Peter Certo