Neoconservative Resurgence in the Age of Obama. Also profiles on Newt Gingrich, and more
August 26, 2009
FEATURED ARTICLE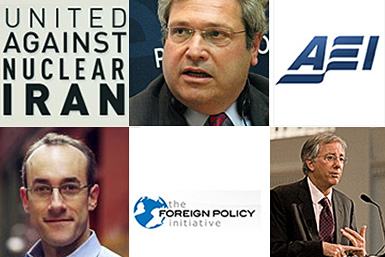 Neoconservative Resurgence in the Age of Obama
By Daniel Luban
Despite their political plunge, neoconservatives—and the think tanks that sustain them—have been surprisingly skilled at reinventing themselves and forcing the Obama administration to give them a seat at the table. They have choreographed a clever "carrots and sticks" dance—throwing support behind the president when he has taken positions compatible with their dogma, and excoriating him when he has contravened it. They have also proved adept at making alliances with the liberal interventionists, like those at the Center for a New American Security, who are strikingly influential in and out of the Obama administration. Read full story.
FEATURED PROFILES
Newt Gingrich
AEI fellow and former House Speaker Newt Gingrich is enjoying a splashy media comeback as a harsh and vociferous critic of the new administration.
Eliot Cohen
A neocon admired by some liberal hawks, Cohen disparages the Obama administration's pursuit of diplomacy as shallow and merely an effort not to be like Bush.
Stephen Hadley
His tendency to play loose with the facts while a top official in Bush's National Security Council has not dampened Hadley's marketability. He now commands lucrative fees through a high-profile speakers bureau.
ALSO NEW ON RIGHT WEB
Republicans Attack Obama's Israel-Palestine Policies
Analysis by Helena Cobban | Posted: August 25, 2009
The close alignment of some Republican Party stalwarts with Israel's rightwing government signals a significant political shift on the Israeli-Palestinian conflict.
Under Pressure from Hawks, Obama Tacks to the Right
By Daniel Luban | Posted: August 19, 2009
Apparently in response mounting pressure from hawks, the Obama administration is moving toward a harder line on Iran.
Holbrooke Heralds U.S.-Afghan Pre-Election Engagement
By Danielle Kurtzleben | Posted: August 19, 2009
Special Envoy Richard Holbrooke told an audience at the Center for American Progress that when it comes to U.S. civilian efforts in Afghanistan, concepts of victory and defeat are irrelevant.
J Street's Muslim Funding for Peace
By Eli Clifton | Posted: August 19, 2009
Right-wing commentators are furiously working to discredit the liberal J Street organization, which lobbies for a two-state solution in Israel-Palestine, because a tiny percentage of its donors have Arab or Muslim names.
Violent Afghan Police Return to Helmand Province, Bolstered by U.S. & UK Troops
By Gareth Porter | Posted: August 05, 2009
U.S. and UK forces in Afghanistan's Helmand province are working to bring back the provincial police. But there is a big problem: Not only are the police linked with a local warlord, they've committed horrific abuses.
LETTERS
Right Web encourages feedback and comments. Send letters to m.flynn@publiceye.org. PRA reserves the right to edit comments for clarity and brevity. Be sure to include your full name. Thank you.