Academi LLC (formerly Xe and Blackwater Worldwide)
last updated: October 9, 2019
Please note: The Militarist Monitor neither represents nor endorses any of the individuals or groups profiled on this site.

Contact Information
Academi
Corporate Headquarters
1001 19th Street 19th Floor
Arlington, VA 22209
Selected Principals
Craig Nixon (retired Brigadier General): CEO (2013 – )
Ted Wright: Former President and CEO
Jack Keane: Strategic Adviser
Cofer Black: Former Vice Chairman
Erik Prince: Former CEO/Founder
Board of Directors
Red Mccombs: Chairman, Board of Directors
John Ashcroft: Board of Directors
Dean Bosacki: Board of Directors
Jason Deyonker: Board of Directors
Bobby Inman: Board of Directors (as of 2014)
Jack Quinn: Board of Directors
Russ Robinson: Board of Directors
About Academi (as of 2014)
"ACADEMI is an elite security services provider. With expertise forged in the world's most challenging environments, our world-class network of security professionals design customized solutions for our clients to help them navigate the complex, sensitive environments in which they operate. Today's changing security climate demands innovative solutions that can be applied in both high-threat and low profile operating environments. ACADEMI has become a trusted partner to both government and commercial clients by providing solutions that foster a smarter, safer security approach based on knowledge and training. Our cadre of experienced instructors create comprehensive training curriculums for both government and commercial clients that utilize our premiere 7,000 acre training facility located in Moyock, North Carolina. ACADEMI works as a team to promote a culture of integrity, excellence, and dignity in everything we do, making us a trusted global security partner."
Xe Mission Statement (2010)
"As a professional organization operating in the defense, training, logistics, retail and intelligence spaces, Xe Services, LLC prides itself on providing our customers with world-class performance. We are the quiet and dedicated professionals serving the government, commercial and civilian markets. Our vast bandwidth and far reaching capabilities make us a valuable single source solutions provider to our clients."
Blackwater Mission Statement (2007)
"To support national and international security policies that protect those who are defenseless and provide a free voice for all with a dedication to providing ethical, efficient, and effective turnkey solutions that positively impact the lives of those still caught in desperate times. Blackwater is committed to the foot soldiers—the men and women who stand on the frontlines of the global war on terror and who believe in a peaceful future for their communities and nations. Whether serving in or out of uniform, Blackwater is committed to providing these men and women with the very best in training and tactical support to ensure they are fully prepared to meet current and future global security challenges."
Academi LLC is a private military company that was formerly called Blackwater Worldwide and later Xe Services LLC. It adopted the name Academi in December 2011[1] and in 2014 was incorporated into a new company called Constellis Holdings.[2] At one point during the Iraq War, Blackwater was the largest State Department security contractor, providing security services in Iraq and other "war on terror" combat zones.[3]
Founded in 1997 by Erik Prince, a former Navy SEAL who left the company in 2010,[4] the firm has been notorious for various high-profile scandals, including allegations of fraud and death threats, weapons trafficking, and involvement in the massacre of civilians in Iraq.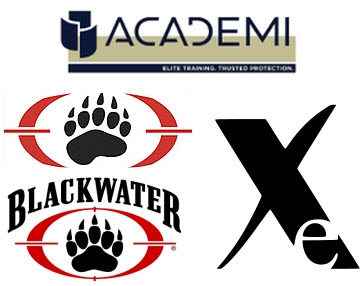 Controversy
Business at Blackwater boomed after the 9/11 attacks. According to an October 2007 congressional memorandum, Blackwater's government contracts grew "exponentially during the Bush Administration, particularly since the start of the war in Iraq."[5] In 2000, the corporation only earned $200,000 in federal contracts, compared with $25 million in 2003 and $1 billion in late 2007.[6] In 2007, Prince reported that at least 90 percent of Blackwater's revenue came from government contracts,[7] two-thirds of which were no-bid.[8]
Much of Blackwater's revenue during this period came from security contracts for guarding high-profile officials and the U.S. Embassy in Baghdad. From 2001 through 2006, Blackwater had $832 million in two State Department contracts for providing "protective services in Iraq."[9]
According to the New York Times, "Blackwater's rapid growth and the State Department's growing dependence on the contractor led to unbridled hubris." The paper cited former employees from the period who complained that Prince had forced them to swear an "oath of allegience" to the company and its mission, "the same one required of those entering the United States military." One former employee reported that it "was kind of like pledging allegiance to Erik [Prince]."[10]
The company's rise in fame was accompanied by increasing public and official scrutiny. In October 2007, for example, the House Committee on Oversight and Government Reform questioned the cost-effectiveness of using Blackwater forces instead of U.S. troops, stating, "Blackwater charges the government $1,222 per day for the services of a private military contractor. This is equivalent to $445,000 per year, over six times more than the cost of an equivalent U.S. soldier."[11]
In March 2004, Blackwater made headlines when Iraqi insurgents attacked and killed four Blackwater employees in Fallujah, hanging their bodies from a bridge.[12] A congressional investigation into the ambush concluded that Blackwater had sent the guards into the city under-equipped and under-staffed.
In Fall 2007, Blackwater employees guarding a State Department convoy opened fire in Baghdad's Nisour Square, killing 17 innocent Iraqi civilians.[13] Blackwater claimed that its employees were involved in a firefight—a claim disputed by some present at the scene—and had behaved appropriately. A committee document issued before the subsequent congressional hearings "depict[ed] the security contractor as being staffed with reckless, shoot-first guards who were not always sober and did not always stop to see who or what was hit by their bullets," according to the New York Times.[14]
In December 2009, more than two years after the incident, six Blackwater employees were indicted for 14 counts of manslaughter, among other charges. The charges were overturned a few weeks later by a federal judge who claimed that the government had used improperly obtained statements to make its case against the guards.[15] But a subsequent court disagreed, and the Justice Department proceeded to bring new charges against four former Blackwater employees in October 2013. "A limited number of members of the Blackwater team unleashed powerful sniper fire, machine guns, and grenade launchers on ordinary people going about their daily lives," read a statement from a federal prosector. "This prosecution demonstrates our commitment to upholding the rule of law even in times of war."[16]
In October 2014, the four former Blackwater security guards were found guilty by a U.S. federal jury and convicted on murder, manslaughter, and weapons charges. Defendant Nicholas A. Slatten, who fired the first shots according to the government, was convicted of murder. The other defendants—Dustin L. Heard, Evan S. Liberty and Paul A. Slough—were found guilty of voluntary manslaughter and carrying out a violent crime with a machine gun.[17] In April 2015, a federal judge sentenced Slatten to life in prison and the other former guards to 30 years in prison.[18]
"Even before Nisour Square," the New York Times reported in 2014, "Blackwater's security guards had acquired a reputation among Iraqis and American military personnel for swagger and recklessness, but their complaints about practices ranging from running cars off the road to shooting wildly in the streets and even killing civilians typically did not result in serious action by the United States or the Iraqi government."[19]
According to the Times, two U.S. investigators, Jean Richter and Donald Thomas, had previously launched a review of the company's operations and discovered evidence that Blackwater had reduced the size of its State Department security details without notice, overbilled the U.S. government by "manipulating its personnel records," and badly mistreated "low-paid workers from Pakistan, Yemen, and other countries." They also collected reports that Blackwater employees were keeping automatic weapons and ammunition in their private quarters, carrying weapons for which they were not authorized, and jeopardizing themselves and others in bouts of drunken misbehavior.[20]
Richter also reported that Daniel Carroll, Blackwater's project manager in Iraq, personally threatened him in a meeting discussing some of the abuses. Carroll, a former Navy SEAL, said "that he could kill me at that very moment and no one could or would do anything about it as we were in Iraq," wrote Richter in a memo to the State Department. U.S. embassy officials in Iraq, however, sided with Blackwater and ordered Richter and Thomas to leave the country immediately. In their report to the State Department, they wrote that "Blackwater contractors saw themselves as above the law," adding that such abuses were abetted by an enabling environment at the embassy. "The contractors, instead of Department officials, are in command and in control," they concluded.[21]
The State Department reportedly took no action on the report until after the Nisour Square massacre, which happened just weeks after Richter submitted the dispatch. Although State Department officials took statements from Richter and Thomas about the threat Carroll had made against Richter, they took no further action, and a panel convened by Secretary of State Condoleezza Rice to investigate the Nisour Square massacre neglected to contact them.[22]
Accountability
The outcry over the Fallujah and Nisour Square incidents sparked public debate about the role of private military companies in the Iraq War and the broader war on terror, notably over issues of accountability. According to Michael Ratner of the Center for Constitutional Rights (CCR), "their actions may not be subject to constitutional limitations that apply to both federal and state officials and employees—including First Amendment and Fourth Amendment rights to be free from illegal searches and seizures. Unlike police officers, they are not trained in protecting constitutional rights."[23]
In a widely noted 2008 book titled Blackwater: The Rise of the World's Most Powerful Mercenary Army, journalist Jeremy Scahill reported, "With almost no public debate, the Bush administration has outsourced to the private sector many of the functions historically held by the military. In turn, these private companies are largely unaccountable to the US taxpayers from whom they draw their profits. As the Times of London put it [in 2004], 'in Iraq, the postwar business boom is not oil. It is security.'"[24] Blackwater repeatedly refused congressional requests for information on its contracts, saying the documents are classified.[25]
In 2008, the Associated Press reported that "Blackwater and other contractors operate in a legal gray area. They are immune from prosecution in Iraqi courts. If the Justice Department wants to bring criminal charges such as assault, manslaughter or murder in a U.S. court, prosecutors would have to do so under the Military Extraterritorial Jurisdiction Act. That would require the government to show that State Department contractors were 'supporting the mission of the Department of Defense overseas.' Blackwater, however, claims that its contract guarding diplomats was purely a State Department function, one independent from the Pentagon. That could give Blackwater the legal cover it needs to avoid charges against its employees."[26]
In August 2012, Academi agreed to pay a $7.5-million fine to settle a list of federal criminal charges, including "possessing automatic weapons in the United States without registration, lying to federal firearms regulators about weapons provided to the king of Jordan, passing secret plans for armored personnel carriers to Sweden and Denmark, and illegally shipping body armor overseas."[27]
In early 2013, the U.S. government dropped most of its remaining weapons trafficking charges against the company, settling for misdemeanor pleas from former president Gary Jackson and another former executive. The company's defense against the charges—which included selling illegally modified firearms overseas and hiding automatic weapons from the Bureau of Alcohol, Tobacco, Firearms, and Explosives, among others—was reportedly less concerned with denying the accusations than with suggesting that the company had carried them out on the government's behalf.[28]
"[A]ccording to the documents Blackwater submitted in its defense—as well as an email exchange I had recently with Prince—the contractor's relationship with the CIA was far deeper than most observers thought," Eli Lake reported. "'Blackwater's work with the CIA began when we provided specialized instructors and facilities that the Agency lacked,' Prince told me recently, in response to written questions. 'In the years that followed, the company became a virtual extension of the CIA because we were asked time and again to carry out dangerous missions, which the Agency either could not or would not do in-house.'"[29]
The company reportedly "provided the court with classified emails, memoranda, contracts, and photos" to bolster its claims that it had performed sensitive missions, made arms purchases, and even entertained foreign officials like King Abdullah of Jordan on behalf of the CIA. It also provided "sealed depositions from top CIA executives from the Directorate of Operations, testifying that Blackwater provided training and weapons for agency operations." Complicating matters, Blackwater apparently provided some services to the government free of charge and without a contract, for which Prince cited his "patriotic duty" in the wake of the 9/11 attacks. "Blackwater carried out countless life-threatening missions for the CIA," Prince complained. "And, in return, the government chose to prosecute my people for doing exactly what was asked of them."[30]
Observers have also accused Blackwater of mixing its business interests with its executives' religious motivations. According to Scahill, "What is particularly scary about Blackwater's role in a war that President [George W.] Bush labeled a 'crusade' is that the company's leading executives are dedicated to a Christian-supremacist agenda."[31] Prince is a staunch Catholic; Joseph Schmitz, another top Blackwater executive, said in 2004 that "no American today should ever doubt that we hold ourselves accountable to the rule of law under God. Here lies the fundamental difference between us and the terrorists." In his official biography Schmitz proclaimed membership in the Order of Malta, a Christian militia formed in the 11th century with the goal of defending "territories that the Crusaders had conquered from the Moslems."[32]
Rebrandings
In February 2009, shortly after Iraqi officials and the U.S. State Department announced that they would not renew their working relationship with Blackwater in Iraq, the company changed its name to Xe (pronounced "Z").[33] The subsidiary responsible for carrying out much of the company's overseas and training work, Blackwater Lodge & Training Center, was taken over by the company U.S. Training Center Inc.[34]
At the time of the rebranding, the company was facing numerous investigations and lawsuits stemming from its work. In late 2009, the Justice Department opened an inquiry into whether Blackwater had offered bribes to Iraqi officials in an attempt to secure future operations.[35] In early 2010, Sen. Carl Levin, who advised the Pentagon to reconsider renewing a lucrative contract for the company to train Afghan police forces, spearheaded hearings by the Senate Armed Services Committee into whether the company had engaged in reckless behavior during pervious training programs in Afghanistan.[36] That same month, Xe sold its aviation division to AAR Corp for $200 million.[37] In April 2010, five former employees, including former company president Gary Jackson, were indicted on charges of conspiring to violate federal firearms laws.[38]
In changing its name, the company hoped both to dispel some of the controversy associated with the Blackwater brand and to shift its focus away from the frontline roles that had resulted in so many scandals. As part of this effort, the company deleted from its website several informational pages, including the company history.[39] In a memo announcing the new name and re-branded image, then-Blackwater President Gary Jackson said that the company was seeking to shift away from private security contracts, like those it had with the State Department to provide protection to U.S. government employees, to focus more on training and logistics. "This company will continue to provide personnel protective services for high-threat environments when needed by the U.S. government, but its primary mission will be operating our training facilities around the world, including the flagship campus in North Carolina," said Jackson.[40]
According to a 2009 Wired magazine story, Blackwater branched out into a range of new activities in its efforts to reinvent itself, including offering protection to commercial ships, "making custom rifles, marketing spy blimps, assembling a fleet of light attack aicraft, and billing itself as experts in everything from cargo handling to dog training to construction management."[41] It also began offering firearms and self-defense classes to professional athletes.[42]
In December 2011, the company announced that it was changing its name to Academi LLC "to better communicate the new company's focus on future growth."[43] In a press release, company president and CEO Ted Wright said, "The ACADEMI name communicates both our legacy and where we are going as a company in the future. This is more than a simple name change. Rather it is a reflection of the changes we have made while retaining those elements that made us who we are today—the best in our industry."[44] Explaining the significance of the new name, the company's website stated: "Our name comes from the Greek akademia, an institution founded by Plato and rooted in higher wisdom and skill, producing both thinkers and warriors alike. ACADEMI is that institution today."[45]
Despite its multiple rebrandings and its purported shift away from security services, the company appears to have continued to secure security contracts for more clandestine work. A division called the "Other Government Agency," and later XPG, reportedly received $17,000 per day to provide security at seven U.S. Special Forces locations along the Afghanistan/Pakistan border as a part of a classified contract, according to a 2010 report by National Public Radio.[46] Previously, in late 2009, the New York Times reported that the contractor was involved in CIA "snatch and grab" operations, as well as in missions to kill and capture militants.[47]
Right-Wing Connections
Blackwater was notable for its close connections to rightist political factions in the United States. Founder Erik Prince was born to a wealthy conservative family in Michigan with deep ties to right-wing politics (his late father Edgar helped set up the Family Research Council, a Christian Right think tank and lobby group where Erik interned in college).[48] Staunchly conservative, Prince has donated hundreds of thousands of dollars to the Republican Party, religious groups, and conservative organizations (often through the Edgar and Elsa Prince Foundation), including to the American Enterprise Institute[49] and the Alliance Defense Fund.[50]
In 2006, Blackwater hired Cofer Black Cofer Black, an ex-head of the CIA's Counterterrorist Center who served as an adviser to the 2012 Mitt Romney/Paul Ryan presidential campaign, to be its vice chairman. Black resigned from the company in 2008, allegedly after learning of the company's bribing of Iraqi officials as protests came to a head over the Nisour Square massacre.[51]
In June 2012, Academi announced that retired Gen. Jack Keane, a high-profile promoter of various U.S. foreign military interventions, had been named a "strategic adviser" to the firm. As an adviser to Academi, Keane works for a company that stands to profit from some of the policies he has publicly promoted.
As of mid 2014, John Ashcroft, the controversial former attorney general in the first George W. Bush administration and member of the conservative Federalist Society , served on ACADEMI's board of directors.[52]