Alexander Meleagrou-Hitchens
last updated: October 3, 2019
Please note: The Militarist Monitor neither represents nor endorses any of the individuals or groups profiled on this site.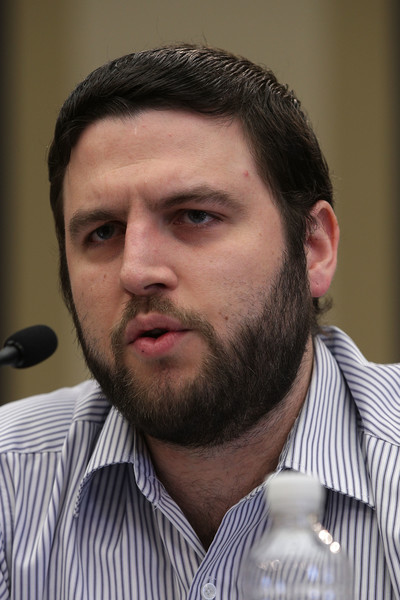 Affiliations
King's College London: Lecturer in Terrorism and Radicalisation at the War Studies Department
International Centre for the Study of Radicalisation: Research Fellow
Hudson Institute: Contributor
Hoover Institution: Former Researcher
Policy Exchange: Former Fellow
Center for Social Cohesion: Research Fellow, 2009
Foundation for Defense of Democracies: Former Researcher
Standpoint's Focus on Islam blog: Contributor
United Against Terror Manifesto: Signatory
Education
Kings College London: B.A. in classics
Brunei University: M.A., 2008 in international relations
Kings College London: Ph.D.
Alexander Meleagrou-Hitchens is Lecturer in Terrorism and Radicalisation at the War Studies Departmen at King's College London. Previously a fellow at the London-based International Centre for the Study of Radicalisation (ICSR), Meleagrou-Hitchens is a frequent writer on Islamic extremism and "jihadism."[1] The son of writer Christopher Hitchens, Meleagrou-Hitchens has worked for a number of hawkish think tanks like the Hoover Institute as well as several U.S.- and UK-based groups associated with the neoconservative network, including the Foundation for Defense of Democracies, Policy Exchange, and the Hudson Institute (New York).[2] He is author most recently of Incitement: Anwar al-Awlaki's Western Jihad (Harvard University Press, 2020).
Anwar al-Awlaki has long been a focus of Meleagrou-Hitchens' research. In a January 2011 article for Foreign Policy, he argued that al-Awlaki represented a dire threat to the West because of his ability to frame anti-western discourse in a way attractive to potential jihadis in the United States and elsewhere. Brushing aside contrary assessments that al-Awlaki is a minor figure not worth taking action against, Meleagrou-Hitchens claimed that al-Awlaki has influenced a number of terrorists and has had an enduring influence on Muslim extremism. He wrote, "In the Homeric oral tradition, some of the most important words spoken by either God or mortal are often described as 'winged'—once they are uttered, they are beyond recall. This is an apt adjective for Awlaki's contribution to the trajectory of global jihad, which is significant and enduring. The inspiration that he has already provided to a number of terrorists is proof of his deadly skill in framing jihadi ideology for a Western audience. Dead or alive, the Internet age will ensure that his words will continue to flutter to receptive audiences across the globe."[3]
In a July 2010 article for the Hudson Institute's Current Trends in Islamist Ideology, Meleagrou-Hitchens discussed the ideologies of al-Awlaki and the "Christmas Day Bomber," Umar Farouk Abdulmutallab, to argue that even "soft" forms of Islamism could encourage violence. He wrote, "Each journey to jihadist violence is unique: no two travelers share the same path. But the diversity of the radicalized is set against one constant: extreme ideas that can form the basis for extreme actions. Ideas, of course, are fluid: subject to change and sometimes volatile fusion. … The careers of Abdulmutallab and Anwar al-Awlaki remind us that individuals can slip beyond this porous boundary rapidly and very often unnoticed. That any particular strand of Islamist ideology can effectively block the shift to violence is at best uncertain. Rather, the evidence presented here suggests that religiously meritorious violence, once accepted under any circumstances, can take on a momentum of its own. Further, the shared principles of diverse forms of political Islam can, however innocently, provide an ideological firewall that obscures and underwrites the violent intentions of the minority."[4]
According to his bio page on the website of the International Centre for the Study of Radicalisation, Meleagrou-Hitchen's "main area of study is the growth and success of English speaking Salafi-jihadist ideologues in the West. Prior to joining ICSR, Alexander worked as a Fellow at Policy Exchange and the Centre for Social Cohesion, where he focused on radicalisation, 'homegrown' extremism and the far-right. He has contributed to various online and printed publications including, The Daily Telegraph, the Independent, Foreign Policy, Lebanon's Daily Star, Standpoint and NOWLebanon. His work has also been cited in the Weekly Standard, Observer, Daily Express, and by the BBC."[5]
In 2010, Meleagrou-Hitchens made headlines in the UK when an internet service provider took down the website of the liberal group SpinProfiles after he complained about the group's profile of him. David Miller, a professor of sociology at the University of Strathclyde and founder of SpinProfiles, wrote about the incident as well as Meleagrou-Hitchens' background in an August 2010 article for Right Web[6]:
"Neoconservatism is typically closely associated with the U.S. political scene.[7] However, the political ideology also has self-identified adherents across Europe, especially in the United Kingdom. These 'Eurocons' share their U.S. counterparts' devotion to military power and interventionist foreign policies.[8] Like U.S. neocons, the European variety has engaged in attacking what they describe as 'Islamism,' which in their rhetoric is often indistinguishable from Islam. (For more on European neoconservatism, see Tom Griffin, "Who Are the Neocons?" Right Web, December 4, 2009.)
"This is the milieu in which Meleagrou-Hitchens has circulated, rising swiftly through the ranks and working for a dizzying checklist of establishment neoconservative organizations. These links and his particular interest in Islam were catalogued in SpinProfiles' dossier on Meleagrou-Hitchens.
"Meleagrou-Hitchens focuses his writings on what he calls 'Islamism.' In his first posting on his Standpoint blog (titled 'Focus on Islamism), he notes, 'I have a special interest in Islamist pressure groups.' These groups 'seek to move the discourse on terrorism and radicalization toward discussions of how liberal democracies can adapt themselves to Islamist ideals, and alter their policies in order to appease terrorism.' [9]
"His definition of Islamism is pretty broad and encompasses most elements of the organized Muslim community in the U.K., including, in particular, progressive elements that have been active in the anti-war movement and in opposing Islamophobic movements like the English Defense League and other elements of the far right. Meleagrou-Hitchens does not like the anti-war movement, referring to its supporters as 'a rag-tag army of poorly informed students, unemployed people, members of fringe Socialist parties and Islamists,' and, 'this mass of dreadlocked unemployed people.'[10]
"Meleagrou-Hitchens objects to being labeled right-wing.[11] He describes his fellow think tank colleagues as 'comrades' utilizing the traditional language of leftist organizations and leaders.[12]
"Meleagrou-Hitchens writes in the introduction to his blog that 'proponents and apologists of this ideology [Islamism] must be discredited and resisted.'[13] This statement neatly summarizes his modus operandi since his main efforts are devoted to smearing and discrediting Muslim community activists, and other critics of foreign policy and Islamophobia as apologists for 'terrorism.'
"He has no truck with the idea that U.S., U.K., or Israeli foreign policy or human rights abuses contribute to terrorism. 'It is the ideology of Islamism,' he writes, 'which is the primary root cause of jihadist terror.' This puts him at odds even with the British intelligence agencies. Even they have acknowledged that the invasion of Iraq exacerbated opposition to the U.K.[14]
"Meleagrou-Hitchens even goes so far as to denounce the veteran investigative journalist John Pilger for arguing that Tony Blair had made British people more at risk from terrorism. Pilger had written a 'disgraceful apologia for the forces of Islamofascism,' he wrote.
"Meleagrou-Hitchens also doesn't hold back from brandishing the accusation of 'anti-semitism.' For example, when the mainstream journalist Peter Oborne —an opponent of Islamophobia efforts—made a U.K. television program on the power of the Israel lobby in the U.K., Meleagrou-Hitchens denounced him for using 'the oldest anti-semitic trick in the book,' though 'he may not realize it.'[15]
"While still an undergraduate at King's College London in 2005, when he was 21, Meleagrou-Hitchens signed theUnite Against Terror manifesto associated with leftist groups such as Labour Friends of Iraq. Those involved with the 2005 manifesto were substantially similar to those involved a year later with the Euston Manifesto, launched by a group of British intellectuals who regarded themselves as 'out of tune with the dominant anti-war discourse' in the wake of the U.S.-led invasion of Iraq.[16]
"Before 2008, Meleagrou-Hitchens reportedly worked for a number of hawkish U.S. think tanks, including the Hoover Institution and the Washington D.C.-based Foundation for Defense of Democracies,[17] which is led by Clifford D. May, a former New York Times reporter who is also a member of the Committee on the Present Dangerand a signatory to several Project for the New American Centuryletters.
"Since 2008, Meleagrou-Hitchens has been associated with several British neoconservative organizations, including blogging for the Henry Jackson Society—the leading intellectual outpost for British neoconservatism whose supporters have included such neocons stalwarts as Robert Kagan— and working for Policy Exchange, and the Centre for Social Cohesion, which is headed by Douglas Murray, author of Neoconservatism: Why We Need It.[18]
"Meleagrou-Hitchens has also blogged for the conservative Daily Telegraph and Harry's Place—a notionally 'left,' but mainly pro-war attack blog. He began appearing in the tabloid press as an "expert" on Al Qaeda in early 2009. …[19]
"Meleagrou-Hitchens [ran] Standpoint magazine's Focus on Islamism blog. Standpoint was set up by the Social Affairs Unit, a right-wing think tank that was originally an offshoot of the U.K.'s first 'Thatcherite' think tank, the Institute of Economic Affairs, and which published the manifesto of the Henry Jackson Society as well as other neocon texts like Douglas Murray's Neoconservatism: Why We Need It and a pamphlet coauthored by Anthony Glees, titled, "When Students Turn to Terror: Terrorist and Extremist Activity on British Campuses," which claimed that British universities are "recruiting grounds for those who wish to destroy parliamentary liberal democracy."[20]
"Standpoint's 'starkest model,' according to the New York Sun, is Encounter, the 'brilliant Cold war journal edited by Irving Kristol and Stephen Spender that dealt in Anglo-American themes and survived the not-so-minor scandal of being secretly funded by the CIA for part of its tenure.' The Sun quotes Johnson, 'We're open to their calls.'[21]
"SpinProfiles' page on Meleagrou-Hitchens also reported on his attacks on allegedly "Islamist" organizations, including his apparent association with a Policy Exchange briefingthat attacked the 2008 Global Peace and Unity festival, the annual Muslim conference at London's ExCel Center. In October of that year, Nick Clegg, the current U.K. Deputy Prime Minister (then the leader of the Liberal Democrat Party) criticized Policy Exchange in a letterto its director, Neil O'Brien,for 'privately' briefing against the event in London. Clegg mentioned the 'notable lack of evidence to support many of the claims,' and said he was 'appalled to see evidence quoted from the Society for American National Existence, an organization which seeks to make the practice of Islam illegal, punishable by 20 years in prison.' SpinProfiles reported that that the 'properties' of the Word file containing the briefing, listed Alexander Meleagrou-Hitchens as its author."[22]