Amitai Etzioni
last updated: August 4, 2010
Please note: The Militarist Monitor neither represents nor endorses any of the individuals or groups profiled on this site.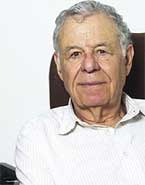 Affiliations
Communitarian Network: Founder
George Washington University: Professor of international relations
Brookings Institution: Guest scholar (1978)
American Sociological Association:President (1994-1995)
Harvard Business School:Thomas Henry Carroll Ford Foundation Professor (1987-1989)
Columbia University: Former sociology professor
Government Service
White House: Senior advisor (1979-1980)
Education
University of California, Berkeley: PhD, Sociology
A well known intellectual on social policy who first rose to prominence in the 1970s, Amitai Etzioni is a professor of international relations at George Washington University and founding director of the Institute for Communitarian Studies.[1]
Although best known for his work and theories on sociology and domestic policy, Etzioni has, since the 9/11 terrorist attacks, become an increasingly strident—if often idiosyncratic—proponent of military solutions to U.S. foreign policy problems, in particular those dealing with Israeli security. (For more on Etzioni's history and ideas, see Marsha B. Cohen, "Muscular Nonrationality: Amitai Etzioni and War with Iran," Right Web, July 21, 2010.)
An illustrative example of Etzioni's militarist views is his May 2010 article for the U.S. Army's Military Review titled "Can a Nuclear-Armed Iran Be Deterred?" In the article, Etzioni claims that once armed with nuclear weapons Iran will be impervious to nuclear deterrence and thus, the United States should bomb the country to derail its nuclear program. He contends that a concerted bombing campaign targeting civilian infrastructure—including "bridges, railroad stations, and other such assets, just the way the U.S. did in Germany and Japan in World War II"—is the only way to dissuade Iran from attempting to develop nuclear weapons.[2]
Because the objective of such attacks on non-nuclear targets would be causing pain to the entire Iranian population, "it matters not if one misses some," Etzioni said. He even proposes that the strikes be carried out at night, and with "proper warning," in order to minimize civilian casualties.[3]
In an interview with the Israeli daily Haaretz, Etzioni dismissed the notion that Iran might regard such bombing to be an act of war.[4] Responding to the argument that such an attack could complicate the situation of the overstretched U.S. military in Iraq and Afghanistan or disrupt the flow of oil, Etzioni opines in his Military Reviewarticle that if the United States is unable to deal with such countermeasures, it should "forego its claim to the status of a superpower."[5]
Commenting on the article, William O. Beeman, a professor at the University of Minnesota, told writer Marsha Cohen, "[Etzioni] is operating in this article entirely from a set of 'theoretical' assumptions that are unproven or completely false, with breath-taking conclusions based on nothing—not even good sociology."
Beeman adds:
[Etzioni] assumes from the beginning that Iran is making weapons, and coolly posits a whole range of unwarranted consequences—that if Iran got nukes then so would Brazil, for example … or that Iran's having weapons would mean that Hezbollah and Hamas could or would therefore automatically be more violent. However, his idea that somehow Iran would be deterred if their non-nuclear sites were bombed is just crazy. Does he think that Iran would just sit back and allow itself to be attacked?
Shortly after his Military Review article appeared, Etzioni published a piece in the New Republic titled "Unshackle the Troops " in which he complained that the United States was a doing a poor job convincing Afghans that civilian casualties from U.S. attacks are really the fault of the Taliban. While arguing that the best way to prevent civilian casualties is to not get involved in wars like the one in Afghanistan, Etzioni's argument focuses largely on shifting blame for civilian casualties to the insurgents, in Afghanistan as well as other areas in the Greater Middle East.[7] He writes:
The source of our dilemma surrounding the rules of engagement is not the way we fight but the way our opponents fight: Insurgents are violating the rules of war, while demanding to be protected by them. … Insurgents and terrorists in many parts of the world have discovered that, by violating these rules of war, they gain major advantages. They fire on soldiers from residential areas, store ammunition in mosques, and employ ambulances to transport bombs and fighters–in all these instances, using civilians as human shields. Hamas, Hezbollah, and the insurgents in Iraq and Afghanistan are among the many who practice this form of warfare. Indeed, a recent report reveals that, as the Taliban learned about the new rules of engagement, they increased their use of civilian homes as posts from which to fire at our troops.[8]
On Israel
Etzioni's writings began to focus on foreign policy after the 9/11 attacks.[9] A refugee from Nazi Germany who fled to pre-independence Palestine, Etzioni's sympathy with hardline views of Israeli security has been widely noted.[10]
Many of Etzioni's views on Israel are in line with those of U.S. neoconservatives and Israel's right-wing Likud Party. During the early 2000s, he published a number of articles in the neocon mouthpiece the Weekly Standard, edited by William Kristol. Among the topics he wrote about for the Standard were the benefits of the George W. Bush administration's "war on terror," and the "under-reported story of Islamist violence around the world."11 In one Standard article, Etzioni criticized "new historians" like Avi Shlaim and Benny Morris (who challenge traditional Zionist views of the creation of the state of Israel), accusing them of "concocting wholly misleading interpretive frameworks."[12]
In a 2003 Christian Science Monitor article, Etzioni defended Israel's decision to build a concrete security barrier around its unilaterally modified borders and major West Bank Jewish settlements, separating the Israeli settlements from towns and villages where Palestinian Arabs were concentrated. Most U.S. and European news sources call it "the wall," but Etzioni, like most Israelis, referred to the barrier as a "fence." Justifying the barrier as a security measure that would allow time for "tempers to cool off" and create a respite from violence, Etzioni attempted to reassure those who objected to the barrier, writing that it could "quite readily be relocated when a peace treaty is forged," an assertion that deliberately or not ignores the fact that Israeli settlements have been constructed on both sides of the "the fence."[13]
More recently, in an article for Society, Etzioni criticized President Barack Obama for not supporting the notion that an attack on Israel would be regarded as an attack on the United States. He also criticized the "so-called Israel lobby" for failing to put pressure on the Obama administration "to protect Israel from Iranian attack."[14]
Evolving foreign policy views
In 2004, Etzioni made a major foray into international affairs with his book, From Empire to Community: a New Approach to International Relations, which aims to describe a "new global architecture" that would rely less on force and more on shared values.
However, three years later, Etzioni's views had hardened. In Security First: For a Muscular, Moral Foreign Policy (2007), Etzioni pressed his notion of "muscular" morality, arguing that enforcing global security ought to be the basis of U.S. foreign alliances and interventions. Echoing the discourse of some first generation neoconservatives like Irving Kristol, Security First proposes cooperating with "illiberal" regimes willing to renounce violence, even if they reject democratic values.[15]
This argument seems to have informed Etzioni's views on how to deal with the Taliban in Afghanistan. In his July 2010 New Republic article, "Unshackle the Troops," Etzioni writes:
We should heed one of the central principles of just war theory: Never wage war unless all other means have been exhausted. This principle suggests that we should also discontinue fighting when other options are available. Thus, instead of asking our troops to fight this war under rules that increase our losses in the vain hope of gaining popularity, we should offer to withdraw our forces as long as the Taliban agree not to harbor terrorists who threaten us or our allies. And we should make clear that our bombers, drones, and Special Forces will stand by to punish those who violate this understanding. (A similar position has been advocated by Vice President Biden.) If the Taliban honor this agreement, it will mean an end to the war and, of course, to civilian casualties. If not, then we will have to fight. However, in that case, even as we do our best to limit collateral damage, let us also ensure that our troops are not constrained by excessively strict rules.
Although he asserts in Security First that because of their alleged inability to adequately protect their nuclear materials, Russia and Pakistan are the greatest threats to global security, Etzioni has turned much of his attention to Iran in recent years, offering at times conflicting suggestions.
In the months following the 9/11 attacks, he visited political reformers in Iran. After the trip, he proposed "engaging Iran, slowly," arguing that he has "little doubt that the United States is better off engaging Iran, as it does China, rather than trying to isolate it, as it does Iraq."[16]
However, just a few months later, Etzioni called for regime change in Tehran, claiming that "Iran may present a greater threat than Iraq," while pointing out that "Iran has by far the greatest chance of becoming the Middle East's most liberal society."[17]
Publishing track record
Etzioni has written some two dozen books,[18] as well as several hundred articles in newspapers, magazines, and scholarly journals.[19] According to his biography on the Institute for Communitarian Studies website:
Dr. Etzioni is the author of over thirty books, including The Monochrome Society(Princeton: Princeton University Press, 2001), The Limits of Privacy(New York: Basic Books, 1999), The New Golden Rule(New York: Basic Books, 1996), which received the Simon Wiesenthal Center's 1997 Tolerance Book Award, The Spirit of Community(New York: Crown Books, 1993), and The Moral Dimension: Toward a New Economics(New York: Free Press, 1988). His most recent books are My Brother's Keeper: A Memoir and a Message(Lanham, MD: Rowman & Littlefield, 2003), From Empire to Community: A New Approach to International Relations(New York: Palgrave Macmillan, 2004), How Patriotic is the Patriot Act?: Freedom Versus Security in the Age of Terrorism(Routledge, 2004), and Seurity First: For A Muscular, Moral Foreign Policy(Yale University Press, 2007).