Carl Gershman
last updated: March 25, 2014
Please note: The Militarist Monitor neither represents nor endorses any of the individuals or groups profiled on this site.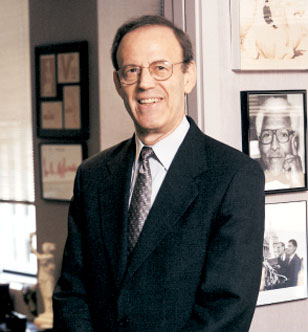 Affiliations
National Endowment for Democracy: President (1984- )
World Movement for Democracy: Steering Committee Member
George W. Bush Institute: Member, Human Freedom Advisory Council
Council on Foreign Relations: Member
Freedom House: Resident Scholar (1980-1981)
Social Democrats-USA: Executive Director (1974-1980)
Youth Committee for Peace in the Middle East: Former Executive Director
American Jewish Committee: Former Governing Council Member
B'nai B'rith: Former Researcher

Government
U.S. Representative to the UN: Former Senior Counselor
National Bipartisan Commission on Central America: Former Lead Consultant

Education
Yale University: BA, 1965
Harvard Graduate School of Education: M.Ed., 1968
Carl Gershman is the longtime head of the National Endowment for Democracy(NED) and a vocal advocate of making "democracy promotion" a core part of U.S. foreign policy. A former leader of the Social Democrats-USA—a neoconservative, Cold War-era offshoot of the U.S. Socialist Party—Gershman held a handful of posts in the Reagan administration and in think tanks (including Freedom House) before taking over NED in 1984.[1]
Alongside his NED post, Gershman is a member of the steering committee for the World Movement for Democracy and—along with such notable neoconservatives as Elliott Abrams, Paula Dobriansky, Michael Gerson, and Natan Sharansky, among others—a member of the George W. Bush Institute's "Human Freedom" advisory council.[2]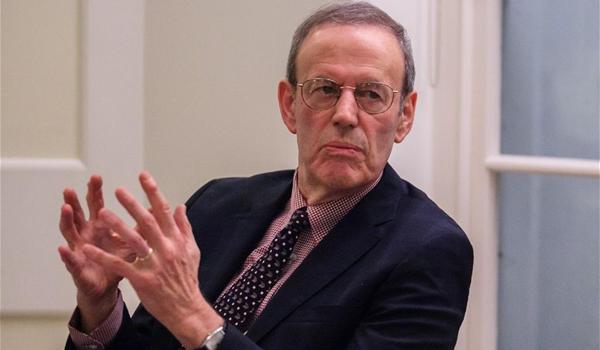 NED and Its Legacy
NED, a congressionally funded but privately operated grant-making institution, was set up to support civil society groups and democratic institution-building efforts throughout the world, particularly in closed societies and countries with authoritarian governments. According to Gershman, the organization provides grants, technical assistance, networking opportunities, and comparative research for hundreds of public and private entities putatively engaged in democracy promotion.[3] Much of its largesse is channeled through four autonomous bodies representing big business, organized labor, and the two major U.S. political parties—namely, the Center for International Private Enterprise,the American Center for International Labor Solidarity, the National Democratic Institute, and the International Republican Institute.
Soon after its founding, the group became mired in controversy as it turned into a tool of Cold War U.S. foreign policy. It has often been accused of supporting anti-democratic movements, subverting democratically elected governments, and more generally promoting narrow U.S. ideological or commercial interests at the expense of democracy abroad. "Promoting democracy is a nebulous objective that can be manipulated to justify any whim of the special-interest groups—the Republican and Democratic parties, organized labor, and the U.S. Chamber of Commerce—that control most of NED's funds," wrote Barbara Conry in a 1993 report for the libertarian Cato Institute. "As those groups execute their own foreign policies, they often work against American interests and meddle needlessly in the affairs of other countries, undermining the democratic movements NED was designed to assist."[4] (For more background on NED and its associated controversies, see Right Web's profile of the organization.)
NED's Cold War reputation continues to reverberate in contemporary geopolitical events. For example, in an attempt to justify its intervention in Ukraine's 2014 civil crisis, Russia accused the United States and its allies of orchestrating a coup in the country after protests in Kiev ousted an elected pro-Kremlin president, prompting a Russian incursion into the majority-Russian Ukrainian enclave of Crimea. Examining Moscow's suspicions, some observers pointed to a 2013 Washington Post op-ed Gershman had written calling Ukraine the "biggest prize" in an ongoing struggle between NATO and Russia for influence in Eastern Europe. "Assuming Putin is paranoid, this doesn't mean that no one is after him, or after his regime," wrote Al Jazeera analyst Marwan Bishara. "I reckon the Russian embassy in Washington, a couple of months before the Ukraine crisis began, had sent Putin the following quote from an article by Carl Gershman, President of the National Endowment for Democracy: 'Ukraine is the biggest prize, and there Russia's bullying has been particularly counter-productive…. Ukraine's choice to join Europe will accelerate the demise of the ideology of Russian imperialism that Putin represents.'"[5]
Gershman has railed against left-leaning, democratically elected leaders of what he calls the "populist autocracies" in Latin America—namely Ecuador, Bolivia, Venezuela, and Argentina. In May 2013, for example, Gershman characterized the 2013 Venezuelan presidential election—in which the socialist Nicolas Maduro defeated a Washington-backed candidate to succeed the late Hugo Chavez—as "gravely flawed."[6] Despite Gershman's allegations to the contrary, every major government in the region except the United States recognized the results, and the Carter Center praised Venezuela's electoral system as "the best in the world."[7] Nonetheless, Gershman has repeatedly likened Venezuela's political system to Russia's, describing both as "semi-authoritarian."[8]
Government ministers in Venezuela have long alleged that some groups receiving NED funds were involved in a failed 2002 coup against the democratically elected Chavez. Said one minister: "I wonder whether they are really promoting democracy, because they support people who have acted against democracy." When the government later arrested leaders of anti-Chavez groups accused of being connected to the coup, Gershman denounced the action, saying: "In the spectrum between democracy and dictatorship, the prosecution against the activists would be moving … closer to the authoritarian end." Gershman dismissed claims that NED was agitating against Chavez as "propaganda."[9]
On the Middle East
Gershman was a strong supporter of the Bush administration's "freedom agenda" in the Middle East, calling U.S. support for "democracy promotion" programs "one of the enduring consequences of the terrorist attack that occurred on 9/11."[10] In his 2004 State of the Union Address, President George W. Bush asked Congress to double NED funding, from $40 million to $80 million, with the new funding to be aimed specifically at democracy promotion in the Middle East. "As long as the Middle East remains a place of tyranny, despair, and anger, it will continue to produce men and movements that threaten the safety of America and our friends," Bush said. "So America is pursuing a forward strategy of freedom in the greater Middle East. We will challenge the enemies of reform, confront the allies of terror, and expect a higher standard from our friends." Gershman called the president's plan a "very dramatic move," promising that NED would not "impose our views. This is based on the idea that you have to support indigenous forces."[11]
Despite his general support for democratization in the Middle East, Gershman expressed some caution about the prospects for democratizing Iraq by force. "If a democracy is established in Iraq, it could have consequences far beyond Iraq's borders," he said in 2003. "But if it doesn't work, that will also have consequences beyond Iraq's borders."[12] Nonetheless, while he warned in 2007 that "one cannot expect to see democratic breakthroughs in this troubled region in the near term," he insisted that "Future opportunities for democratic breakthroughs will present themselves, and we will need to be ready to take advantage of them. As [Ronald Reagan] said at Westminster, 'democracy is not a fragile flower' but 'needs cultivating.' Even in the face of current challenges, providing effective help to people who are fighting for democracy on many fronts should be something we can readily do."[13]
Gershman later acknowledged the damaging impact of the Iraq War, but insisted that the subsequent "Arab Spring" revolutions had somehow vindicated the Bush administration's approach to the region. The association of the "freedom agenda with the controversies of the war in Iraq," he wrote in the World Affairs Journal, "obscured Bush's message that America has both a deep belief in democratic universalism and a vital stake in the success of democracy in the Middle East and beyond. But with the passage of time and subsequent events, the importance of this message has become clearer. Just as Reagan's vision of democracy's triumph over communism was affirmed by the events of 1989, the Arab Spring has vindicated Bush's belief that Arab dictatorships were inherently unstable and that democracy has more appeal to the people of the Middle East than jihadist violence and ideology."[14] Gershman failed to acknowledge that several of the uprisings—including in Tunisia, Egypt, and Yemen—had occurred in U.S.-backed autocracies, while Iraq—the centerpiece of the "freedom agenda"—remained mired in political conflict and sectarian violence.
Gershman has expressed tentative optimism about democratic reform in Iran, once telling an Australian interviewer, "one should not rule out, over the medium term, political change in Iran because you have loads of people, women, youth and so forth, who do not really want this kind of a government which has not been able to deliver economically."[15] In another interview, Gershman mused that a democratic Iran would have a more positive relationship with the United States, claiming that apartheid-era South Africa had "awful relations" with the United States, and that the U.S.-Chile relationship suffered "great tension" during the dictatorial rule of Augusto Pinochet. Contrary to Gershman's claims, however, the Reagan administration staunchly supported the apartheid South African government as an anticommunist ally, and the Nixon administration helped orchestrate the coup the put Pinochet in power, toppling the elected socialist government of Salvador Allende in 1973. Gershman similarly brushed aside an interviewer's reminder that the United States helped engineer the 1953 coup that overthrew a democratic leader in Iran itself, saying simply, "That was before my time."[16]
Gershman has been noncommittal about the possibility of a U.S. military strike on Iran. When asked by an Iranian interviewer whether such a strike would be "disastrous," Gershman said simply, "Americans can debate that." He dismissed out of hand the interviewer's question about whether "Israel influences U.S. policy towards Iran," claiming somewhat improbably, "I don't even know what you are talking about."[17]
Early Trajectory
In his youth, Gershman was involved in the civil rights movement, volunteering in Mississippi and Alabama and later working at the A. Philip Randolph Institute, an association of African-American trade unionists, as an assistant to Bayard Rustin. He also spent several years working on Israel-Palestine issues. In the late 1960s and early 1970s, he worked as a researcher for B'nai B'rith International, sat on the governing board of the American Jewish Committee, and served as executive director of Youth Committee for Peace in the Middle East.
A self-described social democrat in those years, Gershman became the executive director of Social Democrats-USA shortly after the Socialist Party-USA split into two factions in the early 1970s: a left-wing led by Michael Harrington, and a right-wing led by Gershman, Tom Kahn, and Rachelle Horowitz. The right faction morphed into SD-USA, which in the early 1970s rallied around Sen. Henry "Scoop" Jackson, the hawkish Democrat from Washington State whose staff was made up of several future key neoconservative figures, including Richard Perle, Frank Gaffney, and Elliott Abrams. Like many of these neoconservatives, Gershman was tapped to serve in the Reagan administration.[18]
Describing his political views years later, Gershman said, "I have to confess that, in my early youth, I was a kind of a social democrat of sorts; I'm now really a [small-d] democrat; I'm non-partisan." In the same 2006 interview, he lamented the defeat of the neoconservative Democratic Sen. Joe Liebermanin Connecticut's Democratic primary, praising Lieberman as "someone who tried to operate in a bi-partisan framework."[19] Lieberman was reelected as an independent before retiring from the Senate in 2013.
Gershman has written for a number of rightist and mainstream media outlets, including Commentary, the New Leader, New Republic, Wall Street Journal, American Spectator, New York Times Magazine, Midstream, Washington Quarterly, and the Journal of Democracy, among many others. He is the co-editor of Israel, the Arabs, and the Middle East (1972) and the author of The Foreign Policy of the American Labor (1975).