Citizens for a Nuclear Free Iran
last updated: July 28, 2015
Please note: The Militarist Monitor neither represents nor endorses any of the individuals or groups profiled on this site.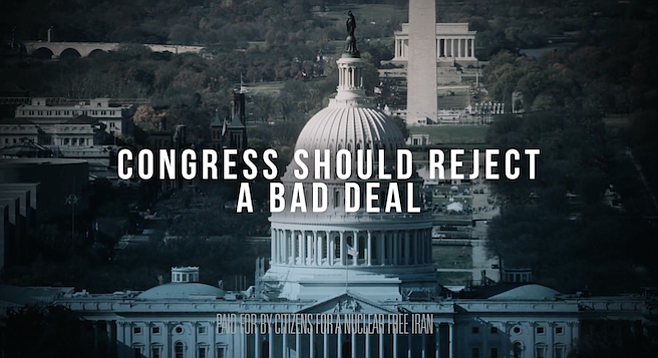 Contact Information
Phone: 202-549-7670
Email: patrickdorton@nuclearfreeiran.org
Founded
2015
About
"Citizens for a Nuclear Free Iran (CNFI) is a 501(c)(4) nonprofit organization dedicated to preventing Iran from obtaining a nuclear weapons capability. CNFI was founded in 2015 in response to concerns surrounding the nuclear negotiations between the P5+1 (the United States, the United Kingdom, China, France, Russia, plus Germany) and Iran. Following public release of the proposed nuclear agreement in July 2015, CNFI began an intensive communications effort to educate the public about the significant flaws and serious consequences of the proposed deal."
Citizens for a Nuclear Free Iran (CNFI) is an offshoot of the American Israel Public Affairs Committee (AIPAC) founded in 2015 to "educate the public about the dangers" of the nuclear agreement reached between Iran and the "P5+1" world powers in July 2015.[1]
The Washington Post reported that AIPAC funneled "resources to support Citizens for a Nuclear Free Iran, a new 501(c)4 group that is expected to spend around $20 million on advertising and campaigns in up to 40 states to get opponents of the Iran deal to pressure their representatives in Congress."[2]
According to the neoconservative-aligned Washington Free Beacon, CNFI's spokesperson, Patrick Dorton, is "a Washington-based political operative who has long done public relations work on behalf of AIPAC." Dorton describes CNF as "an organization established with the financial support of AIPAC and other orgs and individuals to prevent Iran from obtaining nuclear weapons capability."[3]
"AIPAC seems to regard its own brand as toxic, and maybe Israel's brand too … Notice that the [CNFI's] ad says not a word about Israel, which is deceptive," Mondoweiss' Philip Weiss has said of CNFI.[4]
CNFI's multimillion-dollar ad campaign against the Iran deal has been primarily aimed at Democratic constituencies. "It appears AIPAC may be targeting Democratic lawmakers who hold the key to forming a veto-proof majority should the deal be voted down in Congress," one observer has stated. "The buy appears to target mostly cities and states with Democratic members who may be swayed to vote against the nuke deal."[5]
Jeffrey Lewis, a nuclear expert and director of the East Asia program for the Center for Nonproliferation Studies, strongly criticized CNFI's main TV ad against the deal, describing it as "very misleading." Among his criticisms were that "nearly all of the statistics cited" in the ad were "taken out of context." When asked how he would rank how truthful the ad was, Lewis stated: "If the lowest number I could give is a one, I'd give it a one."[6]
CNFI has also garnered controversy for its ties to a controversial Iranian opposition group, the Mojahedin-e Khalq (MEK), which until 2012 was on the State Department's list of terrorist organizations. According to a July 2015 LobeLog story: "Two items on the website of Citizens for a Nuclear Iran, one of which was later removed, featured an exiled Iranian opposition group called the Mojahedin-e Khalq."[7]
One prominent MEK supporter, former Sen. Joe Lieberman, is also a member of CNFI's advisory board. Lieberman has addressed MEK gatherings in the past and has said the United States "should be working closely" with the group, which advocates for regime change in Iran and has a history of committing violent attacks inside the country.[8]
CNFI's other advisors are also former hawkish Democratic members of Congress, including former Sens. Evan Bayh (IN), Mark Begich (AK), Mary Landrieu (LA) and former Rep. Shelley Berkley (NV).[9]
The Nation's Ali Gharib remarked about CNFI's advisory board: "It's sort of a remarkable list when you look at it. I mean, it's obvious why AIPAC picked them, they're the most stalwart-like traditionally pro-Israel figures that have come off the Hill in recent years."[10]