Daniel McKivergan
last updated: February 3, 2014
Please note: The Militarist Monitor neither represents nor endorses any of the individuals or groups profiled on this site.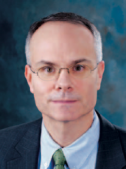 Affiliations
Hudson Institute: Deputy Director of Public Affairs & Special Programs
John McCain 2008 Presidential Campaign: Foreign Policy Aide
Weekly Standard: Former Online Foreign Editor and Contributor
Project for the New American Century: Former Deputy Director
New Citizenship Project: Former Deputy Director
Philanthropy Roundtable: Policy Director
Project for the Republican Future: Former Staffer
Republican National Committee: Former Research Department Analyst and Director

Government
Office of Sen. John McCain (R-AZ): Former Legislative Director
Office of Rep. Dan Miller (R-FL): Former Legislative Director
U.S. Coast Guard Reserve: 1985-1989

Business
Polaris Analysis, LLC: Founder
Baron Public Affairs

Education
College of the Holy Cross: BA
Johns Hopkins University: MA
Daniel McKivergan is a writer and consultant who has worked for a number of neoconservatives and high-profile Republican Party hawks. He is the founder of Polaris Analysis, LLC and was, as of 2012, the deputy director of public affairs and special programs at the neoconservative Hudson Institute.[1]
Once described as a protégé of veteran neoconservative activist William Kristol,[2] McKivergan was a deputy director of the Project for the New American Century (PNAC) and later the online foreign editor of Kristol's Weekly Standard magazine, a flagship publication for the neoconservative movement. He served as a legislative aide to Sen. John McCain in the early 2000s and, after leaving the Standard in 2007, worked as a foreign policy aide to McCain's 2008 presidential campaign.
Throughout much of the 1990s and early 2000s, McKivergan alternated between stints with various Kristol-linked outfits and positions on McCain's staff. In 1993, after a five-year stint as a researcher at the Republican National Committee, McKivergan took a post at the Project for the Republican Future—a PNAC predecessor then chaired by Kristol—before joining the Weekly Standard staff as a researcher in 1995. At Kristol's recommendation, McCain took McKivergan on as a legislative aide in 2000, following McKivergan's brief stint working as legislative director for Rep. Dan Miller (R-FL) and two years as a policy director at the Philanthropy Roundtable.[3]
In 2002, McGivergan joined Kristol again as the deputy director of PNAC and its sponsor, the New Citizenship Project. From his perch at PNAC, which he shared with a host of neoconservatives and liberal hawks who agitated for the U.S. invasion of Iraq, McGivergan issued a series of memos rounding up pro-war media coverage for "opinion leaders."[4] Even after the United States failed to find weapons of mass destruction in Iraq, McKivergan continued to argue that there had been substantial evidence that Saddam Hussein had been stockpiling WMD leading up to the war.[5] He was also a signatory of a January 2005 PNAC "Letter to Congress" calling for lawmakers to approve an increase in U.S. ground forces of 25,000 active duty troops per year.[6]
McKivergan left PNAC in 2005 to rejoin the Weekly Standard as its online foreign editor. At the Standard, McKivergan periodically published pro-war commentaries and blog posts. "It's important to remember that terror attacks against the United States didn't start the day our troops entered Baghdad, and they won't end if we leave Iraq to the terrorists," he wrote in October 2006. In other posts, he alleged that Iran was developing nuclear weapons[7] and likened Iran's hardline President Mahmoud Ahmedinejad to Saddam Hussein.[8]
McKivergan left the Standard in 2007 to serve as a foreign policy staffer on John McCain's 2008 presidential campaign.[9] Since the campaign, he appears to have retreated from public view.