David J. Kramer
last updated: September 9, 2011
Please note: The Militarist Monitor neither represents nor endorses any of the individuals or groups profiled on this site.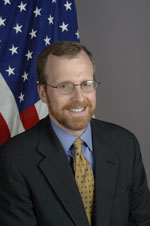 Affiliations
Freedom House: Executive director (2010- )
German Marshall Fund: Former fellow
Project for the New American Century: Former senior fellow
Carnegie Endowment for International Peace: Former assistant director of Russian and Eurasian studies
Center for Strategic and International Studies: Former assistant director of Russian and Eurasian studies
Government
State Department: Assistant Secretary of State for Democracy, Human Rights and Labor (2008-2009); Deputy Assistant Secretary of State for European and Eurasian Affairs (2005-2008)
Education
Tufts University: BA Soviet Studies and Political Science
Harvard University: MA Soviet Studies
David Kramer is a former Sovietologist who serves as executive director of Freedom House, a U.S. government-funded democracy advocacy group that has been closely associated with neoconservative advocacy for decades. Kramer's experience also includes working as a fellow at the Project for the New American Century (PNAC), a pressure group founded by William Kristol and Robert Kagan that was notorious for its efforts to push the United States into war with Iraq after the 9/11 attacks. A political appointee in the Condoleeza Rice-led State Department during George W. Bush's second term, Kramer's final post in the Bush administration was as assistant secretary of state for democracy, human rights, and labor, a post he held from March 2008 until January 2009.[1]
Before joining Freedom House in 2010, Kramer was a "senior transatlantic fellow" at the German Marshall Fund. From this perch, Kramer penned various critiques of the Obama administration's foreign policy in op-eds and for the Foreign Policy blog Shadow Government. In a September 2009 op-ed for the Washington Post, Kramer criticized President Obama for "acquiescing" to Russia on missile defense. Pointing to the administration's decision to abandon controversial plans to develop missile defense systems in Poland and the Czech Republic—which were originally pursued by the George W. Bush administration—Kramer argued that Obama's decision was a "capitulation to Russian pressure" and "a serious betrayal of loyal allies in Warsaw and Prague whose governments pursued politically unpopular positions at the request of the Bush administration to help confront a rising threat from Iran."[2]
Serious arms control analysts, however, applauded Obama's decision, arguing that the Polish-Czech plan was designed to defend against a non-existent threat and that in any case the plan was to be replaced with alternative defense systems. "The Obama administration made the right call," said Tom Collina, research director at the Arms Control Association. "It would have been extremely unwise to proceed with the Bush administration's plan to rush untested interceptors into Poland to deal with an Iranian long-range missile threat that does not yet exist. President Obama's more pragmatic approach steers the United States toward a European missile defense that addresses more realistic threats and also facilitates deeper reductions in bloated U.S. and Russian nuclear stockpiles."[3]
Kramer's State Department biography states:
"From July 2005 to March of 2008, Mr. Kramer was Deputy Assistant Secretary of State for European and Eurasian Affairs, responsible for Russia, Ukraine, Moldova, and Belarus affairs, as well as regional nonproliferation issues. Previously, he served in the Department of State Office of Policy Planning as a Professional Staff Member, and before that, was Senior Advisor to the Under Secretary of State for Global Affairs. He also was Executive Director of the U.S. Advisory Commission on Public Diplomacy in Washington.
"Before joining the Government, he was a Senior Fellow at the Project for the New American Century, Associate Director of the Russian and Eurasian Program at the Carnegie Endowment for International Peace, and Assistant Director of Russian and Eurasian Studies at the Center for Strategic and International Studies, all in Washington. Prior to moving to Washington, he was a Lecturer in Russian Studies at Clark University in Worcester, Massachusetts and a Teaching Fellow at Harvard University. He also served as an analyst for the Christian Science Monitor Network during the collapse of the Soviet Union.
"A native of Massachusetts, Mr. Kramer received his M.A. in Soviet studies from Harvard University and his B.A. in Soviet Studies and Political Science from Tufts University."[4]