Dennis Showalter
last updated: January 6, 2011
Please note: The Militarist Monitor neither represents nor endorses any of the individuals or groups profiled on this site.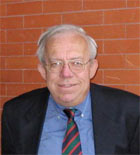 Affiliations
Institute for the Study of War: Board member
Center for Security Policy: Member, Academic Council
Colorado College: Professor
Military History Society: Former president
U.S. Military Academy: Former professor
U.S. Air Force Academy: Former professor
Marine Corps University: Former professor
Education
University of Minnesota: Ph.D., 1969
University of Minnesota: MA, 1965
St. John's University: BA, 1963
A professor of history at Colorado College, Dennis Showalter is a widely recognized expert on military history, focusing primarily on Germany and the United States. His experience includes serving as president of the Society for Military History, and teaching at several service academies, including the U.S. Military Academy, the U.S. Air Force Academy, and the Marine Corps University. A prolific author, Showalter's publications include The Wars of German Unification; Tannenberg: Clash of Empires; The Wars of Frederick the Great; Railroads and Rifles: Soldiers, Technology and The Unification of Germany; and Patton and Rommel: Men Of War in the 20th Century.[1]
Showalter received the Samuel Eliot Morison Prize in 2005 and the Victor Gondos Memorial Service Award in 2002 from the Society for Military History, and the Clio Award from the Department of History, US Air Force Academy in 2000.[2]
Showalter has advised advocacy organizations closely affiliated with neoconservatives and hawkish "pro-Israel" policy campaigns. He has served on the academic council of Center for Security Policy, led by Frank Gaffney; and served on the board of directors for the Institute for the Study of War (ISW) in 2008, a policy group in Washington, D.C. that is directed by Kimberly Kagan, spouse of Frederick Kagan, a resident scholar at the American Enterprise Institute. Other ISW board members have included retired Gen. Jack Keane; a key architect of the "surge" in Iraq; Elizabeth Cheney, daughter of former Vice President Dick Cheney and head of the controversial pressure group Keep America Safe; and William Kristol, editor of the neocon flagship the Weekly Standard.[3]
ISW has served as a key "non-partisan" advocate of militarist solutions to conflicts in the Middle East and Afghanistan. Its advocacy efforts include regularly hosting current military officers—like Gen. David Patraeus, Army Commander of U.S. Central Command—who have championed long-term military commitments in both Iraq and Afghanistan.[4]