Elaine Chao
last updated: January 8, 2017
Please note: The Militarist Monitor neither represents nor endorses any of the individuals or groups profiled on this site.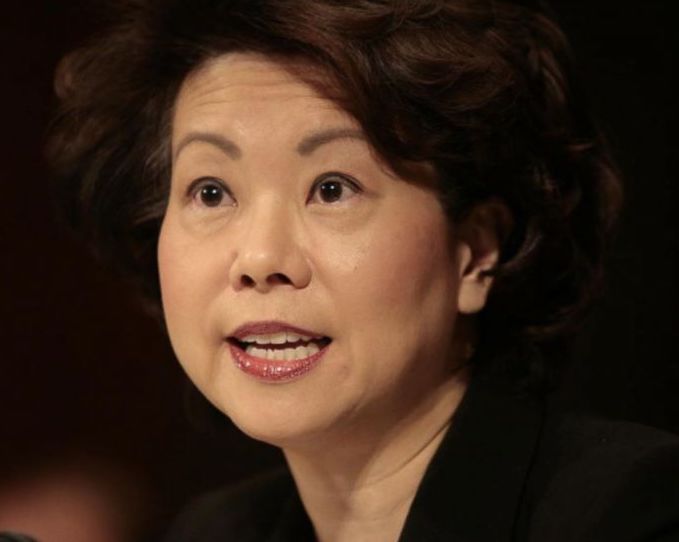 AFFILIATIONS
Hudson Institute: Distinguished Fellow
Heritage Foundation: Former Distinguished Fellow
United Way America: President and CEO (1992-1996)
Independent Women's Forum: Woman of Valor Award Recipient (2005)
Bloomberg Philanthropies: Former Board Member
GOVERNMENT
Labor Department: Secretary of Labor (2001-2009)
Peace Corps: Director (1991-1992)
Department of Transportation: Deputy Secretary (1989-1991); Former Deputy Maritime Administrator
Federal Maritime Commission: Former Chair
Reagan Administration: White House Fellow (1983)
BUSINESS
Bank America Capital Markets Group: Former Vice President of Syndications
Citicorp: Former Banker
EDUCATION 
Mount Holyoke College: BA, Economics
Harvard Business School: MBA
Elaine Chao is Donald Trump's nominee for secretary of transportation. A longtime fellow at the right-wing Heritage Foundation, Chao has been at the neoconservative Hudson Institute since 2016. Chao previously served as secretary of labor under George W. Bush, serving in that post during Bush's entire presidency. Her tenure was notable for her skepticism of new labor regulations and efforts to rollback existing safety regulations.[1]
Chao is married to Sen. Mitch McConnell (R-AZ), who became the Senate majority leader after the 2014 congressional elections. During McConnell's campaign for reelection in 2014, Chao became a point of contention because of her participation on the board of Bloomberg Philanthropies, which funds anti-coal environmentalists. McConnell, however, is an ardent supporter of Kentucky's coal industry.[2] In January 2015, Chao resigned from her board position at Bloomberg.[3]

Although Chao's work as labor secretary focused primarily on domestic policy, she worked to reinforce the Bush administration's "war on terror" rhetoric by citing it as a rationale for pressing conservative policy on labor. In mid-2002, when the administration justified the suppression certain of union activities by arguing that they could threaten national security, the Inter Press Service reported:  "Homeland Secretary Tom Ridge and Labor Secretary Elaine Chao have both intervened personally to tell the union's bargaining committee that the administration is prepared to prevent any strike, says Clarence Thomas, secretary-treasurer of Local 10 of the International Longshore and Warehouse Union (ILWU) … according to Thomas, administration officials have made it clear that in the event of a strike, Bush would at least invoke the Taft-Hartley Act, under which striking longshoremen would be ordered to return to work for 80 days."[4]
In a speech to the rightist Federalist Society in 2003, Chao echoed the neoconservative-driven argument that international legal groups and rights organizations threaten U.S. freedom of action. Citing the Federalist Society-American Enterprise Institute joint project, NGO Watch (later rechristened as Global Governance Watch), Chao stated, "The reality is that multilateral organizations, NGOs, are becoming major, key players in global public opinion and global standard setting. Conservatives need to pay attention to these organizations and the NGOs that influence them. … The Society's NGO Watch program will provide an invaluable resource for those who cherish freedom, liberty, transparency, and accountability. It can help you monitor NGOs and the progress they're making to impose through various ways, including through multilateral organizations, the policies that they are unable to muster enough support at home to enact." She added, "We've got to constructively engage these organizations if we are to win the global battle for ideas, because that is a new battleground. So, I urge you to pay attention to this area  … President George W. Bush, as you well know, takes the battle over ideas very seriously. I am proud of his leadership and the resolve he has shown in fighting the war on terror and expanding the reach of democracy."
During her stint at Heritage before joining the administration, Chao pushed the conservative organization to view China as a prime economic prospect rather than as a threatening U.S. competitor. In an Asia Times article on the Bush administration's confusing China policies, Tim Shorrock drew on a John Judis piece in the New Republic that explored Heritage's about-face on China. "Chao, according to Judis, came from a wealthy shipping family based in Taiwan that expanded in part through a relationship between Chao's father and Chinese leader Jiang Zemin. As a senior Heritage official, the article claims, Chao helped push out former Reagan aide Richard V. Allen and presided over a policy shift that transformed Heritage from a hardline supporter of Taiwan into a promoter of economic engagement with China."[5]
Chao appeared to continue championing this view of China policy after joining the Bush administration. Chao was a moderate member of the high-level U.S. delegation that traveled to China in December 2006 to discuss economic policy. While some U.S. delegates pointed to Chinese intransigence on economic reform, Chao repeatedly underscored the challenges facing Beijing, arguing that it was important to understand that China views its progress in terms of its own history, and not according to U.S. standards. "They're looking at it from a relative point of view," she said. "We're looking at it, obviously, from the absolute comparative basis."[6] She also stressed that despite disagreements with their Chinese counterparts, U.S. delegates strived to show that the United States "has a very interested stake in China's economic well-being."[7]
Critiquing the views expressed by conservatives like Chao that China should be viewed as an acceptable business partner, Michael Rust of the conservative Insight on the News wrote, "Osama bin Laden dipped into his huge fortune to recruit, train, and transport suicide bombers into the heart of American power. Maybe he should just have used the money to start a Washington think tank instead."[8]
In 2005, Chao was given the "Woman of Valor" award by the conservative Independent Women's Forum (IWF), which claims to have been founded "to provide American women with commonsense views, intellectual honesty, and respect for the principles of limited government, strong families, freedom, and opportunity."[9] Emeritae members of the IWF board include Midge Decter (who is married to Norman Podhoretz) and Lynne Cheney (who is married to former Vice President Dick Cheney). Chao and right-wing pundit Linda Chavez are former members of IWF's National Advisory Board.