Elizabeth O'Bagy
last updated: September 13, 2013
Please note: The Militarist Monitor neither represents nor endorses any of the individuals or groups profiled on this site.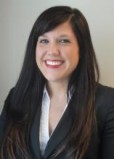 Affiliations
Institute for the Study of War: Former research analyst, Syria team leader
Syrian Emergency Task Force: Political director

Education
Georgetown University: MA
American University of Cairo
Elizabeth O'Bagy is a researcher who has written several reports and op-eds calling on Washington to arm the Syrian rebels and attack the Syrian regime. She was based at the neoconservative Institute for the Study of War (ISW) until early September 2013, when ISW terminated her employment after determining that she had lied about her academic credentials.[1] She has also worked as political director of the Syrian Emergency Task Force (SETF),[2] a D.C.-based advocacy group closely linked to the Syrian opposition that "aims to expedite the fall of the [Assad] dictatorship regime," according to a statement on its website.[3]
O'Bagy has traveled to Syria several times and visited with armed opposition groups there. She is the author of numerous reports and op-ed pieces calling on the United States to provide heavy weaponry to the Syrian rebels and to launch missile strikes on critical regime infrastructure. "Any swift and decisive decision to materially aid the Free Syrian Army," she wrote for the Atlantic in June 2013, "will necessarily include degrading or destroying the runways and infrastructure of Syria's military airbases and commercial airports."[4]
O'Bagy's dual affiliation with ISW and SETF was the source of some controversy, particularly after the publication of an August 2013 Wall Street Journal op-ed in which O'Bagy claimed that extremist groups were less prominent components of the armed Syrian opposition than was typically reported. "Contrary to many media accounts, the war in Syria is not being waged entirely, or even predominantly, by dangerous Islamists and al Qaeda die-hards," she wrote. "Moderate opposition groups make up the majority of actual fighting forces." She also reiterated her argument that Washington's policy in Syria should be directed at "destroying Assad's military capability while simultaneously empowering the moderate opposition with robust support."[5]
O'Bagy's Journal op-ed was touted by pro-intervention public officials like Sen. John McCain and Secretary of State John Kerry, who endorsed her argument and urged colleagues to read it. "I just don't agree that a majority [of Syria's rebels] are al-Qaeda and the bad guys," Kerry said.[6]
But several observers disagreed with this assessment on its face. Reuters reported that it was "at odds with estimates by U.S. and European intelligence sources and nongovernmental experts, who say Islamic extremists remain by far the fiercest and best-organized rebel elements."[7] Charles Lister, a Middle East analyst at IHS Jane's Terrorism & Insurgency Centre, wrote in a series of tweets that he found O'Bagy's analysis misleading and overly simplistic. "Travelling extensively with 'moderates' with a premeditated desire to see their liberal foundations & civilian influence is self-fulfilling," he wrote. "Unfortunately, all too often, politics craves simplicity and cowers from complexity. Syria is immensely complex—please don't forget this."[8]
More controversially, in its initial publication of her op-ed, the Wall Street Journal noted O'Bagy's ties to ISW but failed to disclose her paid affiliation with SETF, which "has spent months lobbying Congress, the State Department and the White House for everything from small arms to anti-tank and anti-aircraft weapons to body armor to advanced communications equipment for the rebels," according to Foreign Policy. "O'Bagy seems to pass herself off as an impartial observer of the situation," said one Center for Security Policy staffer quoted by the Daily Caller. "Her access to Congress, intelligence services and to think tanks should be regarded as what it really is, which is a reflection of the Syrian rebels' cause and aspirations." Speculating on the influence her opposition ties may have had on her policy work, the Daily Caller noted that O'Bagy had initially opposed the U.S. classification of the al-Nusra Front—a Syrian rebel group with open ties to al-Qaeda—as a terrorist group.[9]
For her part, O'Bagy insisted that she was only paid by SETF on a contractual, project-by-project basis. In a subsequent Daily Caller interview, she added that these contracts were often facilitated by the State Department or its own contractors.[10]
Although the Wall Street Journal declined to comment on the omission, it subsequently added a line to O'Bagy's byline disclosing her affiliation with SETF.[11]