Fred Thompson (1942-2015)
last updated: November 3, 2015
Please note: The Militarist Monitor neither represents nor endorses any of the individuals or groups profiled on this site.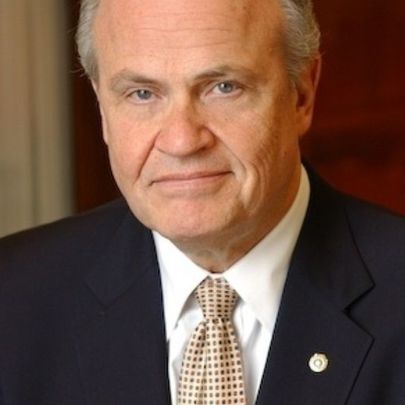 Affiliations
American Enterprise Institute: Former Visiting Fellow
Citizens United: Supporter, narrator
Government
U.S. Senate: R-TN, 1994-2003
Tennessee Appellate Court Nominating Commission: Member, 1985-1987
State of Tennessee: Special Counsel to Gov. Lamar Alexander, 1980
Assistant U.S. Attorney: 1969-1972
Business
Feature Film and Television Actor
Education
Vanderbilt University: J.D.
Memphis State University: B.A.
Fred Thompson (1942-2015) was a TV actor who served as a Republican senator from Tennessee and ran briefly for the 2008 Republican Party presidential nomination. He held a fellowship at the neoconservative American Enterprise Institute (AEI), where he focused on national security and intelligence issues related to North Korea, China, and Russia. Best known for his role on the hit television series Law & Order, Thompson was also known for his use of aggressive and bombastic rhetoric to characterize undocumented immigrants and America's "enemies," as well as for his long history of supporting hawkish security policies and controversial weapons programs.
In his final years, Thompson was an avowed critic of President Obama, claiming that he had "no concept" of the "founding principles of our government."[1] Thompson died in November 2015, at the age of 73.[2]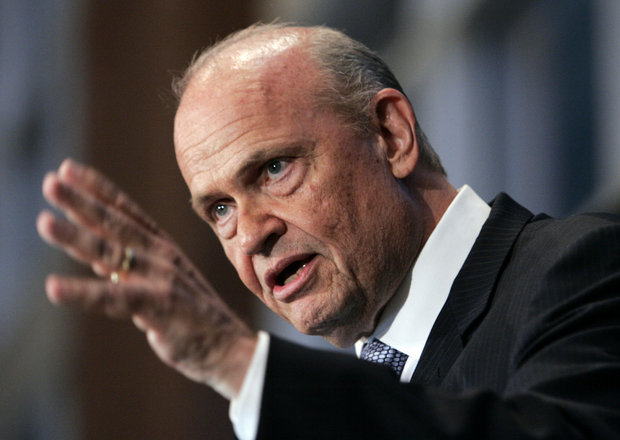 Thompson briefly campaigned for the 2008 Republican presidential nomination. After a number of poor showings in early primaries—and lackluster debate performances—Thompson dropped out of the contest, stating in a brief announcement on his campaign web page: "Today I have withdrawn my candidacy for President of the United States. I hope that my country and my party have benefited from our having made this effort. Jeri and I will always be grateful for the encouragement and friendship of so many wonderful people."
During the 2012 Republican presidential campaign, Thompson publicly endorsed the candidacy of Newt Gingrich, saying on Fox News Hannity, "I have come to the growing realization that Newt Gingrich is the guy who can articulate what America is all about," adding that Gingrich could "make the case and not just read the talking points" on issues like free markets, the greatness of America, and lower taxes.[3] During the 2008 campaign, Thompson frequently clashed with Gingrich's main rival in 2012, Mitt Romney, including by trying to focus negative attention on Romney's extreme wealth,[4] foreshadowing a strategy that would be employed in 2012 by Gingrich supporters in the Sheldon Adelson-funded super-PAC, Winning Our Future.[5]
Although not tightly aligned with the neoconservative political faction, Thompson long pursued U.S. security policies in line with the views expressed by his former colleagues at AEI. He vociferously defended the Iraq war, frequently voiced skepticism of the United Nations, championed controversial missile defense policies, and was a reliable antagonist of Mideast regimes targeted by neoconservatives as part of the "war on terror." Such was his standing among this faction that the Bill Kristol-run Weekly Standard promoted Thompson as a possible replacement for John Bolton as U.S. ambassador to the United Nations. Opined Michael Goldfarb on the Standard's blog in November 2006: "Like Bolton, [Thompson is] tough, well versed in national security, extremely articulate, and would be a forceful public advocate for the president's policies. … A Thompson pick would also send a bold signal that the president isn't about to run-out-the-clock on his term."[6]
After Thompson hinted in early 2007 that he might run for president, many hardline conservatives voiced loud approval. The Standard's Victorino Matus, for example, wrote a piece analyzing Thompson's film career to get "deeper insights into the individual, his thoughts, and inclinations." Matus highlighted Thompson's role in The Hunt for Red October, in which he played Adm. Josh Painter, the commander of an aircraft carrier tracking a Soviet submarine. Matus highlighted a quote from the admiral during a discussion about Kremlin strategy. When one character expressed skepticism about the existence of a Kremlin "plan," Thompson's character responded: "Russians don't take a dump, son, without a plan." Commented Matus: "Though a bit scatological, Thompson displays the keen insight of a Sovietologist, fully aware of how Russians think and act–and without having to look into anyone's soul. (Incidentally, during an editorial lunch at the Weekly Standard, Senator Thompson said he considered The Hunt for Red October to be his favorite film to have worked on—even more than Curly Sue)."[7]
Playing on his conservative image and actor background, Thompson began his campaign by attempting to harness Ronald Reagan's popularity. According to the New York Times, Thompson "had one central strategic goal as he formally began his presidential campaign on [September 6]: to win over conservatives who are disheartened at their current choice of Republican candidates by positioning himself as the ideological and stylistic heir of Ronald Reagan."[8]
As a candidate, however, Thompson never gained the momentum that some Republicans hoped he would. As the Times reported in October 2007: "So far on the campaign trail, Mr. Thompson has stumbled at times when pressed for his views on certain local and national issues, like not knowing of the fight over oil drilling in the Everglades and in referring to Russia as the Soviet Union."[9]
At AEI, Thompson was a frequent conference speaker, often joining the likes of Max Boot, Fred Kagan, and Danielle Pletka in panel discussions on themes such as "Five Years Later: A Progress Report on U.S. Security Post-9/11." In April 2004, Thompson gave what AEI termed "a major policy address about the war in Iraq, terrorism, and the 2004 presidential election." In the address, Thompson lambasted opponents of the Iraq War, arguing, "in every war the prophets of doom reach for the same old phrasebook. Every significant battle facing the United States has been, and I quote, 'another Vietnam.' But just as these voices were wrong in 1991 and 2001, and wrong again in 2003, so too are they wrong again today." He also dismissed the need to get UN support for U.S. actions, saying: "For those who argue that the United Nations can bestow legitimacy on the occupation that the United States lacks, and that this will quell the insurgency, let me remind you that insurgents have bombed the United Nations mission in Iraq twice."[10]
Thompson concluded his address, saying: "The challenge of winning this fight is real and it is daunting, but we should not confuse symbolic gestures for genuine strategy. Our enemies can tell the difference, and so should we. The purpose of terrorism is to undermine public opinion here at home, to weaken the strategic center of gravity for this war. I believe, however, that the American center will hold. And when the president's political opponents run a campaign on defeat, it is they who will be defeated. Contrary to the pronouncements of the prophets of defeat, Americans do not walk away from a challenge, and we are not going to run away from this fight. In September 2001, we became a nation filled with resolve, and I believe we still are."[11]
Thompson also expressed outdated views on climate change during the campaign. In a March 2007 radio broadcast entitled "Plutonic Warming," which was posted on the National Review and AEI websites, Thompson ridiculed the notion of global warming, telling his audience: "Some people think that our planet is suffering from a fever. Now scientists are telling us that Mars is experiencing its own planetary warming: Martian warming. It seems scientists have noticed recently that quite a few planets in our solar system seem to be heating up a bit, including Pluto. NASA says the Martian South Pole's 'ice cap' has been shrinking for three summers in a row. Maybe Mars got its fever from Earth. If so, I guess Jupiter's caught the same cold, because it's warming up too, like Pluto. This has led some people, not necessarily scientists, to wonder if Mars and Jupiter, non-signatories to the Kyoto Treaty, are actually inhabited by alien SUV-driving industrialists who run their air conditioning at 60 degrees and refuse to recycle. Silly, I know, but I wonder what all those planets, dwarf planets, and moons in our solar system have in common. Hmmmm. Solar system. Hmmmm. Solar? I wonder. Nah, I guess we shouldn't even be talking about this. The science is absolutely decided. There's a consensus. Ask Galileo."[12]
Thompson was a supporter of and served as the promotional face for the limited-government organization Citizens United, appearing in promotional ads and films for the group on various occasions. In 2010, the group won a notorious court case in the U.S. Supreme Court that allowed for unregulated corporate spending in election campaigns. Thompson narrated the 2011 Citizens United-produced documentary "Perfect Valor," which details the 2004 battle for Fallujah, Iraq.