Gabriel Benador
last updated: December 3, 2010
Please note: The Militarist Monitor neither represents nor endorses any of the individuals or groups profiled on this site.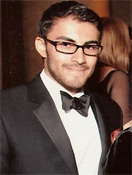 Affiliations
Benador Public Relations: Associate Director
Jacques International, LLC: President and Founder
Education
Gabriel Benador is the associate director of Benador Public Relations (BPR), the successor firm to Benador Associates, a public relations company directed by Eleana Benador that served as a key promoter of neoconservative ideologues after the 9/11 attacks and during the run up to the invasion of Iraq.
Benador clients have included many of the more vocal proponents of the invasion of Iraq and an expansive "war on terror," such as Rachel Ehrenfeld, Hillel Fradkin, Charles Krauthammer, Richard Perle, Dennis Prager, James Woolsey, and Meyrav Wurmser.
Since the second George W. Bush administration, the Benador business has largely ceased promoting right-wing political wonks. According to its website, "This boutique public relations firm is particularly targeting high end clients worldwide whose activities and interests need the expertise of a professional who understands the sensitivities, needs and expectations of their counterparts in other parts of the world. … Whether you need public relations support or, like in the case of banking institutions, privately enhance your customer relations or develop your activities in another country or continent, and whether you specialize in finance, real estate, industries, the arts, architecture, fashion, health, or others, the reality is that you need someone who truly understands where you are coming from, what your target is and who is committed enough to understand also your partners and serves as your 'diplomatic representative' to make you succeed in whatever your goal is."[1]
According to his BPR bio, "Born in Geneva, Switzerland, Gabriel Benador is a Swiss and American citizen. As Associate Director of Benador Public Relations, he deals with the daily administrative tasks whilst being mentored by Ms Benador herself to become a partner, along side her, in the company."[2]