Hillel Neuer
last updated: December 1, 2011
Please note: The Militarist Monitor neither represents nor endorses any of the individuals or groups profiled on this site.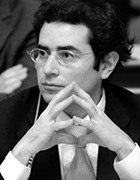 Affiliations
UN Watch: Executive Director
Private Sector
Paul, Weiss, Rifkind, Wharton & Garrison LLP: Former litigator
Education
Concordia University: B.A. in Political Science
McGill University: B.C.L. and LL.B.
Hebrew University (Jerusalem): LL.M.
Hillel Neuer is a Canadian-born activist and lawyer who directs the "pro-Israel" watchdog group UN Watch, a controversial Geneva-based organization that is affiliated with the American Jewish Committee.[1] A former law clerk in the Israeli Supreme Court, Neuer has earned a reputation as a divisive opponent of Israel's critics within the UN Human Right Council (HRC).
In his commentaries regarding HRC members and candidates, Neuer often argues that use of any council resources for investigations of Israel—particularly if human rights abuses are occurring anywhere else on the planet—reveals an anti-Semitic "obsession." Ina March 2011 op-ed, for example, Neuer wrote that "Until the United Nations' highest human rights officials exorcise their Israel obsession and fix their broken moral compass, murderers like Gadhafi will continue to enjoy impunity."[2] In a similarly toned January 2011 piece for the NY Daily News, he charged that the UNHRC's Advisory Committee was "dominated by apologists for the world's worst dictators."[3]
More recently, Neuer has taken aim at UN Special Rapporteur on Palestine Richard Falk, a Jewish American scholar and activist who has criticized one-sided U.S. support for Israel, accused the Israeli government of war crimes against Palestinians, and—more controversially—lent his support to accusations of U.S. complicity in the 9/11 attacks. When Falk posted a cartoon on his personal blog that many considered anti-Semitic, UN Watch led the charge, calling for his condemnation and resignation. Falk later apologized and removed the cartoon. When Falk was later invited to give an address at the McGill University human rights center in November 2011, Neuer published an op-ed calling university's invitation to "an anti-Semitic truther" a "disgrace." "At first glance, the former Princeton professor of international law, prolific author and UN expert appears highly qualified," Neuer wrote. "Yet a brief review of Falk's record shows him to be a wolf in sheep's clothing. Fluent in the language of human rights, Falk's twisted judgment, morality and sense of reality promote the very opposite."[4]
UN Watch was established in 1993 with the stated goal of monitoring the compliance of the United Nations with its charter. While human rights issues related to Darfur or torture make it onto it radar screen, the organization focuses mainly on what it sees as anti-Israel sentiment. Under its founding director, Morris Abram, the organization worked to critique the anti-Israel bias of some UN members, while at the same supporting the continued relevance and importance of the United Nations.[5]
Under Neuer, however, UN Watch has increasingly adopted a worldview closely aligned with U.S. neoconservatism. In a September 29, 2006 press release, for example, the group argued, "This afternoon in Geneva the UN Human Rights Council will return to condemnations of Israel, with the presentation of new reports as mandated by prior resolutions that were criticized as one-sided by Western democracies and human rights groups. 'Sadly, the constructive part of this Council session—reports by the Council's 40 independent monitors on human rights situations around the world—is now over,' said Hillel Neuer, executive director of UN Watch. … 'Anyone observing the Council's agenda over the next week might easily mistake it for a meeting of the Organization of the Islamic Conference.'"[6]
In his Guardian blog, commentator Ian Williams argued that UN Watch has been as "guilty of hypocrisy" as some Human Rights Council members. He wrote: "Anyone carrying a hypocrisy detector through the UN would be distracted by its continuous beeping, as one would expect in places filled with politicians and diplomats. But passing UN Watch's office would set it beeping as well. If the organization could point to a single occasion when it had condemned manifest Israeli transgressions of the human rights of Palestinians, it would give itself a secure platform from which to criticize the human rights council. UN Watch rightly criticizes Sudan's refusal to let in a human rights council delegation into Darfur. But then how, with a straight face, can it avoid criticizing Israel for refusing to allow in rapporteurs from the same council?"[7]
An indication of UN Watch's ideological leanings can be gleaned from its list of donors. A non-exhaustive Right Web investigation of IRS Form 990 filings from 2002-2009 revealed more than $2 million in donations to UN Watch and its U.S. fundraising arm, American Friends of UN Watch, from "pro-Israel" and conservative-leaning foundations. These include the Newton & Rochelle Becker Foundation, which has supported other neoconservative outfits like the Middle East Media Research Institute (MEMRI) and Daniel Pipes' Middle East Forum, and the Shillman Foundation, which has also supported MEMRI. The Becker Foundation has been described by the Center for American Progress as a primary funder of the so-called "Islamophobia network," an informal grouping of prominent foundations, opinion makers, and media personalities that spread negative impressions about Islam and Muslims in the United States. MEMRI, like UN Watch, is a "nonpartisan" watchdog group with an identifiable right-wing and Israel-centric slant. (For Right Web's full report on UN Watch's 990s, click here).
Neuer's divisive tone at the UN and in his writings has spurred criticism of his organization. For example, in a September 2009 op-ed for the conservative Canadian newspaper the National Post, Neuer blasted antiglobalization writer Naomi Klein for promoting a boycott of the Toronto International Film Festival because it was highlighting several films about Tel Aviv.[8] In the article, titled "The Strange, Enduring Rage of Naomi Klein," Neuer points to a 1990 article Klein penned for her college newspaper in which she criticized Israel's occupation of Palestine. Neuer provides several quotes from the article, including, "A Jewish education is an education of fear. Jews made the shift from victims to victimizers with terrifying ease." Neuer then compares Klein's article to the notorious Nazi propagandist Joseph Goebbels, contending that it expresses "Goebbels-like venom." He concludes, "The path to Middle East peace requires mutual dialogue, recognition and compromise—not irrational boycotts motivated by selective morality, anger and rage."[9]
Neuer himself has exhibited a strong tendency toward "selective morality, anger and rage." In March 2007, Neuer drew criticism when he used his opportunity to testify at the UN Human Rights Council to rail against the body. "In truth, the despots who run this council," Neuer declared, "couldn't care less about Palestinians or any human rights. They seek to demonize Israeli democracy, to delegitimize the Jewish state, to scapegoat the Jewish people. They also seek something else—to distort and pervert the very language and idea of human rights."[10]
The president of the council at the time, Luis Alfonso De Alba, responded, "I am sorry but I am not in a position to thank you for your statement. I should mention that I will not tolerate any similar statements in the council. The way in which the members of this council are referred to, and indeed the way in which the council was referred to—all of this is inadmissible. In the memory of the persons you referred to, founders of the Human Rights Commission, and for the good of human rights, I would urge you in any future statement to observe some minimum proper conduct and language, otherwise any statement you make in similar tones to those used today will be taken out of the records."[11]
Commenting on the episode, the Guardian's Williams wrote: "Last week, the ill-advised president of the council, Mexican diplomat Luis Alfonso De Alba, who usually politely and formulaically thanks the 'distinguished representatives' for their remarks, made a point of saying that he was not thanking the UN Watch representative, Hillel Neuer—although, to be fair, he did still call him 'distinguished.' … Whatever the reason, De Alba played right into his hands. The martyrdom of Hillel Neuer is now played up in all the usual suspect neocon places, from the Wall Street Journal's editorial page to the New York Sun and Canada's National Post. The video has been circulated widely, with a call for donations, and the usual cluckings about the UN. UN Watch will not be getting a cheque from me. Not being thanked is not an attack on human rights. Being threatened with censorship in the future could be. But UN Watch refers to this speech as being censored. 'Banned: the speech the UN refused to hear,' shouts the email that UN Watch sent out. Which is odd, because the clip it is linking to on YouTube actually comes from a UNTV webcast, which it acknowledges when it invites people to download the RealPlayer version."[12]