J. Michael Waller
last updated: October 25, 2010
Please note: The Militarist Monitor neither represents nor endorses any of the individuals or groups profiled on this site.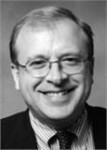 Affiliations
Center for Security Policy: Vice President for Information Operations
Institute for World Politics: Faculty member
Education
J. Michael Waller is a neoconservative academic and political commentator based at the Center for Security Policy, where he serves as vice president of information operations, and the Institute of World Politics (IWP), a rightist graduate school in Washington, D.C. Waller also blogs at PoliticalWarfare.org and the Andrew Breitbart-founded BigPeace.com.
Waller frequently writes on the purported threat of radical Islam in the United States, hyping issues such as the "ground-zero mosque." He also focuses on Iranian issues, often highlighting the repression of opposition groups in the country.
In a typical entry on his Politicalwarfare.org blog, Waller attacked a demonstration in London organized by Islamic groups opposing the September 2010 visit of Pope Benedict XVI. Highlighting the demonstrators' chant that "justice is on its way," Waller wrote that the word justice "under sharia law requires Christians either to convert to Islam, be killed, or submit to Islamic rule as dhimmis." Promoting the widely criticized Center for Security Policy 2010 report "Sharia – Threat to America," Waller wrote that "even though [the demonstrators] were not criminally violent, the code language they were using as understood by adherents to sharia law show that they should be considered a terrorist threat."[1]
In another blog entry, Waller argued that the "United States government should issue an arrest warrant for WikiLeaks founder Julian Assange, the Australian who published tens of thousands of classified U.S. military documents on his website, and try him on espionage charges." Waller quotes Kenneth deGraffenreid, an IWP colleague and ex-counterintelligence official in the George W. Bush administration, who said: "Assange was doing intelligence tradecraft. He appeared in different cities, using secret 'paroles' or recognition signals so that he and his sources can identify one another, and went to a variety of news outlets to make sure that, once started, the dissemination of the classified information could not be stopped. The conspirators went to different editions so that if publication got stopped in one place it wouldn't be stopped in another. … Illegally giving or receiving 100,000 secret files about our counterterrorism efforts, and making them available to the terrorists to read, is clearly aiding and abetting terrorism."[2]
Other, less ideological observers have criticized WikiLeaks for failing to carefully vet its material and not developing clear cut standards on what should be released and how.[3] For his part, Defense Secretary Robert Gates limited himself to saying that WikiLeaks was "morally culpable" for releasing classified documents that could put soldiers at risk.[4]
At the Institute of World Politics, Waller is the Walter and Leonore Annenberg Chair in International Communication. His courses include "Foreign Propaganda, Perceptions and Policy", "Political Warfare: Past, Present and Future" and "Public Diplomacy and Political Warfare." According to Waller, his course on political warfare is a survey of the history, philosophies and techniques of political warfare from antiquity to the present. "We study the classics – ancient Greece, Rome, India and China and the Hebrews, among others – and move on through the Crusades and then to Machiavelli, the American Revolution (particularly Samuel Adams), 19th century Europe, World War I and the Bolshevik Revolution, Antonio Gramsci, Saul Alinsky, and present-day Islamic political warfare."[5]
Waller is the author or editor of several books, including Dismantling Tyranny: Transitioning Beyond Totalitarian Regimes, a 2005 book coauthored with Ilan Berman; the 1994 book Secret Empire: The KGB in Russia Today; and the 2007 edited volume Strategic Influence: Public Diplomacy, Counterpropaganda and Political Warfare.
Waller describes Strategic Influence as "the work of 13 scholars and practitioners in the fields of public diplomacy, counterpropaganda and political warfare. The book surveys the subjects from the American Revolution, through the Cold War, to present-day wars in Iraq and Afghanistan."[6] Among the contributors are the Leo Strauss scholar Carnes Lord, Jennifer Marshall of the Heritage Foundation, and several of Waller's colleagues at the Institute of World Politics.[7]
Waller's IWP bio describes him as "a scholar-practitioner in public diplomacy, political warfare, psychological operations and information operations in support of US foreign and military policy for 25 years." The bio states that he was "a member of the staff of the US House of Representatives and the US Senate, served on the White House Task Force on Central America, and has been a consultant to the Senate Foreign Relations Committee, the US Information Agency, the US Agency for International Development, the Office of the Secretary of Defense in support of operations in Afghanistan and Iraq, and the US Army." Additionally, he "is a member of the faculty of the Leader Development and Education for Sustained Peace (LDESP) program at the Naval Postgraduate School; and is an Honorary Fellow at the Proteus Futures Group at the Center for Strategic Leadership of the US Army War College, sponsored by the Office of the Director of National Intelligence and the National Intelligence University. In 2010 he was named a member of the Psychological Operations Capabilities-Based Assessment team for the US Special Operations Command."[8]