James Akins (1926-2010)
last updated: May 4, 2011
Please note: The Militarist Monitor neither represents nor endorses any of the individuals or groups profiled on this site.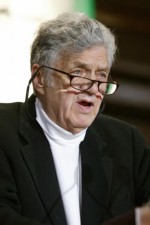 Affiliations
Iran Policy Committee: Member, Advisory Committee
Council on Foreign Relations: Member
American Archaeology Society: Member
Association of Political and Social Sciences: Member

Government
State Department: Ambassador to Saudi Arabia, 1973-1975; Office of Fuels and Energy, 1967-1973; and various postings as a Foreign Service officer, 1952-1976

Education
University of Akron: B.A., 1947 in physics
University of Strasbourg: Certificate in history
James Akins was a retired U.S. Foreign Service officer and former ambassador to Saudi Arabia who once served on the advisory council of the Iran Policy Committee (IPC), a controversial advocacy group founded by Raymond Tanter that has promoted U.S. support for the exiled Iranian opposition group, the People's Mujahedin Organization (or Mujahedin-e Khalq, MEK). Other IPC members have included retired military officers Chuck Nash, Thomas McInerney and Paul Vallely.
Despite his association with the IPC, Akins generally took an evenhanded approach to the Israeli-Palestinian conflict, and he was involved in pro-Palestinian organizations including If Americans Knew. His ambassadorship to Riyadh likely influenced Akins' views on Iran, helping him see the situation through a Saudi prism, rather than a "pro-Israeli" one.
Akins, who died in 2010 at the age of 83, was the State Department's chief energy advisor in the early 1970s. He controversially predicted that growing U.S. dependence on Middle East oil would result in an energy crisis. According to his obit in the Washington Post, Akins views were "vindicated when nearly all of his predictions came true, starting with the 1973 Arab oil embargo." [1]
He served two years (1973-1975) as U.S. ambassador to Saudi Arabia before then-Secretary of State Henry Kissinger fired him over various disagreements. According to the New York Times, "One involved Mr. Akins's assertion—dismissed as 'absurd' by Mr. Kissinger—that Mr. Kissinger had approved of Iran's raising oil prices to buy American arms." [2]
According to a 1976 Washington Poststory, ambassador Akins told his Saudi counterparts "Don't trust Kissinger," and went on the record saying he believed Kissinger was behind the idea that the United States should initiate a hostile takeover of Middle Eastern oil fields. "Anyone who would propose [U.S. occupation of oil fields] is either a madman, a criminal, or an agent of the Soviet Union." [3] He learned he was fired in August 1975 when a friend read him a newspaper article reporting the fact. "I presume that I have stepped on a few toes," he said in an interview with the New York Times. [4]
According to his New York Times obit, Akins often took positions not in line with stated U.S. policy. For example, in 1971, he supported Libya's demand for an increase of 40 cents a barrel after companies producing there offered only a nickel, which some claim may have initiated OPEC's "mounting militancy." [5] The obit continues: "'Our foreign policy was so pro-Israel that we alienated the Arabs,' [Akins] said in a speech in 1994, 'yet our energy policy, such as it was, made us dependent on Arab oil.'
Robert Kaplan discussed Akins track record in his book Arabists: The Romance of an American Elite (1995). According to Kaplan, Akins "maintained that he had tried to help build understanding between Saudi Arabia and Israel, asserting that he had moved King Faisal from eschewing the very idea of a Jewish state to accepting the legitimacy of Israel within the borders that existed before its 1967 war with Arab countries. Mr. Akins was indeed an Arabist, as diplomats expert in Arab politics and culture were often called, usually by outsiders and often derisively. In 1979, in an interview in Time magazine, he was prescient in warning of a 'growing wave of anti-Americanism' in Saudi Arabia, home to 15 of 19 hijackers who attacked the United States on Sept. 11, 2001." [6]
After he left the State Department, Akins served as a consultant on the Middle East and energy to multinational positions.
In a 1991 assessment of the first Gulf War for Foreign Affairs, Akins argues that the "invasion of Kuwait and the Arab reaction to it marked the end of the period when Arabs maintained the pretence that they were part of one great nation." He warned that the United States needed to begin preparing for the day when its influence in the region waned and thus use its political capital to shore up its position. "Washington might use to good advantage the comfortable period that is now opening up. If the United States recognizes the temporary nature of the respite it could start to practice self-discipline; it could develop alternative energies; it could conserve its resources, tighten its belt, and bring its financial house into order." [7]
Ten years later, in the wake of 9/11, Akins raised the question of "why do they hate us?" His response, published in the progressive magazine In These Times, was straightforward: "Anti-American feeling in the Middle East has everything to do with U.S. policy. … It is not because of our democratic and moral principles, but precisely because we are seen as having betrayed these principles in the Middle East, that peoples of the area have turned against us. If there is ever to be a solution to the problem of terrorism this festering sore must be addressed—and healed." [8]
His positions as State's chief energy advisor and ambassador to Saudi Arabia convinced him of two things: the United States' dependency on Mideast oil, and that it would be easier to gain favorable access to those supplies if the Israeli-Palestinian crisis were resolved in a just manner. This led him to adopt some pro-Palestinian stances. He served on an independent commission into the Israeli attack on the U.S.S. Liberty, which blasted the official line that the attack was an accident. [9]
According to his IPC bio: "James Akins was U.S. ambassador to Saudi Arabia during the Nixon administration. He was a career U.S. Foreign Service officer, with postings to Naples, Paris, Strasbourg, Damascus, Beirut, Kuwait, Baghdad and the Department of State. In Kuwait he served as consul and principal officer, and in Baghdad as chief of the embassy's political section. He was assigned to the Office of Fuels and Energy in the Department of State and was later appointed director of that Office. An internationally respected expert on Middle East and energy issues, Akins has been an active and outspoken proponent for a just resolution of the Arab-Israeli conflict and a prescient analyst of the Middle East peace process and Arab politics in general. Author Jean-Jacques Servan Schreiber has called Akins 'the westerner who knows the most about the Middle East and has the closest relationship of trust with its leaders.'" [10]