Jon Lerner
last updated: April 19, 2018
Please note: The Militarist Monitor neither represents nor endorses any of the individuals or groups profiled on this site.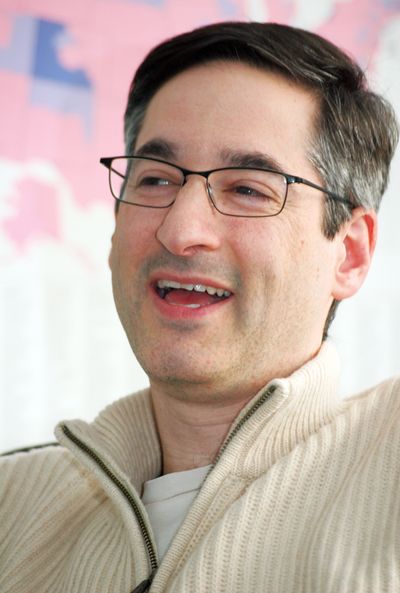 GOVERNMENT
Adviser to US Ambassador to the United Nations (2017- )
BUSINESS
Red Sea, LLC (2001-  )
EDUCATION
George Washington University
London School of Economics
University of Chicago Law School
Jon Lerner is a long-time conservative political adviser. He has enjoyed a long association with the U.S. ambassador to the United Nations, Nikki Haley, having advised her since her days as a legislator in South Carolina. Lerner does not have a reputation as a foreign policy expert but was described as "The No. 1 person (Haley) listens to," by a former State Department official. He is known as Haley's "eyes and ears" in Washington, and his position as a political, rather than foreign policy, operative is understood as part of Haley's long-term plan to make a run at the presidency.[1]
In April 2018, Lerner was tapped as the national security advisor for Vice President Mike Pence but backed out of the role after strong opposition from President Donald Trumpbecame public. Lerner and Pence indicated they wished to avoid controversy and distraction, but that Lerner would continue to advise Pence informally alongside his ongoing work as Haley's top adviser.[2]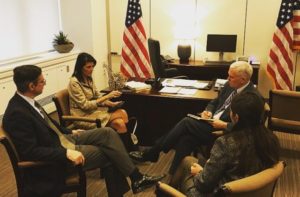 Lerner prefers staying out of the spotlight, stating in a rare interview in 2010 that, "Candidates are better served when they remain the focus of public attention rather than their consultants. I guess I don't have the same kind of ego investment that others in the industry have."
Lerner has the reputation of hewing closely to his personal ideology, choosing clients that he fully believes in. He is closely associated with Tea Party candidates, such as Rep. Ken Buck (R-CO), Sen. Mike Lee (R-UT), Sen. Pat Toomey (R-PA), Sen. Ron Johnson (R-WI), Sen. Marco Rubio(R-FL) and Sen. Tim Scott (R-SC). He was a close adviser to former South Carolina Governor Mark Sanford until Sanford's career was brought to an abrupt end in scandal. It was through Sanford that Lerner began his association with Nikki Haley.[3]
"Never Trump"
In the 2016 campaign, Lerner was a key figure in the Republican opposition to Donald Trump. He was advising Marco Rubio on his presidential run, and was working with the Club For Growth, a conservative advocacy group focused on domestic policies. It was this activity that led Trump to become enraged at the prospect of Lerner joining Pence's team.
Lerner's central, though quiet, role was described in Politico: "Behind the scenes but in the middle of the (anti-Trump) effort is Jon Lerner, a long-time Republican pollster and strategist who is helping to coordinate the anti-Trump offensive, according to two sources familiar with the discussions. Lerner is a top strategist for the Club for Growth, which first began airing anti-Trump ads last fall in Iowa, and the pro-Rubio Conservative Solutions PAC. He also advises a number of the party's top donors and is a top strategist for South Carolina Gov. Nikki Haley, who has endorsed Rubio."[4]
Lerner lamented the failure of the so-called "Never Trump" movement in the Republican party, telling the conservative magazine, National Review,"At the root of it, what went wrong is that Trump had a lot of support, and Trump's support was very solid." Lerner said that Trump had amassed a base of supporters who "were not going to move off him, and so . . . at least in my view there was no real prospect of hitting Trump with negative ads and moving a lot of his voters away from him. But there was, I think, real reason to be hopeful that when the field narrowed, those kinds of attacks against Trump would succeed in preventing other voters from joining with Trump."[5]
New York Magazinedescribed Lerner's opposition to Trump as important to one of the notable episodes in the campaign, and which brought Nikki Haley to much greater national attention.
"After a long courtship, Haley ended up backing Marco Rubio. The politician who had called her a 'raghead' endorsed Trump and organized a rally for him on her home turf of Lexington County. At the event, Trump revealed the surprise endorsement of Henry McMaster, Haley's lieutenant governor. But even after Trump won the primary in a landslide, Haley continued to campaign against him. Her political strategist, Lerner, worked on behalf of Rubio and other clients all through the spring, trying to mobilize a 'Never Trump' resistance. Trump fought back with typical ferocity. Responding to one attack, he tweeted: 'The people of South Carolina are embarrassed by Nikki Haley!' Less than 30 minutes later, Haley tweeted back: 'Bless your heart.'"[6]
Adviser to Nikki Haley
According to a report in Bloomberg, "Haley's public persona, whether at the UN, in Washington or back in the South Carolina capital, has long been guided by Lerner, who started working with her in 2009. He had previously advised her predecessor as South Carolina governor, Mark Sanford, who became embroiled in a scandal after it was revealed he had engaged in an affair and lied about his whereabouts while in office." Haley, for her part, described her relationship with Lerner in her 2012 book thus: "Where I follow my gut, Jon relies on facts and the statistics he finds in his polling. I used to call him a 'lemon' because he never got excited about anything."
Former conservative senator from South Carolina, Jim DeMint said of Lerner that "he's got a very good strategic mind."[7]
Another Lerner client, Sen. Marco Rubio, attributes Haley's "success" in large part to Lerner. "Jon's doing a great job and I think that's reflected in the work Nikki is doing," Rubio said in an interview. "She's got a real good team and I think it shows in the end result. Jon is certainly a big part of that."[8]
Lerner is seen as key to Haley's presidential ambitions. One journalist wrote, "A former Obama-administration official deemed it 'legitimately crazy' that Haley would put a campaign operative in such a crucial policymaking role. But Lerner—a protégé of Arthur Finkelstein, the famously ruthless consultant responsible for the careers of (conservative senators) Jesse Helms and Al D'Amato—has a long-term plan for Haley, and he is there to make sure nothing derails it.
"'I certainly think she has presidential aspirations,' says Tom Davis, a South Carolina state senator who knows Haley and Lerner well. 'George Bush had Karl Rove, and Obama had Axelrod. Nikki Haley has Jon Lerner.'"[9]
Red Sea Consulting
Lerner's base of operations is his consulting firm, Red Sea. According to their web site, "Red Sea, LLC was founded in 2001. Since then, it has produced some of the most effective and recognizable political advertising in the nation. Its ads have received awards, been debated on national news programs, and been subjects of several books written about political advertising.
"Our advertising clients include leading elected officials, national and state Republican Party committees, and leading issue advocacy organizations. We have served as media consultants to winning U.S. Senate, gubernatorial, congressional, and statewide ballot initiative campaigns, and produced independent expenditure ads in more than 40 winning congressional, U.S. Senate, and governor's elections."[10]
Red Sea's polling service, Basswood Research, boasts that its client list includes, "the Republican Governors Association, the National Republican Senatorial Committee, the National Republican Congressional Committee, as well as numerous Governors, U.S. Senators, members of Congress, and leading independent expenditure and policy advocacy organizations."[11]
Lerner's work at Red Sea may now involve defending well-established members of Congress, but his reputation was made by challenging incumbents and helping the Tea Party roll into control of the Republican Party. Speaking about his anti-incumbent work in 2014, Lerner said, "There is a small band of brothers who are very skilled campaign practitioners who take on these races. The biggest factor drawing them together is an iconoclastic unwillingness to be pushed around by the traditional power sources within the party."[12]
According to Politico, "Lerner's core 'band of brothers' is a select group: In four of this year's most heated incumbent-versus-challenger primary races, a group of four firms have engaged in a kind of musical chairs, trading off responsibilities from one race to the next.
"Altogether, the four companies—operating in Idaho, Mississippi, Kentucky and Kansas—have taken in some $8.5 million from anti-incumbent campaigns and super PACs just in those states, a review of campaign finance records shows. (That's revenue, not profit; Federal Election Commission reports don't break down how much money goes to operations versus fees.)
"Red Sea LLC, Lerner's firm, was paid $3.2 million working for the Club for Growth and Senate Conservatives Action, the super PAC arm of Senate Conservatives Fund, in three of those races. The West Coast firm Target Enterprises took in $1.1 million from the Club and SCA in Mississippi, and from SCA in Kansas."[13]
SOURCES
[1]Andrew Rice, "Can Nikki Haley Save the World?" New York Magazine, December 10, 2017, http://nymag.com/daily/intelligencer/2017/12/nikki-haley-un-ambassador-donald-trump.html
[2]Jonathan Swan, "Incoming Pence staffer withdraws after report Trump tried to block him," Axios, April 15, 2018, https://www.axios.com/jon-lerner-mike-pence-national-security-advisor-withdraws-60cdb733-0b78-47d3-9292-8282e35fda0a.html
[3]James Rosen, "Publicity-shy GOP consultant helps guide Nikki Haley," McClatchy Newspapers, October 10, 2010, http://www.mcclatchydc.com/news/politics-government/article24596344.html
[4]Shane Goldmacher and Alex Isenstadt, "Inside the GOP's late push to stop Trump," March 7, 2016, https://www.politico.com/story/2016/03/inside-gops-late-push-to-stop-trump-220349
[5]Alexis Levinson, "Where #NeverTrump Went Wrong in the Nomination Fight," National Review, May 10, 2016,https://www.nationalreview.com/2016/05/never-trump-republican-nomination-donald-trump/
[6]Andrew Rice, "Can Nikki Haley Save the World?" New York Magazine, December 10, 2017, http://nymag.com/daily/intelligencer/2017/12/nikki-haley-un-ambassador-donald-trump.html
[7]Kambiz Foroohar, "Haley's UN Brinkmanship Comes With Advice by Long-Time Pollster," Bloomberg, September 11, 2017, https://www.bloomberg.com/news/articles/2017-09-11/haley-s-un-brinkmanship-comes-with-advice-by-long-time-pollster
[8]Kambiz Foroohar, "Haley's UN Brinkmanship Comes With Advice by Long-Time Pollster," Bloomberg, September 11, 2017, https://www.bloomberg.com/news/articles/2017-09-11/haley-s-un-brinkmanship-comes-with-advice-by-long-time-pollster
[9]Andrew Rice, "Can Nikki Haley Save the World?" New York Magazine, December 10, 2017, http://nymag.com/daily/intelligencer/2017/12/nikki-haley-un-ambassador-donald-trump.html
[10]Red Sea, LLC, "About,"http://www.redseallc.com/home-parallax-background/about/
[11]Red Sea, LLC, "About,"http://www.redseallc.com/home-parallax-background/about/
[12]Alexander Burns, "GOP's black market: Anti-incumbents," Politico, July 28, 2014, https://www.politico.com/story/2014/07/2014-elections-republican-consultants-109421
[13]Alexander Burns, "GOP's black market: Anti-incumbents," Politico, July 28, 2014, https://www.politico.com/story/2014/07/2014-elections-republican-consultants-109421