Jr., John Tkacik
last updated: November 11, 2015
Please note: The Militarist Monitor neither represents nor endorses any of the individuals or groups profiled on this site.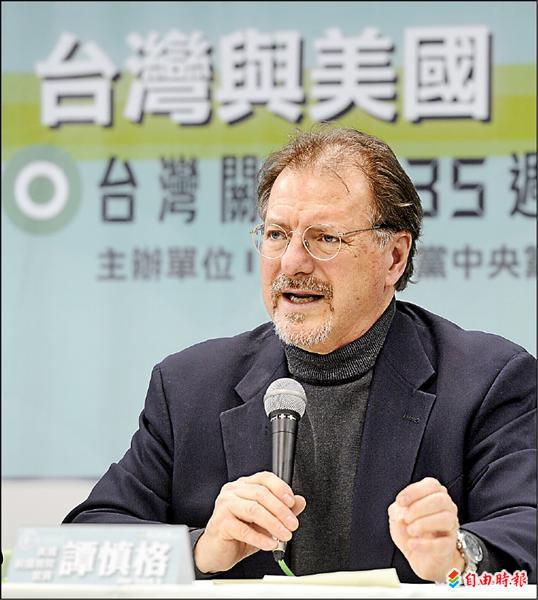 Affiliations
International Assessment and Strategy Center: Senior Fellow
The Heritage Foundation: Research Fellow in China Policy, 2001-2009
Project for a New American Century: Letter on Hong Kong: Signatory, 2002
Taiwan Weekly Business Bulletin: Former Publisher
Government
U.S. Department of State: Director of Junior Officer Training at Foreign Service Institute, 1986-1989; Deputy U.S. Consul General in Guangzhou, China, 1989-1992; Chief of China Analysis, 1992-1994
Business
China Business Intelligence: President, 1994-current
RJ Reynolds Tobacco Company: Former vice president for external affairs in East Asia
Education
Georgetown University: Bachelors in international relations
Harvard University: Masters in public administration
John Tkacik is a China and Taiwan specialist formerly based at the conservative Heritage Foundation. After leaving his position as a Heritage research fellow in 2009, Tkacik joined the International Assessment and Strategy Center, a security think tank that advocates a "strong national defense posture" and aims "to provide policymakers with strategic advice looking ahead 10-20 years and more."[1]
A veteran of the U.S. State Department focusing primarily on China-Taiwan issues, Tkacik has been a longtime supporter of maintaining U.S. arms sales to Taiwan, even when they have raised tensions between the United States and China. Tkacik detailed his experiences working on this issue in an April 2012 op-ed for the Taipei Times in which he concluded that "the US' commitment to make 'available to Taiwan such defense articles and defense services in such quantity as may be necessary to enable Taiwan to maintain a sufficient self-defense capability' remains firm. I trust it will remain so 30 years from now."[2]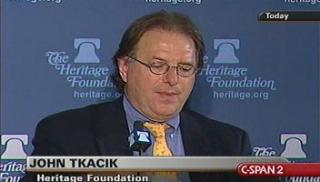 Tkacik has long warned of Chinese aggression toward U.S. interests and toward U.S.-friendly territories on China's periphery, occasionally partnering with better-known neoconservative activists to press a hawkish U.S. line on China. He was a signatory to a 2002 Project for the New American Century letter to President Bush warning of increasing "central Chinese government control over key levers of power" in Hong Kong.[3] Similarly, in response to a May 2003 Council on Foreign Relations report which argued that China didn't pose much of a military threat to U.S. interests, Tkacik said: "It's sort of a feel-good report. … [I]t's a mistake to underestimate the Chinese ability to amass a high quality military force close to their shores."[4]
His advocacy occasionally put him at odds with the Bush administration. In December 2003, for example, after President Bush warned Taiwan not to rock the boat in its relations with China by holding a controversial referendum on independence, Tkacik joined a chorus of neoconservative and right-wing hawks—including PNAC directors William Kristol, Robert Kagan, and Gary Schmitt—in lambasting the president's position. Tkacik told the Washington Post that the president had "lost his bearings" on Taiwan. "It just boggles the mind. I'm just appalled. Clinton never would have gone this far."[5]
Tkacik has praised the Obama administration's gradual military realignment toward East Asia—the so-called Pacific Pivot—as "reassuring," hailing the administration for showing "a solid commitment with real continuity to rebuilding America's security architecture in East Asia and the Pacific."[6] (Progressive critics of the policy, on the other hand, have derided it for ushering in a "new cold war" in the Pacific and further militarizing the region.)[7]
In November 2013, however, Tkacik was critical of the Obama administration for not reacting in harsher terms after China created an "air defense identification zone" over a group of islands in dispute with Japan. "The phrase 'we don't support' in diplomatese means something quite different from the phrase 'we oppose,'" Tkacik opined referring to comments made by Secretary of State John Kerry at the time. "They convey a disagreement in principle, but lack of commitment to do anything about it."[8]
More recently, in January 2014, Tkacik contended in an interview that "as China's navy grows stronger … the U.S. Navy shrinks." He added: "It is America's misfortune that it no longer has any real maritime strategists."[9] In March 2013, Tkacik stated that it is "Chinese state policy is to use nuclear weapons as an instrument of intimidation."[10]
Tkacik has parlayed his diplomatic experience into business ventures. In 1994, he founded China Business Intelligence, a research firm that consults with corporations doing business in China and Taiwan. He has also served as a vice president for external affairs for the tobacco company R.J. Reynolds' operations in East Asia.[11]