Mark Broxmeyer
last updated: February 3, 2012
Please note: The Militarist Monitor neither represents nor endorses any of the individuals or groups profiled on this site.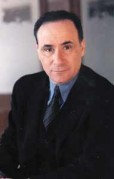 Affiliations
Jewish Institute for National Security Affairs: Former Chairman
Hofstra University: Former Member, Board of Trustees
Splashes of Hope: Honorary Board Member
Nassau County Holocaust Memorial and Educational Center: Community Service Award, 2001

Government
UN Development Corporation: Member, Board of Directors
Federal Home Loan Bank: Member, Board of Directors

Business
Fairfield Properties: Cofounder, President
HSBC Bank: Former Member, Advisory Board

Education
Hofstra University: B.A., 1972
Mark Broxmeyer, a conservative political fundraiser who was once reputed to be Long Island's largest residential landlord, served for many years as chairman of the neoconservative-aligned Jewish Institute for National Security Affairs (JINSA). Broxmeyer passed away in May 2010. "For more than a decade, Mark was the rock upon which JINSA rested. His selfless commitment to the organization's welfare and his unparalleled, visionary leadership brought JINSA to new heights," said Tom Neumann, the group's executive director.[1]
JINSA was initially founded in the mid-1970s to serve as a study group aimed at "learning the lessons" of the 1973 Yom Kippur War, including how to ensure that the United States backs Israel in the event of a future conflict. In the late 1970s, the group evolved into a "defense education group" connected to military-industrial elites. Since that time, JINSA has become closely tied to the neoconservative advocacy community, operating as a 501(c)(3) organization that receives most of its funding through private donations.
JINSA's board of advisers includes a passel of hawkish and neoconservative foreign policy elites as well as a number of retired military officers, including Anne Bayefsky, retired Adm. David Jeremiah, former ambassador Max Kampelman, and leading neoconservative writer Joshua Muravchik. Past advisers have included James Woolsey, Richard Perle, Michael Ledeen, Dick Cheney, John Bolton, Douglas Feith, Kenneth Timmerman, Shoshana Bryen, Stephen Bryen, and the late Jeane Kirkpatrick and Jack Kemp. Investment mogul Norman Hascoe, who passed away in 2007, is a past president of the group, and David Steinmann, who has headed the rightist William Rosenwald Family Fund, is a former chairman of the board.
In addition to his support for JINSA, Broxmeyer was an active donor and supporter of various Republican Party political figures. He donated to George W. Bush's 2004 presidential run as well as to the Republican National Committee. More recently, he played a role supporting Sen. John McCain's (R-AZ) 2008 presidential campaign. According to a media report on the 2008 Republican Party Convention: "As Mark Broxmeyer roams through the convention, his face may not be well known, but Jewish Republicans bigwigs will recognize his voice. Not only has Broxmeyer been one of the McCain campaign's leading Jewish fundraisers, but he also has been, to this point, the closest thing to a Jewish liaison, which means that he has been the one on weekly phone calls to local leaders, trying to organize events, keep people updated and encourage high spirits. It's a new role for Broxmeyer. The real estate developer from New York's Long Island originally went into politics to protect his real estate interests and mostly stuck to the local level, though he has helped fundraise for Republican candidates both successful (George W. Bush) and not (Steve Forbes). In Washington circles, Broxmeyer has been better known as the national chairman of the Jewish Institute for National Security Affairs, a hawkish Israel advocacy group that focuses on American national security and American-Israeli ties."[2]
Broxmeyer's philanthropy was not limited to politics. In 2006, for example, he promised $1 million to his alma mater Hofstra University to endow a chair in national security studies.[3] However, the promise seemed to sour after Broxmeyer was sued by Hofstra Law School's student law clinic on behalf of tenants of a property owned by Fairfield Properties.[4] In late 2006, the parties in the lawsuit reached an agreement. Reported the Concerned Citizens Action Assoication of Farmingdale: "A millionaire real estate tycoon who recently pledged $1 million to Hofstra University only to find himself sued by Hofstra Law School's housing rights clinic has settled a dispute with Latino tenants in Farmingdale, his attorney and others said yesterday. Mark Broxmeyer, an owner of Fairfield Properties, who until last month was also a trustee at Hofstra, has agreed to provide seven families still remaining at 150 Secatogue Ave. with cash or guaranteed affordable housing for several years. The deal will cost the company at least $110,000, said Ami Lipman, a law student at the clinic. In exchange, Fairfield, a property management company, will be dropped from a federal discrimination lawsuit the law clinic filed against Farmingdale Village and the previous owner of the building, said Hofstra law professor Stefan Krieger, who filed the suit."[5]
In 2003, Broxmeyer made an unsuccessful bid to buy the Montreal Expos baseball team. Reported Newsday in July 2003: "He's getting set to sit down later this month with existing owners who will have a major say in picking which of three groups, Broxmeyer's included, gets to buy the Expos from Major League Baseball, which is in its second year of owning and operating the team. The team would move to the Washington, DC, area—where Broxmeyer, as national chairman of the Jewish Institute for National Security Affairs, occasionally meets with the former Texas Rangers owner who now lives at 1600 Pennsylvania Ave."[6]