Mehdi Khalaji
last updated: February 10, 2015
Please note: The Militarist Monitor neither represents nor endorses any of the individuals or groups profiled on this site.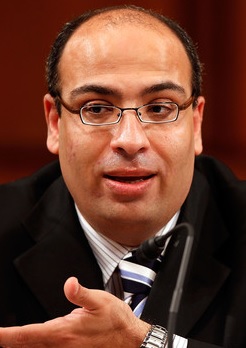 Affiliations
Washington Institute for Near East Policy: Senior Fellow
Business
Idea Center for Arts and Culture: CEO
Education
Qom Seminary: Doctorate,Islamic Theology
Ecole Pratique des Hautes Etudes: Shiite theology and exegesis
Mehdi Khalaji is a senior fellow at the Washington Institute for Near East Policy (WINEP), a think tank that was originally spun off from the American Israel Public Affairs Committee (AIPAC). A former theologian raised in the Shia holy city of Qom, Khalaji joined WINEP in 2005, where he frequently promotes regime change policies against Iran.[1]
Khalaji often participates in conferences and panel discussions hosted by neoconservative think tanks like the American Enterprise Institute and the Foreign Policy Initiative, appearing alongside fellow Iran-hawks like Reuel Gerecht, Ray Takeyh, William Kristol, and Frederick Kagan.[2] In 2007, he was named one of the Foundation for Defense of Democracies' "leading thinkers" on "confronting the Iranian threat."[3] His writings have also appeared on far-right and anti-Islamic outlets such as the Gatestone Institute.[4]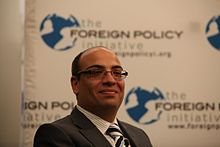 Khalaji is also the CEO of the Idea Center for Arts and Culture (IDEACAC), an organization that claims to facilitate "cultural dialogue and a local level understanding of the non-Western world."[5]
Views on Iran
Khalaji regularly co-publishes with WINEP colleague Patrick Clawson, who has argued that the United States could instigate a war with Iran through a false flag operation like the Gulf of Tonkin incident.[6] In a 2012 article, the two writers argued that "Tehran believes it is in a strong position relative to the West and therefore sees little reason to be forthcoming in negotiations." They added: "Ultimately, changing this mindset may require a profound shock of some sort, be it remarkably tough sanctions, more-complete political isolation, or military action."[7]
During the negotiations leading up to the November 2013 interim nuclear deal between Iran and the P5+1, Khalaji and Clawson argued for more pressure to be applied on Iran. "Israel, the Gulf states and Iranian democrats will be reassured only by vigorous U.S. actions to address their concerns: efforts to persuade allies to threaten more sanctions to show Iran how bad things would get in the absence of a more far-reaching permanent accord; efforts to shore up those resisting or opposing Iranian proxies such as Syrian President Bashar al-Assad; and efforts to put renewed muscle behind outreach in support of Iranian democracy," Khalaji and Clawson contended.[8]
During the 2009 Green Movement protests in support of reformist presidential candidate Mir Hossein Mousavi, Khalaji called for increased U.S. intervention inside Iran despite the protestors' insistence that foreign powers not interfere.[9] "I think it's not right to say that for United States or any Western country, 'We don't want to interfere in Iranian internal affairs, we don't want to meddle with Iranian internal affairs,'" Khalaji said at a Foreign Policy Initiative panel discussion, "Why? Because every move—every move—even indifference of the United States and the West, would affect the internal situation in Iran."[10]
Khalaji has in the past bemoaned the Iranian public's tendency towards reform as opposed to revolution. "In Iran the term 'revolution' is typically associated with violence, while reformism is associated with non-violence. Unfortunately, these associations are not necessarily true," he wrote in 2011. "Iranians have become wary of the word 'revolution,' as they equate the term with violence. I think, however, that one can exist without the other."[11]
Contradictory Positions
Khalaji's analysis of Iran's domestic politics has at times appeared contradictory. In 2012, Khalaji espoused the idea that Iran's Revolutionary Guards had fallen out of line with the Supreme Leader Ali Khamenei. "What has really stoked the Revolutionary Guard's anger at Khamenei is that they see him as responsible for the tougher Western sanctions that have hurt their economic interests," he wrote in the Wall Street Journal.[12]
Khalaji went on to recommend that the West reach out directly to the Guards in an effort to bypass and undermine Khamenei. "In this environment, any further effort to engage Khamenei would be futile. A wiser course would be to prepare now to open channels of communication with Revolutionary Guard leaders, who are surely busy planning ways to address the mounting pressure of international sanctions. These are the people who will determine Khamenei's successor and whose anger may even lead them to take the reins of the country before he dies," he opined.[13]
After the election of President Hassan Rouhani in 2013, Khalaji sharply changed his tune and argued that Khamenei had decisive control over the Revolutionary Guards and that any change in the Guard's behavior would have to come through Khamenei. According to Radio Free Europe, Khalaji "says the pragmatic Rohani knows that he shouldn't pull the IRGC's tail, because that would mean challenging Supreme Leader Ayatollah Ali Khamenei, to whom the IRGC answers directly."[14]
Regarding President Rouhani's efforts to deal with the Revolutionary Guards, Khalaji claimed: "His approach has been to refashion the IRGC's functions through the supreme leader—who is commander in chief of the entire armed forces—rather than taking independent initiative. This means convincing Khamenei to improve the economy by adjusting the IRGC's role in politics and business, limiting its influence over the public sector, and weakening its ability to compete with the private sector."[15]