Peter Kohanloo
last updated: April 3, 2012
Please note: The Militarist Monitor neither represents nor endorses any of the individuals or groups profiled on this site.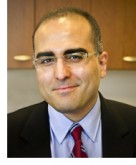 Affiliations
Iranian.com: Contributor
American Enterprise Institute: Former Intern

Education
Peter Kohanloo is an Iranian-American activist based out of Boston. A former intern for Michael Ledeen at the neoconservative American Enterprise Institute, Kohanloo pushes a hawkish view of Iran's clerical regime and has written stinging critiques of Iranian Americans and others who have challenged the neoconservative approach toward Iran.
Like his friend and occasional collaborator Sohrab Ahmari—who has been described by Media Matters' MJ Rosenberg as "the neocons' favorite Iranian"—Kohanloo has been particularly critical of the National Iranian American Council (NIAC), a U.S.-based Iranian-American advocacy group that opposes Iran's clerical regime but favors diplomacy over sanctions and military confrontation. In a February 2012 opinion piece for Foreign Policy, Ahmari and Kohanloo described NIAC as "decidedly ayatollah-friendly" and suggested that its opposition to U.S.-led regime change in Iran was out of step with the broader Iranian-American community.[1]
Rosenberg, however, noted that a Zogby poll referenced by Ahmari and Kohanloo showed that only 30 percent of the Iranian Americans surveyed listed "promoting regime change" as one of their top priorities for U.S. policy toward Iran. "NIAC opposes the Iranian regime and supported the 2009 protests against it. But it believes that the most effective, and probably only, way to successfully change Iranian behavior is through diplomacy, not sanctions and war threats," he wrote. "This drives the Iranian neocons nuts." Rosenberg added that another poll showed that only 3 percent of Iranian Americans favored U.S. military action against Iran.[2]
Kohanloo has used similar tactics before. In a January 2012 post for Iranian.com, Kohanloo criticized an NIAC official for calling Ahmari an "MEK terror cult supporter," noting that Ahmari had criticized the Muhajedin-e Khalq on a number of occasions. But Kohanloo followed this critique with the suggestion that NIAC was somehow abetting the Iranian government: "For years, NIAC has vilified those who dare challenge their false narrative of US-Iran relations as part of an unholy alliance of Zionists, Persian monarchists, and MEK cultists—a myth more suitable for an audience attending Friday prayers at Tehran University than for savvy Iranian-Americans who seek creative and practicable ways of effecting democratic change inside Iran."[3]
In another post, Kohanloo protested a satirical Foreign Policy magazine quiz created by Iranian-American commentator Reza Aslan, who compared statements by GOP presidential candidate Rick Santorum to those of Iranian Supreme Leader Ali Khameini to imply that the two shared similar views on social issues. "What seems to have eluded Aslan," Kohanloo wrote, "was the basic fact that Khamenei is a merciless Iranian tyrant, while Santorum is a duly elected former United States Senator from the Commonwealth of Pennsylvania." Kohanloo added that Aslan "has established a reputation for apologizing for Iran's mullahs," although he did not provide any reference to such instances.[4]
In another collaboration with Ahmari, Kohanloo suggested in a 2011 posting for the Weekly Standard blog that the democratic uprisings of the Arab spring had somehow "revealed the left's intellectual inconsistency and hypocrisy regarding America's role in the Muslim world." Drawing no distinction between calls for the United States to pressure an allied autocratic government and calls to intervene against a hostile one, the authors claimed that progressive groups like Just Foreign Policy and Code Pink had "all but demand[ed] American military intervention" in Egypt but had found "speaking out—let alone acting—in support of Iranian democrats [to be] out of line."[5]
An op-ed from February 2011 shows that Just Foreign Policy's Robert Naiman had called for "specific threats [by the Obama administration] linking U.S. aid to … the protection of peaceful protests" in Egypt, "the cutting or suspension of particular [U.S.] aid programs" to Egypt, and the "canceling [of] U.S. visas of specific Egyptian officials … linked to the violence"—far short of a call for military intervention. Moreover, although Naiman expressed doubts about western media reports saying the 2009 elections in Iran were rigged, he added in a September 2009 op-ed, "I strongly sympathize with the protesters' desire for more social freedom, and empathize with their outrage over the crackdown."