Robert Livingston Jr.
last updated: June 27, 2011
Please note: The Militarist Monitor neither represents nor endorses any of the individuals or groups profiled on this site.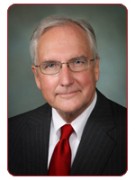 Affiliations
Center for Security Policy: Former Member, National Security Advisory Council
Congressional Medal of Honor Foundation: Member of the Board of Directors

Government
U.S. House of Representatives: Louisiana Congressman (1977-2000)
U.S. House of Representatives Committee on Appropriations: Chairman (1995-1999); Member (1981-1999)
Republican National Convention: Delegate (1976)
Louisiana State Attorney General's Office: Chief Prosecutor of Organized Crime Unit (1975-1976)
Orleans Parish District Attorney's Office: Chief Special Prosecutor and Chief of Armed Robbery Division (1974-1975)
U.S. Department of Justice: Assistant United States Attorney, Deputy Chief of Criminal Division (1970-1973)
U.S. Naval Reserve: Officer (inactive) (1963-1967)
U.S. Navy: Officer (1961-1963)

Business
The Livingston Group, LLC: Founding Partner, President and Chief Executive Officer

Education
Tulane University: B.A.
Tulane University Law School: J.D.
Loyola Institute of Politics: Graduate studies
Robert Livingston is a former congressman from Louisiana who heads the lobbying firm the Livingston Group[1] and has served as an advisor to the neoconservative Center for Security Policy. Livingston Group clients have included defense contractors Raytheon and Northrop Grumman, as well as the Cayman Islands, BAE Systems, Oracle, among others.[2]
Livingston, who left the U.S. House of Representatives in 1999 after a scandal erupted involving his personal life, served 22 years in the House. He was first elected in 1977 and was re-elected eleven times. According to his bio on the Livingston Group website, "Following his departure from Congress in 1999, Mr. Livingston established a successful lobbying firm, The Livingston Group. … Before his almost twenty-two years in Congress, Mr. Livingston practiced law in both public and private fields for nine years. As Assistant United States Attorney from 1970-1973, he served as Deputy Chief of the Criminal Division of the U.S. Attorney's Office in New Orleans, and was honored as outstanding Assistant U.S. Attorney shortly before his departure from the position. His experience also includes serving as Chief Special Prosecutor and Chief of the Armed Robbery Division of the New Orleans Parish District Attorney's Office (1974-1975), and Chief Prosecutor for the Organized Crime Unit of the Louisiana Attorney General's Office (1975-1976)." [3]