Rep. Steve Pearce (NM)
last updated: May 29, 2012
Please note: The Militarist Monitor neither represents nor endorses any of the individuals or groups profiled on this site.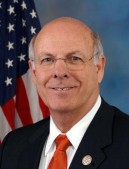 Affiliations
4-H Club
Lea County Fair Board
Government
U.S. House of Representatives: 2003-2009; 2011-
U.S. Air Force: Captain, 1970-76
NM House of Representatives: 1997-2000
Business
Lea Fishing Tools (oilfield services): Former Co-owner
Education
Eastern MA University: M.B.A., 1991
New Mexico State University: B.A. in Economics, 1970
Rep. Steve Pearce (NM) is a conservative Republican who was elected to his fourth term in Congress in 2010. Previously, Pearce served three terms in Congress during the period 2003-2009, culminating in an unsuccessful bid to replace outgoing New Mexico Sen. Pete Domenici in 2008.[1] Among the committees and caucuses to which Pearce has been member are the Tea Party Caucus, the China Caucus, the Dairy Caucus, and the Financial Services Committee.[2]
A former Air Force pilot and Vietnam veteran, Pearce has proven a reliable vote for war funding and the Pentagon budget. Summing up his views on his congressional website, Pearce declares, "The rise of radical Islam in recent years has brought a new threat to America. We must maintain a strong military that continues to be second to none. … Military engagement is always a decision with severe long-term consequences. In making that decision, we must be prepared to commit fully, or not at all."[3]
In May 2012 Pearce voted to violate a congressional agreement for across-the-board cuts to domestic and defense programs after the bipartisan "super committee" failed to negotiate an alternative agreement. Pearce voted instead to preserve defense dollars at the expense of more domestic programs. "The failure of the super committee to reach an agreement under the Budget Control Act forces significant cuts to defense at a time when we are fighting two wars and defending American interests," Pearce said in a statement. "When I served in Vietnam, we faced this type of situation—and we had to face a war without support. I made the commitment to our troops that I would vote to protect them, and I will keep that promise."[4]
Pearce also invoked his Vietnam service to justify voting against an amendment to the 2013 National Defense Authorization Act (NDAA) by Rep. Barbara Lee (D-CA) that would have called for the "safe and orderly" withdrawal of U.S. troops from Afghanistan. "I'm telling you as someone who was there during a time when Congress choked off the funds to people that were in harm's way, I had a burning anger and that anger burns today," Pearce told CNN. "And when I see this amendment and visualize the young men and women over there who you're cutting funds off and saying, 'We're going to leave you with an orderly and quiet withdrawal …' [That's] not humanly possible."[5]
Pearce also weighed in on the 2012 NDAA, a provision of which critics said would authorize indefinite military detention, without trial, of any U.S. citizen accused of aiding a terrorist organization. "Much of the opposition to the NDAA's passage came from the usual suspects—groups like MoveOn.org and the ACLU. These are organizations that long opposed military action against al-Qaeda, and continually question the motives of our foreign policy," Pearce said in a statement dismissing these concerns. He assured constituents that he and his staff "concluded, after many internal discussions and hours of research, that [the controversial detention provisions in] section 1022 sufficiently protected our liberties."[6] Pearce later voted against an amendment to the 2013 NDAA that would have repealed the 2012 version's military detention provisions.[7]
Like many of his congressional colleagues, Pearce has also expressed hawkish, "pro-Israel" views on the Israeli-Palestinian conflict. After President Barack Obama endorsed the use of Israel's 1967 borders as a starting point for negotiations on a future Palestinian state—an approach shared by the Bush administration—Pearce penned an op-ed for NMPolitics.net decrying the proposal. "That the president outlined such a troubling policy with regard to our friends in Israel defies imagination," he wrote. "It goes against our belief in freedom to ask this tiny beacon of human liberty, alone in an area known for violence and chaos, to retreat. It goes against our responsibility to the world to ask our strongest ally in the region, a nation that has fought for its right to exist from its very creation, to withdraw to indefensible borders," he added, invoking the right-wing trope that Israel's illegal expansion into conquered land is a necessary defensive precaution.[8]
In the same op-ed, Pearce alleged that Iran is building a nuclear weapon, linking the matter to the issue of Israel's borders with a potential Palestinian state. "The president expects Israel to reduce its security," he wrote, "while Iran is building a nuclear weapon and has made clear that Israel is its preferred target."[9]
Also like many of his Tea Party colleagues, Pearce has publicly entertained doubts about President Obama's birthplace, citizenship, and religion—so-called "birtherism." At a campaign event in September 2010, a woman asked Pearce about his "position on Barack Obama, if he is in fact a Kenyan-born, Indonesian Muslim." Pearce replied, "My position is that Barack Obama raised the most significant questions himself. He said, after he came to the U.S., that he traveled to Pakistan. Now at the point that he traveled to Pakistan it was not legal to go there with a U.S. passport. And so he, himself, raised the greatest questions. I think that those questions need to be asked."[10]
Energy and Environment
Pearce has a strong relationship with the fossil fuel industry dating back to his years in business. For several years, Steve Pearce and his wife owned and operated Lea Fishing Tools, an oil services company providing oil well repairs. At one point, the company employed 40 workers and had assets of $1.5 million.[11] Describing this experience, the bio on his House homepage states, "He and his wife Cynthia long owned and operated Lea Fishing Tools, an oilfield services company in Hobbs. Because of this role, Steve is well aware of the regulations and taxes that plague small-business owners, and wants to help get government out of the way of these hard-working Americans."[12]
Pearce's strong connections to the oil and gas industry and advocacy of drilling have helped him garner significant campaign contributions from the oil and gas sector, which was his number one contributor in 2011-212, providing nearly $80,000 as of May 2012.[13]
Pearce has pushed for oil and gas exploration in the Arctic National Wildlife Refuge and early in his congressional career cosponsored the House Energy Policy Act of 2003, which would have provided an $18.7-billion tax break over 10 years to the oil, coal, and nuclear power industries. He also supports oil and gas drilling in Otero Mesa, a 500,000-acre grassland identified by Congress as suitable for official wilderness designation. Oil and gas exploration of Otero Mesa is opposed by a bipartisan coalition of ranchers and environmentalists in New Mexico. In November 2010, then-Governor Bill Richardson urged President Obama to declare the area a national monument by executive order, a move that the Albuquerque Journal said received a "cool reception" from Pearce.[14]
According to Kevin Bixby of the Southwest Environmental Center: "Through his votes on the House Resources Committee, he [Pearce] has quickly joined the ranks of the most anti-environmental members of Congress. He recently voted for the disingenuously titled Healthy Forests Restoration Act. Under the guise of protecting communities from fire, this bill would actually promote logging of large, fire resistant trees in the backcountry while rolling back environmental safeguards, cutting out public review, and doing little to reduce flammable materials in the immediate vicinity of homes. He also voted, in the name of national security, to weaken key federal protections for endangered wildlife. He was instrumental in working behind the scenes to get the Bureau of Land Management to change its longstanding wilderness policy–a decision that opens up millions of acres of our public lands to oil drilling, mining, off-road vehicle use and other destructive activities."[15]
Bush and Taxes
In 2004, Pearce voted with the congressional majority to approve an $89.5-billion tax-cut plan that disproportionately benefited the wealthiest sectors. He also introduced a motion to raise the tax break proposed by the Bush administration from $89,000 to $105,000 for individuals with incomes above $1 million. Taxpayers with incomes less than $50,000 would have received even less than Bush's tax break under the Pearce plan. For his efforts, Pearce received the annual "Hero of the Taxpayer Award" from the Americans for Tax Reform (ATR) organization, a right-wing taxpayer group directed by Grover Norquist and opposed to all federal, state, and local tax increases. He received an overall score of 95 percent on the ATR voting scoreboard.[16]
President Bush visited New Mexico three times to speak at fundraisers for Pearce. Former Vice President Cheney also spoke at fundraisers for Pearce. During his first year in office, Pearce voted in support of President Bush's policy initiatives 98 percent of the time.