Thomas Moorman Jr.
last updated: February 11, 2011
Please note: The Militarist Monitor neither represents nor endorses any of the individuals or groups profiled on this site.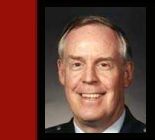 Affiliations
Center for Security Policy:Signatory, Letter to President Clinton calling for "space dominance," 1998
Council on Foreign Relations:Member
U.S. Space Foundation:Director Emeritus
Government
Defense Science Board:Member of task force on acquisition of space capabilities, 2003
Commission to Assess United States National Security Space Management and Organization (Rumsfeld Space Commission):Commissioner, 1999
U.S. Air Force:Vice Chief of Staff, 1994-1997; Commander of the Air Force Space Command, 1990-1994; Director of Space and Strategic Defense Initiative programs, 1987-1990; Special Assistant for Strategic Defense Initiative, 1987-1990; various assignments, 1962-1987
U.S. Department of Defense Policy Board:Former Advisory Committee Member
Business
Integral Systems: Board Member
Booz Allen Hamilton:Senior Executive Advisor, Former Vice President
Aerospace Corporation: Former Member of the Board of Trustees
National Space Club: Former Board Member
Smiths Industries: Former Outside Director
Education
Dartmouth College: B.A., 1962 in History
Western New England College: M.B.A., 1972
Auburn University: M.A., 1975 in Political Science
Retired General Thomas S. Moorman, Jr., the former vice chief of staff of the Air Force and commander of Air Force Space Command, has represented defense industry interests at the same time as he served on government boards promoting militarization. A board member of government contractor Integral Systems and partner at Booz Allen Hamilton, a subcontractor on Pentagon missile defense projects[1], Moorman has also supported an advocacy campaign of the hawkish "pro-Israel" group the Center for Security Policy and promoted the weaponization of space as part of a commission headed by Donald Rumsfeld.
According to a 2010 Integral Systems press release about his board appointment, Moorman's "wide-ranging industry and military experience spans more than four decades. He currently is a Senior Executive Advisor to Booz Allen Hamilton. Before retiring in 2008, he led Booz Allen's Air Force and NASA business as a Partner and Vice President. Prior to joining Booz Allen, General Moorman served as Vice Chief of Staff, United States Air Force, where he was responsible for the day-to-day activities of the Air Staff. He also chaired the Air Force Council and represented the Air Force on interagency organizations, such as the Joint Requirements Oversight Council (JROC) and DOD-wide efforts, such as the Quadrennial Defense Review (QDR)."[2]
His biography on the Forbes website adds that he was "involved in the fielding of virtually all of the space systems currently in the military inventory. Earlier in his career, General Moorman was deeply involved in planning and organizing the establishment of Air Force Space Command (AFSPC). Later, as Commander and Vice Commander of AFSPC from 1990-1994, General Moorman was responsible for operating military space systems, ground-based radar and missile warning satellites, the United States space launch centers at Patrick Air Force Base, Florida and Vandenberg Air Force Base, California, the worldwide network of space surveillance radars as well as maintaining the Intercontinental Ballistic Missile (ICBM) force. As the Commander, General Moorman was responsible for providing Air Force space support to coalition forces in Operation Desert Storm."[3]
Moorman represented the Air Force in the Strategic Defense Initiative program and was authorized to accept SDI program execution responsibilities on behalf of the Air Force.[4]
Moorman was one of 44 retired high-level military officials who signed the Center for Security Policy's "Open Letter to President Clinton" in January 1998 calling on the president to "deny our enemies the use of space" and thus heed the recommendations of the National Defense Panel to assure "the means necessary to provide space dominance and in [reject] budgetary and arms control arrangements that would jeopardize that required capability.[5]
In 1999, he was asked to serve on the congressionally authorized Commission to Assess United States National Security Space Management and Organization, also known as the Rumsfeld Space Commission, along with Ronald Fogelman and a host of other well known security hawks. Donald Rumsfeld chaired the commission, which concluded in its January 2001 report that it is "possible to project power through and from space in response to events anywhere in the world. … Having this capability would give the United States a much stronger deterrent and, in a conflict, an extraordinary military advantage." According to Rumsfeld, the United States could not allow rival countries to gain asymmetrical military advantage, so it needed to expand operations in space and use force if necessary.[6]