Tommy Thompson
last updated: November 13, 2012
Please note: The Militarist Monitor neither represents nor endorses any of the individuals or groups profiled on this site.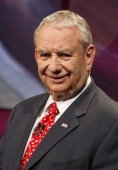 Affiliations
Council for National Policy: Former Member
U.S. Preventive Medicine: National Policy Advisor
National Governors' Association: Former Chairman
Education Commission of the States: Former Chairman
Midwestern Governors' Conference: Former Chairman

Government
U.S. Department of Health and Human Services: Secretary, 2001-2005
State of Wisconsin: Governor, 1987-2001
Wisconsin State Assembly: Representative, 1966-1973; Assembly Minority Leader, 1981-1987; Assistant Assembly Minority Leader, 1973-1981
Wisconsin National Guard: Officer
Wisconsin Army Reserve: Officer

Business
Akin Gump Strauss Hauer Feld LLP: Partner
AGA Medical Corporation: Chairman
Cancer Genetics: Board Member
C.R. Baird: Director
CareView Communications, Inc.: Director
Centene Corporation: Director
CNS Response: Director
Deloitte Center for Health Solutions: Independent Chairman, 2005-2009
Logistics Health, Incorporated: President
United Therapeutics: Director

Education
University of Wisconsin-Madison: B.S., 1963
University of Wisconsin-Madison: J.D., 1966
Tommy Thompson is a former governor of Wisconsin who served as secretary of Health and Human Services in the George W. Bush administration and ran for the U.S. Senate during the 2012 election, losing to Tammy Baldwin (D-WI), who became the first openly gay senator. Thompson, who also ran unsuccessfully for the 2008 Republican presidential nomination, is a former member of the ultra-secretive, right-wing Council for National Policy, an organization formed in 1981 that advocates "limited government, a strong national defense, and support for traditional western values."[1]
Thompson officially announced his candidacy for the U.S. Senate under the slogan "to bring America back" in early December 2011. Although his campaign focused largely on social and economic issues—including claiming during a Tea Party meeting in mid-2012 that he would "do away with the Medicare and Medicaid"—Thompson at times weighed in on foreign affairs. For instance, in the wake of the September 2012 attacks on U.S. embassies spurred by the film Innocence of Muslims, Thompson echoed the criticism of President Obama issued by the Mitt Romney/Paul Ryan campaign and argued that the administration must pressure the Egyptian government of President Mohamed Morsi to protect all Americans in Egypt.
In a press release, he said: "In the wake of the deadly attacks on American embassies this week that erupted in Egypt and Libya and the subsequent failure of the Egyptian President to condemn these attacks, it is time for President Obama to take action. … President Morsi must strongly condemn these acts and bring the offenders to justice. As we mourn the death of our American diplomats, we must send a strong and resounding message to nations who harbor violent, anti-American militants that this type of violence will not be tolerated by the United States of America."
Thompson's record on foreign policy is thin. This fact was reflected in his 2012 campaign website, which failed to list any foreign policy issues beyond calling for energy independence because "The U.S. economy is subject to manipulation by OPEC and its member nations, many of which have open hostilities toward the U.S."[2] Among the steps Thompson argued the United States should take to secure its "energy independence" was to build the controversial Keystone pipeline, which would carry carbon-intensive oil from the Alberta tar sands in Canada to refineries in Texas for processing and export. Citing the neoconservative American Enterprise Institute, Thompson claimed that the pipeline project "would create an estimated 20,000 construction jobs and could create as many as 600,000 jobs by 2035."[3]
On the Middle East
During the Republican Senate primary, Thompson expressed support for the U.S. alliance with Israel and warned of a nuclear Iran, primarily with reference to its potential ramifications for world energy markets. "If they get a nuclear bomb," Thompson said in August 2012, "they will close down the Gulf of Hormuz [sic]. Gulf of Hormuz is where all the oil comes from. It will strangle the world." Wisconsin Public Radio reported that "Thompson says sanctions should have been placed on Iran much earlier but he won't say much about what the U.S. should do next."[4]
In 2007, when he was actively considering running for president, Thompson said during an NPR interview that he would allow Iraqis to vote on whether they wanted U.S. troops to remain in the country. When the interviewer responded by asking whether this meant Thompson disagreed with President Bush's claim "that Iraq is the central front in a global war on terror," Thompson responded: "I think that it is a front. … You've got a front in the Middle East, you've got a front within Iran, you've got a front in North Korea, you've got a front in Afghanistan and in the mountain states of Pakistan. I mean, there's no one, central front, and we've got to be strong against all of them. And I don't think that by not allowing the Iraqi government to have a vote—you know, isn't it somewhat surprising to you and your listeners that nobody in the federal government has ever asked the Iraqi government to vote as to whether or not they want America in it? And if you did that, you would immediately, if they voted yes, which I think—I would bet on it that they would—it automatically gives the legitimacy to America for being there, and that's something that we lack right now."
Thompson stoked controversy in 2007 when he made remarks to an audience of Jewish activists in Washington that seemed to incorporate anti-Semitic stereotypes. "I'm in the private sector and for the first time in my life I'm earning money," Thompson said. "You know that's sort of part of the Jewish tradition and I do not find anything wrong with that." When prompted by a rabbi to revisit his remarks, Thompson added, "I didn't [by] any means want to infer or imply anything about Jews and finances and things. What I was referring to, ladies and gentlemen, is the accomplishments of the Jewish religion. You've been outstanding business people and I compliment you for that."[5]
In a 2008 interview posted by the website Big Think, Thompson proposed "medical diplomacy"—sending U.S. hospital ships to developing countries, among other forms of assistance—as an alternative to a more militarized U.S. posture.[6] "You know, we have to tear down this animosity that the jihadist movement has against America," he said. "There are people that hate America! I have found the best way to treat this severe hatred is [to] build up a counter force, and that's through women and children and using medical diplomacy. … Whether you're a Shiite, Sunni, Kurd, Hamas, Hezbollah, [or] Jewish member, everything revolves around how you're going to provide good health … for the family.[7]
Career
In 1966, Thompson, then 24, "began his career in public service … as a representative in Wisconsin's state Assembly," according to his Department of Health and Human Services biography. "He was elected assistant Assembly minority leader in 1973 and Assembly minority leader in 1981." First elected as governor of Wisconsin in 1986, he served for 14 years, making state history as the first governor to be elected for a third and fourth term. He left the fourth term midway to become secretary of Health and Human Services in 2001, a position he held until 2005.[8]
During his tenure as Wisconsin governor, Thompson pushed through efforts to cut unemployment benefits in the state, once saying to a crowd at the Heritage Foundation: "We have an environment in Wisconsin in which any poor family can climb out of the despair of poverty and pursue the American dream."[9]
During his HHS tenure, Thompson was notorious for warning of the dangers of an avian flu pandemic and "the poisoning of the U.S. food supplies by terrorists." He stated: "And we are importing a lot of food from the Middle East, and it would be easy to tamper with that."[10]
Commented writer Laura Flanders: "Thompson called his policy 'compassionate'—and that's the problem. It redefined what was morally acceptable to do to poor people, and with a whole lot of help from strategically funded media, the same reasoning wormed its way into the national mind."[11] She added: "Inside the dark Victorian mansion of the Bradley Foundation in benighted Milwaukee, there must be smiles all around. The same ideologically-driven outfit that paid for the task force that devised Thompson's welfare plan is now [in 2011] backing [Governor Scott] Walker's drive to criminalize collective bargaining."[12]
Thompson's biography on the website of Akin Gump Strauss Hauer Feld LLP, where he is a partner, says: "Secretary Thompson is well-known for his contributions to the U.S. response to the threat of bioterrorism and for his leadership in the fight against HIV/AIDS in the United States and abroad, and he is chairman emeritus of the Global Fund to Fight AIDS, Tuberculosis and Malaria."[13]
Thompson has served as chairman of the National Governors' Association, the Education Commission of the States and the Midwestern Governors' Conference, as well as in the Wisconsin National Guard and the Army Reserve.[14]
He has also served as a director on many corporate boards, including as chair of the Deloitte Center for Health Solutions and president of the Wisconsin based Logistics Health Incorporated.[15] According to its website, "Logistics Health Incorporated (LHI) has served as a partner to the United States Government in military medical readiness, employee fitness, and in defense of bioterriorism, protection against infectious diseases, and asset management and monitoring."[16]