Walter Kansteiner
last updated: April 25, 2011
Please note: The Militarist Monitor neither represents nor endorses any of the individuals or groups profiled on this site.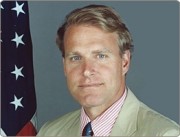 Affiliations
The Forum for International Policy: Resident Senior Fellow
Council on Foreign Relations: Member
Veracity Worldwide: Advisory Board Member
Center for Strategic and International Studies: Former Senior Adviser; Chair of Africa Policy Advisory Panel
African Wildlife Foundation: Trustee
Institute on Religion and Democracy: Former program director
Wildlife Direct: Former Board member
Government
U.S. Department of State: Assistant Secretary of State for African Affairs, 2001-2003; Africa Director of Policy Planning, 1989-1992
National Security Council: Deputy Press Secretary, 1992
U.S. Department of Defense Task Force on Strategic Minerals: Former Member
Business
Scowcroft Group: Founding Principal Member
Titanium Resources Group: Former Chairman of the Board
Corporate Council on Africa: Former Board Member
Sierra Rutile: Former Board Member
W.H.Kansteiner, Inc.: Former Vice President
Education
Washington and Lee: B.A., 1977
American University: M.A. in International Economics
Virginia Theological Seminary: M.A. in Theological Studies
A State Department official in the George W. Bush and George H.W. Bush administrations, Walter Kansteiner is a founding principal of the Scowcroft Group—an international business advisory firm managed by Brent Scowcroft—and former national security advisor to Presidents George H.W. Bush and Gerald Ford. [1] Kansteiner is also a resident senior fellow at the Forum for International Policy, a "brain trust" dedicated to furthering U.S. interests internationally, where he focuses on international trade and finance and is billed as an "advisor to corporations on a wide range of mergers, acquisitions, and privatizations throughout Africa." [2]
According to his biography on the Scowcroft website: "An astute advisor, skilled statesman, and savvy business leader, Walter Kansteiner has more than twenty years experience with African and emerging market issues. As a founding principal of the Scowcroft Group, he has advised corporations on a wide range of mergers, acquisitions, and privatizations throughout Africa including telecommunications, forestry, mining, financial services, healthcare, and aviation services. … Prior to his current stint with the Scowcroft Group, Kansteiner was Assistant Secretary of State for African Affairs under President George W. Bush.  In this capacity, he was responsible for U.S. foreign policy in Africa as well as serving as the President's personal representative to the G8 Africa Process." [3]
Kansteiner was controversially selected by then Secretary of State Colin Powell for the Assistant Secretary of State for African Affairs post in the Bush administration over then U.S Ambassador to Kenya, Johnnie Carson. [4] (Carson was later appointed to this post during the Barack Obama administration.) Commenting on the appointment, Foreign Policy in Focus contributor Ann-Louise Colgan wrote: "Although some portray [George W. Bush's] State Department as a haven of moderates in contrast to Pentagon and White House hardliners, Kansteiner's appointment mirrors the appointments of Otto Reich for Latin American affairs at the State Department and of John Negroponte for the position of UN representative. With Kansteiner, Bush is appointing another right-wing ideologue to a key operational position dealing with regional issues. Interestingly, neither Kansteiner's official biography nor news stories to date highlight his ties with the far-right Institute on Religion and Democracy (IRD).
The IRD was established in 1981 to counter the influence of mainline Christian organizations such as the National Council of Churches (NCC) and its international counterpart the World Council of Churches (WCC). … The Institute claims to be a centrist organization, committed to building and strengthening democracy and religious liberty in the U.S. and abroad. Its history, however, displays virulent opposition to social justice movements in the developing world. It has been especially critical of U.S. religious groups supporting liberation theology in Latin America and liberation movements in Africa." [5]
Kansteiner first joined the State Department's policy planning staff as Africa director in mid-1989. He then moved to the National Security Council, first as director for African affairs before being appointed in April 1992 as the NSC deputy press secretary. After the 1992 presidential election, Kansteiner became a partner in the Scowcroft Group. [6]
In 2003, he began chairing the congressionally funded Africa Policy Advisory Panel, which produced the 2004 study, Rising U.S. Stakes in Africa: Seven Proposals to Strengthen U.S.-Africa Policy. It concluded that a "strategic approach will require long-term attention in Africa to education and building health infrastructure. It will require a priority focus upon building Africa's private financial sector, engaging more systematically and effectively with Africa's 300 million Muslims, coming to terms with enduring terrorist threats in broken parts of Africa, and ensuring effective peace operations that are indeed within reach, if there is sufficient political will." [7]
Before his political work in Washington, Kansteiner spent time working in the commodities trading firm his grandfather, Walter Kansteiner, started in Chicago. He received his B.A. from Washington and Lee, and holds graduate degrees in international economics from American University and ethics from Virginia Theological Seminary.
In the late 1980s, while at the rightist think tank Institute on Religion and Democracy—whose mission is "to reaffirm the church's biblical and historical teachings, strengthen and reform its role in public life, protect religious freedom, and renew democracy at home and abroad" [8]—Kansteiner researched his 1988 book, South Africa: Revolution or Reconciliation? which was published by the IRD.
A Foreign Affairs review was very critical of the work: "The director of economic studies at the Institute on Religion & Democracy appears here to be reinventing constructive engagement, or its precursor, the Kissinger policy of 'communication' with South Africa. His advocacy of support for liberal democracy (and his efforts to cast the 'radical, Marxist' ANC as just another player) would have more impact if he did not ignore a number of political realities in the scene he describes—particularly the isolation of the tribally oriented Inkatha and its leader Gatsha Buthelezi from mainstream black politics today." [9]
FPIF's Colgan was equally critical of the book: "Kansteiner's book, published just two years before Nelson Mandela's release from prison, systematically attacks the African National Congress (ANC). Throughout the book, Kansteiner characterizes the ANC as a group of violent revolutionaries engaged in an 'unjustified' and 'Marxist' struggle against the government, without a mandate from the South African people. While criticizing the apartheid government, he repeatedly refers to the ANC as an 'equally foreboding' option for leadership. He describes the ANC movement as illegitimate and undeserving of assistance, while urging each American to 'resist the temptation to become … a romantic revolutionary supportive of violent revolutionary tactics.' Only a few years before the ANC's victory in South Africa's first democratic elections, Kansteiner denounced it as 'unrepresentative.' There is no public record of his retracting that opinion in deference to the judgment of South African voters who gave the ANC nearly two-thirds of the public vote in the 1994 election (effectively ending political apartheid) and more than two-thirds in the 1999 elections following Mandela's retirement at the end of his term." [10]
Kansteiner is a member of the Council on Foreign Relations and serves on various business and African conservation boards in the U.S. and Africa.