Middle East Forum
last updated: November 2, 2015
Please note: The Militarist Monitor neither represents nor endorses any of the individuals or groups profiled on this site.

Officers (as of 2015)
Daniel Pipes: President
Steven Levy: Chairman
Joshua Katzen: Vice Chairman
Lawrence Hollin: Treasurer
Amy Shargel: Secretary
Executive Committee (as of 2015)
Steven Levy: Chairman
Lawrence Gould
Irwin Hochberg
Lawrence Hollin
Joshua Katzen
Andrew Lappin
Harley Lippman
Daniel Pipes
Scott Rosenblum
James H.M. Sprayregen
David P. Steinmann
Judith Friedman Rosen
National Board of Governors (as of 2015)
Robert Abrams
Wilma G. Aeder
Yehuda Baskin
Sam E. Beller
Jack Bershad
Howard Bleich
Susan Gardos Bleich
Marc Paul Blum
Richard Calmas
Howard M. Casper
Patrick Clawson
Brian T. Decker
Janet Doerflinger
David E. Edman
Georgette Gelbard
Roger A. Gerber
Donald G. Ginsberg
Stanley D. Ginsburg
Edward Glickman
Benjamin H. Gordon
Brian Grodman
Lawrence K. Grodman
Martin Gross
Robert Guzzardi
Robert Immerman
Ira M. Ingerman
Arthur Karafin
Leon Korngold
David Kudish
Joshua Landes
Murray S. Levin
Robert J. Levine
David N. Levinson
Peter B. Levy
Michael Mooreville
Herbert Nevyas
Irene Pipes
James Pollack
Adrienne Price
Pamela Rose
Howard Rosenbloom
Jeremy T. Rosenblum
Henry Rosenfeld
Josiah Rotenberg
Mark H. Rubin
Melvin Salberg
Milton S. Schneider
Ed Seave
William Seltzer
Joseph Shafran
David Shifrin
Orna Shulman
Murray H. Shusterman
Lindy Snider
Marilyn Stern
Leonard A. Sylk
Jonathan Torop
Margot Marbut Train
George A. Violin
David V. Wachs
Harry C. Wechsler
Carroll A. Weinberg
Michael Weiss
Maxine Wolf
Ele Wood
Joseph S. Zuritsky
MEF 501c(3) Donors, 2000-2009
Abraham Kamber Foundation: $108,000
Abramowitz Family Foundation: $20,000
Abstraction Fund: $94,500
Aimee & Frank Batten, Jr. Foundation: $25,000
Anchorage Charitable Fund:$252,230
American Philanthropic Foundation: $151,000
Blum-Kovler Foundation: $85,000
Bodman Foundation:$177,000
Combined Jewish Philanthropies of Greater Boston:$21,500
Dian & Morton Goldin Foundation: $25,000
Dextra Baldwin McGonagle Foundation, Inc.:$30,000
Donors Capital Fund: $2,300,000
Ed Snider Foundation:$15,000
Edgerly Foundation:$75,000
Eleanor, Adam, & Mel Dubin Foundation:$35,000
Fairbrook Foundation: $135,000
Fidelity Investments Charitable Gift Fund:$20,000
FIMF, Inc.: $40,000
GBRB, Inc.:$20,000
Hochberg Family Foundation: $30,000
Houston Jewish Community Foundation: $17,000
Irving I. Moskowitz Foundation: $25,000
Jack N. & Lilyan Mandel Foundation:$25,800
James E. & Patricia D. Cayne Charitable Trust:$236,000
Jewish Communal Fund:$387,940
Jewish Community Federation of Cleveland: $26,500
Jewish Community Foundation of Greater Los Angeles:$21,780
JJG Foundation, Inc.:$150,000
JLRJ, Inc.:$15,000
Joseph & Florence Mandel Family Foundation:$50,000
Legacy Heritage Fund Limited:$45,000
Lewis B. & Dorothy Cullman Foundation:$25,000
LMCL, Inc.:$15,000
Lynde & Henry Bradley Foundation, Inc.: $240,000
Kimmel Foundations:$170,000
Klarman Family Foundation: $125,000
Koret Foundation:$145,000
Mandel Supporting Foundations (Joseph & Barbara Mandel Fund): $175,000
Metropolitan Philanthropic Fund, Inc.:$50,000
Meyer & Jean Steinberg Family Foundation, Inc.: $20,000
Morton & Barbara Mandel Family Foundation: $25,000
Newton & Rochelle Becker Charitable Trust: $200,000
PBHP, Inc.:$30,000
Pechter Foundation: $45,000
Price Family Foundation: $110,000
Quadrangle Group Foundation, Inc.:$15,000
Randolph Foundation:$70,000
Russel Berrie Foundation:$325,000
Samuel & Helene Soref Foundation:$15,000
Schusterman-JD Support Foundation, Inc.:$21,700
Scientific Research Foundation, Inc.:$22,500
Sunrise Foundation Trust:$68,000
Svetlana & Herbet M. Wachtell Foundation: $180,000
Wechsler Family Foundation:$15,000
William Rosenwald Family Fund, Inc.: $2,020,000
1185 Park Foundation, Inc.:$15,000
The Middle East Forum (MEF) is a controversial Philadelphia-based policy institute founded by Daniel Pipes that employs extremist rhetoric regarding Islam and attacks academics who disagree with its militaristic views on Israeli security and Middle East politics. MEF promotes its agenda through a number of programs, including Campus Watch, Islamist Watch, and the quasi-academic Middle East Quarterly journal.
Claiming to advocate "American interests in the Middle East and protect Western values from Middle Eastern threats," MEF aims to "to defeat radical Islam; work for Palestinian acceptance of Israel; develop strategies to contain Iran; and deal with the great advances of anarchy." The group works to "combat lawful Islamism" and to protect "the freedom of public speech of anti-Islamist" figures.[1] Pipes has said that MEF also focuses "heavily on Middle Easterners living in the West" in order to "contribute to an understanding of these new populations and the issues they raise."[2]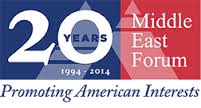 MEF revised its mission statement in 2014 to remove mention of "robustly asserting U.S. interests vis-à-vis Saudi Arabia." A reason for this change could be that Israel and Saudi Arabia are strategically moving closer together, united by a common desire to maintain status quo in the region and counter a rising Iran.[3]
MEF has lamented what it sees as the declining influence of the United States in the Middle East during the presidency of Barack Obama. "With Barack Obama, the United States has slid into shocking irrelevance in the Middle East, the world's most turbulent region. Inconstancy, incompetence, and inaction have rendered the Obama administration impotent," Pipes complained in an August 2013 editorial. "Obama acts as though he would rather be the prime minister of Belgium, a small country that usually copies the decisions of its larger neighbors when casting votes at the United Nations or preening morally about distant troubles. Belgians naturally 'lead from behind,' to use the famed phrase emanating from Obama's White House."[4]
In 2013, Pipes broke with many of his fellow neoconservatives—and much of his own prior work—in arguing that instead of ousting Syrian president Bashar al-Assad, Washington should seek to ensure that the stalemated Syrian civil war goes on as long as possible to maximize the damage the various sides inflict on each other. Citing both the U.S.-Soviet alliance in World War II and Washington's double-sided intrigue during the destructive Iran-Iraq War in the 1980s, Pipes wrote: "Evil forces pose less danger to us when they make war on each other. This (1) keeps them focused locally and (2) prevents either one from emerging victorious (and thereby posing a yet-greater danger). Western powers should guide enemies to stalemate by helping whichever side is losing, so as to prolong the conflict."[5]
In September 2013—after calls for the United States to intervene in Syria after its alleged use of chemical weapons—Pipes argued that "the methods by which Syrians kill each other [are] a decidedly less vital matter for Congress than Iranian plans to bring the United States to its knees." Echoing an oft-repeated neoconservative claim—one disputed by U.S. intelligence agencies—that "the mullahs in Tehran are getting ever closer to the point where they at will can order nuclear bombs to be made and readied for use," Pipes argued that instead of bothering with Syria, Congress should "pass a resolution endorsing and encouraging force against the Iranian nuclear infrastructure."[6]
On the domestic front, MEF's attacks on "lawful Islamism" have led observers to associate the group with a burgeoning U.S. "Islamophobia network," a patchwork of prominent rightwing U.S. foundations, opinion makers, and media personalities who spread negative impressions about Islam and Muslims in the United States.[7]
In a widely noted 2011 report about the network, the Center for American Progress listed MEF as one of "five key think tanks led by scholars who are primarily responsible for orchestrating the majority of anti-Islam messages polluting our national discourse today." The report argued that Pipes, who has a doctorate in medieval Islamic history, "has parlayed his prestigious academic credentials to great effect," but has "become increasingly out of touch with the realities of the Muslim world at home and abroad, making more extreme and unfounded observations about Islam in the United States." The report noted that Anders Breivik, the Norwegian terrorist who in July 2011 murdered 77 people in a protest against "cultural Marxism," cited the work of Pipes and MEF 18 times in his xenophobic manifesto.[8]
Pipes has attempted to draw a distinction between himself and more recent Islamophobes like Pamela Geller. "This anti-Islamic agitation has been growing over time, and it's much stronger than in 2001," he told Michelle Boorstein of the Washington Post in 2010. According to Boorstein, "Pipes says while he shares a concern about radical Islam with today's crop of bloggers, he considers them 'anti-Islam' because in his view they see the faith and it[s] scripture as fundamentally problematic for a pluralistic, democratic society like the United States and unchangeable." Pipes told Boorstein, "We're in the same trench but we have different views of what the problem is. We both see an attempt to impose Islamic law, sharia, in the West. We are both against it, and want to maintain Western civilization." However, Pipes claimed that he understood "the nature of the problem differently."[9]
MEF fellows have argued that the primary factor motivating suicide terrorism is the Islamic religion and not foreign military interventions or occupations in the Muslim world. In a summer 2015 report for MEF's Middle East Quarterly, MEF fellow A.J. Caschetta stated that "far too often" Western scholars suggest that the "causes of suicide terrorism are … the policies of the West." Caschetta claimed that the "post-1979 bloom of suicide bombings is all but unthinkable without Islamic tradition."[10]
After the takeover of swathes of territory in Iraq and Syria by the so-called Islamic State group (IS or ISIS) in 2014, Pipes criticized President Obama in a National Review article for arguing that the group was "not Islamic." Pipes claimed that "moderate Islam does not presently exist" and that "neither U.S. Presidents nor Islamist apologists fool people. Anyone with eyes and ears realizes that the Islamic State, like the Taliban and al-Qaeda before it, is 100 percent Islamic."[11]
MEF also strongly opposed the July 2015 Iran nuclear deal. One MEF fellow called it "horrendous" and disparaged the U.S. diplomats who negotiated the agreement. "Clownish performance by the chief negotiator, Secretary of State John Kerry, a man driven equally by incompetence, ego, and pacifism, has long been the norm," MEF fellow Alexander Joffe wrote in the Times of Israel in August 2015. Joffe added that because the Obama administration was supposedly "Led by social justice ideologues," it was "fated to understand nothing about a revolutionary Islamist regime."[12]
Activities
According to its website, MEF "works to define and promote American interests in the Middle East and protect the Constitutional order from Middle Eastern threats" in "three main ways: 1) Intellectually: Through the Middle East Quarterly, staff writings, lectures and conference calls, the Forum provides context, insights, and policy recommendations. 2) Operationally: The Forum exerts an active influence through its projects, including Campus Watch, Islamist Watch, the Legal Project, and the Washington Project. 3) Philanthropically: The Forum distributes nearly $2 million annually through its Education Fund, helping researchers, writers, investigators, and activists around the world."[13]
MEF's flagship publication is the Middle East Quarterly (MEQ), currently edited by Efraim Karsh. Describing itself as "a policy-oriented journal aimed to provide cutting-edge information for specialists and absorbing information for a general readership" and the "only journal on the Middle East consistent with mainstream American opinion,"[14] the MEQ publishes analyses and diatribes typically covering Mideast politics, national security, and the supposed spread of Islamism. Senior editors of the journal include Michael Rubin of the American Enterprise Institute (AEI) and Patrick Clawson of the Washington Institute for Near East Policy (WINEP). Robert Satloff and Lee Smith sit on MEQ's Board of Editors, along with Fouad Ajami of Johns Hopkins, James Phillips of the Heritage Foundation, and Steven Plaut of the University of Haifa. Also on the board is Dennis Ross, a hawkish former Middle East adviser to President Obama who left the administration to rejoin WINEP.[15]
MEF also works in Washington through its Washington Project. Led by former AIPAC foreign policy director Steven J. Rosen, the program aims to place op-eds in outlets like the Washington Post and lobby policymakers directly. Among other things, the project has claimed credit for encouraging the Obama administration to oppose the Palestinian Authority's statehood bid at the UN, for "alerting policy-makers and policy-influencers" about "the Obama administration's relentless pressure on Israel to stop all construction activities in the settlements," and for leading the opposition to Chas Freeman, a diplomat who withdrew from consideration to lead the National Intelligence Council after hardline groups attacked comments he had made that were critical of Israel.[16]
One of MEF's most controversial programs has been Campus Watch, an initiative aimed at monitoring what MEF claims are the "often erroneous and biased teachings and writings of U.S. professors specializing in the Middle East." In the early 2000s, Joel Benin, a former professor of Middle East studies at Stanford University, said of the program: "Campus Watch … compiles dossiers on professors and universities that do not meet its standard of uncritical support for the policies of George Bush and Ariel Sharon. … The efforts to stifle public debate about U.S. Middle East policy and criticism of Israel are being promoted by a network of neoconservative true believers with strong links to the Israeli far right. They are enthusiastic supporters of the Bush administration's hands off approach to Ariel Sharon's suppression of the Palestinian uprising. And they are aggressive proponents of a preemptive U.S. strike against Iraq."[17]
The international relations scholars John Mearsheimer and Stephen Walt wrote in their controversial 2006 critique of the influence of the "pro-Israel lobby" on U.S. foreign policy that Campus Watch was founded by "passionately pro-Israel neoconservatives" with the intention of "encourag[ing] students to report comments or behavior that might be considered hostile to Israel" in a "transparent attempt to blacklist and intimidate scholars."[18]
Since 2008, MEF has also run a project called "Islamist Watch," which bills itself as an outfit to combat "the ideas and institutions of nonviolent, radical Islam in the United States and other Western countries." A press release on MEF's website explained that "nonviolent radical Islam is more likely to alter the makeup of Western society over time than is terrorism," and quotes Daniel Pipes: "Quietly, lawfully, peacefully, Islamists do their work throughout the West to impose aspects of Islamic law, win special privileges for themselves, shut down criticism of Islam, create Muslim-only zones, and deprive women and non-Muslims of their full civil rights."[19] Noting that its interest is not in "counterterrorism" but rather the "political, educational, cultural, and legal activities of Islamists" in the West, the Islamist Watch website chronicles articles in a database called "Creeping Dhimmitude," which attempts to show the "special accommodations" made for Muslims in non-Muslim countries.[20]
A related campaign is MEF's Legal Project, which aims to provide legal resources to defendants facing libel lawsuits from Muslims and Islamic activists. "Such lawsuits are often predatory, filed without a serious expectation of winning, but undertaken as a means to bankrupt, distract, intimidate, and demoralize defendants," claims a statement on the Legal Project website.[21] The campaign has taken special aim at internationally orchestrated anti-Islamophobic campaigns. Commenting on an anti-Islamophobia conference convened by the Turkish government in 2013, Legal Watch leaders Andrew Harrod and Sam Nunberg called such efforts "yet another example of Islamists seeking to internally codify blasphemy under Sharia."[22]
A website launched in February 2015, Canary Mission, has very similar tactics to MEF projects like Campus Watch, although it is unclear if there is an explicit connection between these initiatives. Canary has been described by Forward as "publicizing the identities of pro-Palestinian student activists to prevent them from getting jobs after they graduate from college."[23] Canary claims to "expose individuals and groups that are anti-Freedom, anti-American and anti-Semitic in order to protect the public and our democratic values."[24]
While MEF and other hawkish "pro-Israel" groups like the David Horowitz Freedom Center have denied they have a relationship with Canary, MEF founder and president Daniel Pipes has defended the website. "Factually documenting who one's adversaries are and making this information available is a perfectly legitimate undertaking. Collecting information on students has particular value because it signals them that attacking Israel is serious business, not some inconsequential game, and that their actions can damage both Israel and their future careers," Pipes has said.[25]
In May 2015, MEF launched "Jihad Intel," a project that claims to educate "law enforcement and the general public with intelligence on radical Islam and Islamic terrorist groups." Jihad Intel claims to provide a database housing "visual identifiers" of "over 125 Islamic terrorist groups" and background information about each of these groups. According to an MEF press release announcing the project, Jihad Intel "also responds to the Obama administration's removal of references to Islam from law enforcement and national security training materials."[26]
On its website, Jihad Intel states its research fellow is Aymenn Jawad Al-Tamimi, who, the website says, "has become the go-to source for intelligence on jihadists in Syria, Iraq and beyond."[27] Al-Tamimi is also a researcher at the Israel-based IDC Herzliya.[28]
MEF's Education Fund "disburses close to $2 million annually to researchers, writers, moderate Muslims, investigators, and activists whose work focuses on the Middle East and Islam." In practice, this has translated into substantial financial support for anti-Islamic groups like Americans for Peace and Tolerance, hardline "pro-Israel" organizations like NGO Monitor and the Middle East Media Research Institute, and hard-right neoconservative think tanks like the Center for Security Policy.[29]
Until 2004, MEF co-published with the now-defunct U.S. Committee for a Free Lebanon (USCFL) the Middle East Intelligence Bulletin, which described itself as "a monthly online publication focused on internal political developments in the Middle East, especially those that are thinly-covered in other English-language publications."[30]
In an earlier collaboration with Ziad Abdelnour and the USCFL, MEF and the Committee coauthored a jingoistic report that advocated U.S. military action to force Syria out of Lebanon and to disarm Syria of its alleged weapons of mass destruction.[31] Virtually all 31 signatories of the MEF report, which was used to persuade Congress to introduce and pass the 2003 Syria Accountability and Lebanese Sovereignty Restoration Act, were USCFL members, and several became high officials or advisers in the Bush foreign policy team, including Elliott Abrams, Paula Dobriansky, Richard Perle, Douglas Feith, and David Wurmser. Other high-profile USCFL signatories were Frank Gaffney, director of the Center for Security Policy, David Steinmann of the Jewish Institute for National Security Affairs (JINSA), and Michael Ledeen of AEI.
Passed in the House of Representatives on October 15, 2003, and signed by Bush on December 12, 2003, the Syria Accountability and Lebanese Sovereignty Restoration Act enumerated several reasons—support for terrorism, possession of weapons of mass destruction, and harboring Iraqi Ba'athists—that laid the groundwork to justify another "regime change" invasion in the region. The appointment of David Wurmser, a longtime advocate of U.S. military action against Syria, to the staff of Vice President Dick Cheney in September 2003 was widely regarded as another signal that the U.S. regional restructuring crusade might soon be taking the road to Damascus.[32]
Leadership
Pipes, son of the anti-Soviet crusader Richard Pipes (who was both a Team B and Committee on the Present Danger member in the 1970s), frequently lambasts Arab politics, urges militarist polices aimed at overthrowing Mideast regimes, and pushes a hawkish "pro-Israel" agenda. He has stirred controversy in the past with seemingly anti-Arab remarks that have bordered on racism, once referring to Muslim immigrants to Europe as "brown-skinned peoples cooking strange foods and not exactly maintaining Germanic standards of hygiene."[33] He has also expressed support for anti-Islamic politicians like Geert Wilders in the Netherlands, and served a controversial term at the U.S. Institute for Peace under President George W. Bush, which was marked by his friction with the administration over its supposed "legitimization" of U.S.-based Arab and Islamic groups.[34]
Other notable MEF staff include Efraim Karsh, MEF director and editor of the organization's journal Middle East Quarterly, and Steven Rosen, a former lobbyist for the American Israel Public Affairs Committee (AIPAC) who works as director of MEF's "Washington Project." According to his MEF bio, Karsh is an academic who has authored 15 books and "has held various academic posts at Harvard and Columbia universities, the Sorbonne, the London School of Economics, the International Institute for Strategic Studies in London, the Kennan Institute for Advanced Russian Studies in Washington D.C., and the Jaffee Center for Strategic Studies at Tel-Aviv University."[35] Rosen is a controversial "pro-Israel" ideologue who was indicted by the U.S. Justice Department as part of a federal investigation into the alleged passing of sensitive U.S. information to Israel. The charges were eventually dropped.[36]
Unlike other neoconservative groups to which it is sometimes compared—including the Center for Security Policy and the Foundation for Defense of Democracies—MEF's various boards are not brimming with well known ideological wonks and former politicians. Some critics have suggested that the entire organization acts as a vehicle for Pipes and his diatribes against those with whom he disagrees. In 2002, Juan Cole, a University of Michigan professor whose criticism of one-sided U.S. support for Israel and other U.S. "war on terror" policies has made him a target of MEF's "Campus Watch" project, argued that the "Middle East Forum is not really a forum. Somebody rich in the community has set [Pipes] up with a couple of offices and a fax machine and calls him a director. … They put out this Middle East Quarterly. It publishes scurrilous attacks on people. There's no scholarship. It's a put-up job. As for Pipes himself, let's just say that he's not a full professor at a major university."[37]
Funding
In 2012, MEG reported nearly $4.7 million in revenues.[38]
A non-exhaustive Right Web investigation of MEF's Form 990 tax records from 2000-2009 revealed that the organization's coffers have been replete with funds from foundations identified by CAP as top funders of the Islamophobia network. During this period, MEF received at least $325,000 from the Russell Berrie Foundation, $240,000 from the Lynde and Harry Bradley Foundation, $200,000 from the Newton and Rochelle Becker Charitable Trust, and over $2 million from both the Donors Capital Fund and the William Rosenwald Family Fund. All told, Right Web identified at least $8,801,450 raised by MEF in this period, primarily coming from "pro-Israel" organizations and other right-wing outfits. (See our findings here).
Between 1996 and 2005, according to Media Transparency, the Middle East Forum received nearly $300,000 from the Lynde and Harry Bradley Foundation, much of it to support Campus Watch.[39] According to its 2004 Form 990, MEF received $1,800,000 in 2003 in the form of gifts, grants, and contributions. In 2001 Norman Hascoe's Hascoe Family Foundation gave MEF $20,000, and in 2003 the Hascoe Charitable Foundation gave MEF $10,000.[40] Hascoe served as president of JINSA.