Akbar Atri
last updated: June 6, 2019
Please note: The Militarist Monitor neither represents nor endorses any of the individuals or groups profiled on this site.

Affiliations
E-Collaborative for Civic Education:Co-founder and director
Committee on the Present Danger: Member
Foundation for Defense of Democracies: Speaker
American Enterprise Institute: Speaker
Education
George Mason University: MA
Mofid University (Iran): MA
Allame Tabatabaie University (Iran): BA
Akbar Atri is an exiled Iranian-American activist based at the E-Collaborative for Civic Education, a nonprofit he founded in Bethesda, Maryland. A former student organizer in Iran, Atri fled the country in 2005 and moved to the United States, where he has worked with neoconservative activists to promote regime change in his native country. A self-described leader of Iranian students and pro-democracy activists, Atri has argued for harsh sanctions against Iran, accused Tehran of developing nuclear weapons, and pressured the U.S. government to support dissident Iranian groups directly, leading one Iranian American critic to call him an aspiring "Iranian Ahmed Chalabi."[1]
According to a January 2005 profile in the conservative New York Sun, Atri was "an organizer of the movement in Iran to win a national vote on the legitimacy of the Islamic republic [who claimed that he] managed to slip out of his homeland" amid "an open government investigation into his efforts to gather signatures for a petition demanding the referendum." Said Atri of his surprise escape from Iran: "It is common in Iran to have an open charge against political activists in order to intimidate us. They can bring these charges to the court anytime they want. I was surprised I got out so easily. Usually people with open charges against them cannot leave the country, but there was obviously a loophole in the system this time. So I got out."[2]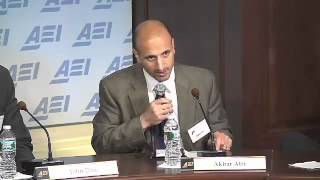 Shortly after arriving in the United States, Atri joined the Committee on the Present Danger (CPD), an anticommunist Cold War-era pressure group that was revived in the years after the 9/11 attacks to promote an expansive war on terror. Since then, he has participated in numerous conferences and forums convened by neoconservative think tanks, including a 2006 Capitol Hill forum sponsored by the Foundation for Defense of Democracies, where Atri joined supporters of sanctions legislation sponsored by Sens. Joe Lieberman and Rick Santorum.[3]
Atri has favored punitive sanctions on Iran and foreign support for Iranian dissident groups, claiming that reaching a diplomatic accommodation with the regime itself is impossible. "Iranians have paid a high price because of sanctions," Atri said at a June 2012 event at the American Enterprise Institute, but added that he supports even the "extreme sanctions" on Iran's oil and banking sectors. He warned against lifting pressure even in exchange for concessions from Tehran concerning its nuclear enrichment program, saying that "you cannot give rewards to this regime, [saying to Iran's leaders that] if you give up the nuclear program, you will join the international community. … In the end this kind of regime will not be a trustable regime. Look at their background. Whatever they say, they lie." Making a muddled reference to the 9/11 attacks, Atri warned that "rewarding" Iran in negotiations could lead to "chaos," such as when "the Taliban came over with the 9/11 attacks and other tragedies."[4]
In a 2009 op-ed article for the Wall Street Journal, Atri argued that any strategy to pressure Iran should include "publicly pressing the Iranian regime to respect human rights; integrating discussion of the regime's treatment of its opposition in all formal negotiations; reviving U.S. government funding to support the Internet, free media, people-to-people exchanges, and training on civic engagement; and leveraging the popular Voice of America and Radio Farda broadcasts to directly express American solidarity with the Iranian people."[5] Earlier, in a 2007 op-ed, Atri advocated funding Iranian groups directly, claiming that "The lack of robust, transparent appeals for outside help by [Iranian] civic leaders should not be confused with a lack of need or desire for such help."[6]
Atri failed to mention that many of Iran's dissidents have refused to accept U.S. funding, much of which has apparently gone to exile groups, a point made by Middle East scholar Stephen Zunes in an article for Right Web. "Congress last year approved $75 million in funding for an administration request to support various Iranian opposition groups," Zunes wrote in 2007. "However, most of these groups are led by exiles who have virtually no following within Iran or any experience with the kinds of grassroots mobilization necessary to build a popular movement that could threaten the regime's survival. By contrast, most of the credible opposition within Iran has renounced this U.S. initiative and has asserted that it has simply made it easier for the regime to claim that all pro-democracy groups and activists are paid agents of the United States."[7]
Even some neoconservatives who supported Atri's call to fund Iranian opposition groups have argued that Atri himself is a flawed vehicle. "'Reformers' such as Akbar Atri, Ali Afshari, and Ramin Ahmadi of Yale University have gotten the lion's share of the 'pro-freedom' moneys from the State Department," complained Kenneth Timmerman, who directs the neoconservative Foundation for Democracy in Iran. "Instead of providing seed money to a home-grown pro-democracy movement, [the] State Department has sponsored Atri to go on a tour of U.S. college campuses, and is now talking of providing him with a radio station to broadcast his message of 'reform' into Iran."[8]
Other accounts of Atri's work have challenged his claim to leadership of the Iranian student movement. In an article about an "Iran Freedom Concert" that was held at Harvard University in March 2006, the Harvard Crimsonsuggested that Atri was a poor choice for the event's featured guest. "The main guest featured at the Iran Freedom Concert, activist Akbar Atri, strongly endorsed the U.S. invasions of Afghanistan and Iraq at the event," the paper reported. Noting that the event organizers had failed to reach out to any of the Iranian-American student groups on campus, it added that Atri "had already discredited himself among Iranian reformists earlier this month when he appeared before Congress as a self-appointed representative of the student movement to ask for American support for regime change in Iran."[9]
The Crimsonop-ed concluded: "The need to defend human rights in Iran is as indisputable as the regime's long record of torture and suppression of basic freedoms." But "foreign interference destroys civilian lives, institutions, and infrastructure, and provides a pretext for heightened repression. Solidarity with Iranian dissidents must be sophisticated enough to avoid manipulation by the neoconservative agenda."[10]