Bill Cowan
last updated: May 5, 2011
Please note: The Militarist Monitor neither represents nor endorses any of the individuals or groups profiled on this site.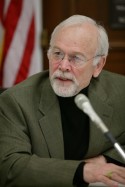 Affiliations
Iran Policy Committee: Member, Military Committee
Intelligence Summit: Advisory Council
Fox News: Contributor

Government
Defense Department: Former military intelligence
U.S. Marine Corps: Lieutenant-Colonel (ret.)
U.S. Navy: Enlisted
Office of U.S. Senator Warren B. Rudman: Legislative Assistant

Business
wvc3: Cofounder and President

Education
Bill Cowan, a decorated veteran of three tours in Vietnam and a former military intelligence officer, is a Fox News contributor who serves on the military committee of the Iran Policy Committee (IPC), a controversial advocacy group founded by Raymond Tanter that has promoted U.S. support for the exile Iranian opposition group People's Mujahedin Organization (or Mujahedin-e Khalq, MEK). The MEK has been on the State Department's list of international terrorist organizations since 1997, after it assassinated several U.S. citizens involved in selling weapons to the Shah. Other IPC members and associates include retired military officers Chuck Nash, Thomas McInerney, and Paul Vallely.
Cowan is also an adviser to the Intelligence Summit, a privately funded "charity" whose activities include providing education programs—or "summits—in order "to provide an opportunity for the international intelligence community to listen to and learn from each other, and to share ideas in the common war against terrorism." [1] Other summit advisors and leaders have included IPC's McInerney and Vallely, Clare Lopez of the Center for Security Policy, Rachel Ehrenfeld, and Brigitte Gabriel.
Cowan's hardline Iran stance was evident in 2009 when Cowan compared Obama's diplomatic strategy toward Iran to "Neville Chamberlain trying to deal with Hitler" on Fox News, claiming Obama was more interested in engagement rather than toughening sanctions on the Iranians. [2]
Cowan was one of the "military analysts" used by President George W. Bush's "Pentagon information apparatus to generate favorable news coverage of the administration's wartime performance," according to an extensive examination by the New York Timesin April 2008. [3] Wrote David Barstow, "Internal Pentagon documents repeatedly refer to the military analysts as 'message force multipliers' or 'surrogates' who could be counted on to deliver administration 'themes and messages' to millions of Americans 'in the form of their own opinions.'… The documents released by the Pentagon do not show any quid pro quo between commentary and contracts. But some analysts said they had used the special access as a marketing and networking opportunity or as a window into future business possibilities" [4] Barstow found that a September 2003 tour of Iraq, "composed of four analysts from Fox News, one each from CNN and ABC, and several research-group luminaries whose opinion articles appear regularly in the nation's op-ed pages," was timed to "help overcome the sticker shock from Mr. Bush's request for $87 billion in emergency war financing."
For Cowan, whose firm wvc3 had recently been launched, the trip also provided direct access to senior military and civilian leaders who controlled the war budget spending. Adds Barstow, "Information and access of this nature had undeniable value for trip participants like William V. Cowan and Carlton A. Sherwood. Mr. Cowan, a Fox analyst and retired Marine colonel, was the chief executive of a new military firm, the wvc3 Group. Mr. Sherwood was its executive vice president. At the time, the company was seeking contracts worth tens of millions to supply body armor and counterintelligence services in Iraq. In addition, wvc3 Group had a written agreement to use its influence and connections to help tribal leaders in Al Anbar Province win reconstruction contracts from the coalition. 'Those sheiks wanted access to the C.P.A.,' Mr. Cowan recalled in an interview, referring to the Coalition Provisional Authority." [5]
According to the wvc3 website, the company is a "Service Disabled Veteran Owned business with offices in the Washington, D.C. area" that provides "studies, analyses and training based on our expertise in counterterrorism, homeland security, domestic preparedness, and the global war on terror, and for our keen understanding and experience with the programs, systems, and technologies which support them. We share that expertise with government and commercial clients who want to expand their own capabilities through solutions developed to meet client-specific requirements." [6]
According to his IPC bio: "Bill Cowan is an internationally acknowledged expert in areas of terrorism, homeland security, intelligence, and military special operations. Cowan served three tours of duty in Vietnam and was awarded the Silver Star for valor in combat. The Pentagon sent Cowan to Beirut in 1983. A military intelligence officer at the time, Cowan had the task of determining who was responsible for bombing the U.S. Embassy there. In the 1980s, he was selected to serve as one of the first members and only Marine in the Pentagon's most classified counterterrorist unit, the Intelligence Support Activity (ISA). There, Cowan served as a senior military operations officer and field operative on covert missions to the Middle East, Europe and Latin America. Following retirement from the Marine Corps in 1985, he worked two years on the staff of U.S. Sen. Warren B. Rudman as a legislative assistant and as the senator's primary staff assistant during the Iran/Contra hearings. From 1989 through 1994, he was involved in numerous operations in the Middle East in response to terrorist incidents and the holding of Western hostages in Beirut and Kuwait. He was directly involved in the Beirut hostages drama, including international negotiations leading to their release in 1991. In 1990, on behalf of a major New York law firm and working with former Director of Central Intelligence Bill Colby, Cowan organized and successfully conducted a series of operations resulting in the repatriation of a number of Western hostages from Iraqi-occupied Kuwait. Cowan is a FOX News Channel contributor and a co-founder of wvc3, a company providing homeland security services, support and technologies to government and commercial clients." [7]