Chris Carney
last updated: October 5, 2011
Please note: The Militarist Monitor neither represents nor endorses any of the individuals or groups profiled on this site.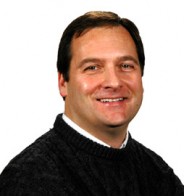 Affiliations
Penn State University-Worthington: Former Professor of Political Science
Government
House of Representatives:D-PA (2007-2011)
Defense Department:Former Analyst, Policy Counterintelligence Evaluation Group (2002-2004)
U.S. Navy:Reserve Officer
Business
BAE Systems: Director of homeland security and policy strategy (2011- )
Education
Cornell College: BA
University of Wyoming: MA
University of Nebraska: PhD
Chris Carney, a former professor of political science at Penn State University-Worthington and a Naval Reserve Officer, served two terms (2007-2011) in the U.S. House of Representatives as a Democrat in a staunchly conservative district of Pennsylvania.[1] In 2010, Carney lost his re-election bid against former U.S. Attorney Tom Marino (R).[2] In August 2011, Carney became director of homeland security and policy strategy for BAE Systems, a large defense contractor Carney assisted in landing contracts in his home district while in Congress.[3]
Although a Democrat who campaigned as a critic of the Iraq War, Carney has been closely associated with a number of neoconservative figures, many of whom supported his bid for election. Richard Perle raised funds for Carney's campaign, and Douglas Feith, who called to congratulate the representative-elect after his 2006 victory, told James Risen of the New York Times that Carney is "a talented, intelligent person. Some of my best friends are Democrats."[4]
The neoconservative support for Carney was likely tied to his experience working during the George W. Bush administration as a senior adviser in Feith's Policy Counterintelligence Evaluation Group, a Pentagon outfit set up by the former undersecretary to generate intelligence linking Saddam Hussein and al-Qaeda. The group was linked to the controversial Office of Special Plans. The outfit, which became the focus of congressional investigations into pre-war intelligence, has been accused of providing some of the most unreliable and inflammatory intelligence during the lead up to the 2003 invasion in Iraq. In one briefing, the group misleadingly alleged that that there was "more than a decade of numerous contacts" between Iraq and al-Qaeda as well as "multiple areas of cooperation" that might have included the 9/11 attacks.[5] For his part, Carney has been less than sanguine about investigations of the unit, telling the New York Times in 2006: "Let's win the war first, then maybe look at how we got into it. The more energy spent on answering congressional investigations, the less time will be spent on winning the war."[6]
When asked about his experience working for the group, where he worked from 2002 to 2004, Carney told the New Yorker's Jane Meyer: "I was looking at terrorist links between Al Qaeda and state sponsors of terrorism, including Iraq. On a scale of zero to ten, where zero would be none and ten would be operational control, [the ties between Saddam and al-Qaida] were about a two and a half. Saddam had links to every terrorist group in the region. I still think there were links to al-Qaida."[7] Similarly, in an interview with the New York Times, Carney said: "It was a relationship of keeping your friends close and your enemies closer. Saddam was a savvy guy, and I think he wanted to make sure that if Al Qaeda someday became a force, that he wanted to keep his options open. I thought that there was a relationship. Whether it was strong enough to go to war, that's the president's decision."[8]
This view, however, stands in stark contrast to the conclusions of the Central Intelligence Agency as well as the Senate Select Committee on Intelligence, which found that Saddam avoided contact with al-Qaeda. Carney has remained unfazed and has criticized the CIA for its analysis. He told the Los Angeles Times: "I found it kind of curious the way they [the CIA] were so equivocal in the analysis. It was frustrating to me and others with all the caveating that was going on."[9]
Carney claims that his experience working for the counterintelligence group curbed his enthusiasm for the Iraq War—or at least for the way it was fought. Unlike many other ostensibly antiwar Democrats, Carney remained supportive of continuing the fight in Iraq, saying in 2006: "We can't leave behind a mess; we have to focus on training Iraqi forces, who can then train other Iraqis."[10] However, like many neoconservatives—including Perle and Kenneth Adelman—Carney became upset with how the war was planned and shifted blame to the Pentagon leadership, including former Defense Secretary Donald Rumsfeld, for ignoring signs before the war that Saddam planned to fight back insurgent-style. Carney said: "There was a lot of intelligence pre-war saying that Saddam wasn't going to fight force-on-force, like in the Gulf War; it would be an insurgency." Regarding Rumsfeld, Carney said: "It bothered me when the secretary started calling the insurgency a bunch of dead-enders. The intel certainly didn't depict them as dead-enders."[11]
Carney told the New York Times that he is "probably to the right" of most House Democrats, a fact borne out by many of the views he espoused. For example, Carney opposed strict regulation of the gun industry. On immigration reform, he focused largely on purported security issues, arguing that securing the border is a priority in the war on terror despite the fact that there is little or no evidence that terrorists seek to enter the country clandestinely. Carney supported a woman's right to an abortion only in cases of incest and rape or if the woman's life is endangered, according to Project Vote Smart's National Political Awareness Test, which quoted him as saying: "I'm a Roman Catholic father of five—I do not favor abortion. I favor adoption, responsible education, and access to comprehensive reproductive health care."[12]
In August 2011, the London-based BAE Systems—which according to one account was "the 12th-largest defense contractor in the United States [in 2010], with $1.66 billion in defense contracts"[13]—announced that it had tapped Carney to serve as its director of homeland security and policy strategy. The move, which appeared to bolster oft-heard criticism about the revolving door between Congress and corporations, raised questions about Carney's previous congressional experience helping BAE Systems to secure contracts in his Pennsylvania congressional district. When the National Journal asked BAE to comment on the hiring, a spokesperson for the company said: "He's not going to be a congressional lobbyist. He was brought on to interface and build relationships between our business sectors and the leadership of the relevant civilian agencies that they are going to work with, most notably the Department of Homeland Security."[14]
According to the National Journal, duringhis unsuccessful re-election bid against Republican Tom Marino in 2010, "Carney often touted his efforts to secure military contracts for BAE and Gentex, another defense contractor in his district. [In 2010], Carney obtained a $1.6 million earmark for BAE, for a 'Headborne Energy Analysis and Diagnostic System' to test the strength of combat helmets. Earlier in 2010, Carney helped push the Federal Prison Systems out of a contract to manufacture military helmets by publicizing flaws that led to a safety recall of 44,000 inmate-made helmets. Elimination of the prison contract increased the helmet market for BAE and other defense firms."[15]
Regarding Carney's career, the journal reported, "Carney, 52, was involved in defense and national-security issues both before and during his four years in Congress. As a Navy reservist, Carney did a stint in the Pentagon as an intelligence analyst shortly after the September 11, 2001, terrorist attacks; as a freshman member of the House in 2007, he was named chairman of the Homeland Security Committee's oversight subcommittee. And BAE has a plant in Jessup, Pa.—in Carney's former district—where military helmets and armor are made by about 220 workers."[16]