Christopher Burnham
last updated: November 29, 2012
Please note: The Militarist Monitor neither represents nor endorses any of the individuals or groups profiled on this site.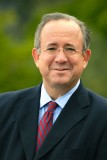 Affiliations
Mitt Romney 2012 Presidential Campaign: Foreign Policy Adviser
Government
United Nations: Undersecretary for Management (2005-2006)
U.S. State Department: Acting undersecretary for management (2005), assistant secretary of state for resource management and chief financial officer (2001-2005)
Treasurer of Connecticut: 1995-1997
Connecticut House of Representatives: Former legislator, minority leader

Education
Harvard University: MPA
Washington and Lee University: BA
Christopher Burnham is a former undersecretary of the United Nations who advised the 2012 Mitt Romney/Paul Ryan election campaign.[1] A Gulf War veteran, former acting undersecretary of state for management under Condoleezza Rice, and a chief financial officer for the State Department under Colin Powell, Burnham was appointed to his UN post by then-Secretary General Kofi Annan in 2005 to investigate corruption allegations in the UN procurement system.
According to his official UN biography, Burnham was the "senior most American in the United Nations Secretariat. He was tasked by Secretary-General Annan with overhauling the accountability and transparency of the United Nations. … Burnham [oversaw] the creation of a new UN Ethics Office, the adoption of new International Public Sector Accounting Standards, and he created and produced the first comprehensive consolidated annual report in the history of the United Nations. In addition, he drafted on behalf of the Secretary-General a new whistleblower protection policy which has received independent recognition as the 'gold standard' of such policies, and he led reform of new financial disclosure reporting by senior United Nations officials and staff."[2]
Speaking to Fox News about his work, Burnham suggested that corrupt practices at the United Nations could lead the United States to withhold its UN dues. "We have a Sword of Damocles hanging over us, and that Sword of Damocles is both to the reputation of the United Nations and to the fiscal integrity of the United Nations," he said. "We have the United States, joined by other countries now, that have said that unless the United Nations moves forward, unless we become accountable, transparent and ethical that this has the potential to impact the amount of money paid in dues to the United Nations."[3] The U.S. House ultimately did vote, over the objections of the Bush administration, to withhold U.S. dues from the United States, though many observers thought this had less to do with alleged corruption at the UN than a general perception among Republicans that the United Nations was insufficiently supportive of U.S. interests.[4]
In 2006, Burnham left the United Nations to take a post at Deutsche Bank, which bills itself as "a leading global investment bank with a strong and profitable private clients franchise."[5]