Jackson Diehl
last updated: April 9, 2013
Please note: The Militarist Monitor neither represents nor endorses any of the individuals or groups profiled on this site.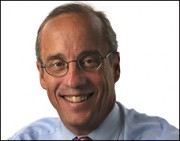 Affiliations
Washington Post: Deputy Editorial Page Editor (2001- ); former reporter, correspondent, newsroom management (1978-2001)

Education
Jackson Diehl is the deputy editor of the Washington Post editorial page.[1] Diehl, who has been with the Post since 1978, has also worked as a metro reporter, a foreign correspondent, and a newsroom manager.[2] According to his Post bio, "Diehl was awarded the Inter-American Press Association Award for Interpretive Journalism in 1984 for his coverage of South America, and the Bob Considine Award of the Overseas Press Association in 1990 for his coverage of the 1989 revolution in Eastern Europe."[3]
Diehl's stint as the Post's deputy editorial page editor has coincided with what many observers consider to be a decidedly hawkish and conservative turn in the page's editorial stances.[4] Diehl's own writings—he publishes a regular column for the Post on foreign affairs—typically lean to the militarist right, leading one observer to characterize him as "the knee-jerk hawk at the Washington Post."[5] Among his common targets are leftist leaders in Latin America and the Middle East.[6]
The strategic disaster of the Iraq War did not change Diehl's attitude toward U.S. intervention abroad. In a column marking the tenth anniversary of the war, Diehl lamented that U.S. policymakers had learned the "wrong lessons" from Iraq and had become unnecessarily timid about intervening in Syria. "In the absence of U.S. intervention," he claimed, "Syria is looking like it could produce a much worse humanitarian disaster and a far more serious strategic reverse for the United States" than Iraq. "The tragedy of the post-Iraq logic embraced by President Obama is that it has ruled out not just George W. Bush-style invasions but also the more modest intervention used by the Clinton administration to prevent humanitarian catastrophes and protect U.S. interests in the 1990s."[7]
Diehl also takes a hardline view of the Israeli-Palestinian conflict, placing the blame for the stalled peace process solely on the Palestinians—or President Obama—and never Israel. He wrote in March 2011 that "Mahmoud Abbas has no interest in negotiating" with Israeli Prime Minister Benjamin Netanyahu, failing to note that Netanyahu's preconditions—including Palestinian recognition of Israel as a "Jewish state," despite its large Arab minority, before any negotiations could take place—were widely seen as an effort to kill peace talks before they begin. He added that the "hard part [for Netanyahu] will be managing Barack Obama" and claimed that Abbas "has repeatedly shrunk from committing himself to the painful concessions he knows would be needed for Palestinian statehood," never once noting what "painful concessions" Israel should make for peace.[8]
Responding to Obama's widely noted May 2011 Mideast-policy speech—during which the president reiterated the U.S. policy that the 1967 Israeli-Palestinian boundaries must serve as the basis for peace talks—Diehl eschewed neoconservative critiques of the speech by pointing out that U.S. policy had long featured the 1967 border as the basis of peace talks. However, he also wrote that Obama called for negotiations "that focus on territory and security while postponing the issues of sovereignty over Jerusalem and Palestinian refugees."[9]
Diehl also criticized Obama for going easy on Syria in his speech. Glossing over Obama's statement that Syria's Bashar al-Assad had "chosen the path of murder" in his response to the demonstrations there, Diehl wrote that Obama had given Assad "one more chance. Assad, he said, 'has a choice: He can lead that transition [to democracy] or get out of the way.' Plenty of Syrians will wonder why a dictator who has used tanks and artillery to gun down hundreds of unarmed civilians should still be regarded as the potential leader of a democratic reforms" [sic].[10]
In a May 2011 column, Diehl opposed Palestinian moves for recognition at the UN and bashed the idea of a unified Palestinian leadership, claiming that Mahmoud Abbas "blew up four years of U.S.-sponsored institution building [and] relative peace and growing prosperity in the West Bank" by reconciling with Hamas—a position that was widely shared by right-wing leaders in Israel and "pro-Israel" hawks in the United States, even as they also complained about the lack of a unified Palestinian leadership with which to negotiate.[11]
Diehl has also whitewashed Israeli settlement building in the West Bank, saying that Obama "sabotaged" Middle East peace talks by demanding Israel follow its international commitments and cease construction.[12]
Diehl, however, has expressed reservations regarding the viability of the Greater Israel project. For instance, according to one report, "At a recent [Washington Institute for Near East Policy] forum on potential maps for a peace deal, Washington Post columnist Jackson Diehl, a Middle East hawk, said Israeli annexation of Beit El is not realistic in a final peace deal: 'Beit El dominates the road between the two major Palestinian towns of Ramallah and Nablus. … This type of scenario is unacceptable to Palestinians.'"[13]
Before his death in early 2013, Venezuelan President Hugo Chavez was a common target of Diehl's writings. In September 2010, for example, Diehl cited archconservative Roger Noriega's controversial assertion that Venezuela and Iran were cooperating closely, possibly on nuclear activity.[14]
Diehl is frequently preoccupied with leftist leaders in Latin American. For instance, in March 2013, he accused "the leftist populist rulers of Venezuela, Ecuador and Nicaragua, who have spent the last few years gutting democratic institutions in their countries," of seeking "to punish the Inter-American Commission" by demanding a vote on the scope of its powers. Although Diehl accused leaders from the three countries of cracking down on opposition media, he failed to acknowledge that opposition media members in Venezuela in particular had participated in an attempted coup against the democratically elected leader Hugo Chavez.[15] Instead, Diehl accused Washington—which had backed the 2002 coup attempt against Chavez—of passively offering "empty statements about Washington's support for freedom of expression" while "one of the world's most robust human rights institutions twists in the wind."[16]