John Danilovich
last updated: December 3, 2012
Please note: The Militarist Monitor neither represents nor endorses any of the individuals or groups profiled on this site.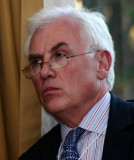 Affiliations
Mitt Romney 2012 Presidential Campaign: Foreign policy adviser
Council on Foreign Relations: Member
Yale University: Associate fellow
Knights of Malta: Member
Government
Millennium Challenge Corporation: CEO, 2005-2009
Ambassador to Brazil: 2004-2005
Ambassador to Costa Rica: 2001-2004
Panama Canal Commission: Board of Directors member, 1996-1996

Education
University of Southern California-London: MA
Stanford University: BA
John Danilovich is the former CEO of the Millennium Challenge Corporation (MCC) and a past U.S. ambassador to Costa Rica and Brazil. He served as a foreign policy adviser to Mitt Romney's 2012 presidential campaign.[1]
As the second head of the MCC, an independent foreign aid agency set up by the U.S. Congress in 2004, Danilovich has been outspoken about his views that countries receiving U.S. foreign assistance should enact political and economic reforms in return. "Reflecting American values of accountability and responsibility," he wrote for the Huffington Post in 2008, "MCC assistance is awarded only to countries that practice good governance, fight corruption, invest in their citizens' health and education, and support economic freedom. As a result, we see countries embrace reforms to qualify for MCC grants."[2]
Such conditional assistance is similar to the "structural adjustment programs" imposed by the World Bank and the International Monetary Fund on debtor countries—indeed, alongside other international and nonprofit institutions, the IMF and World Bank are key evaluators of the criteria countries must meet to qualify for MCC assistance. Institutions like Freedom House and the Heritage Foundation also provide assessments of political and economic conditions within candidate countries to help determine whether they qualify for MCC assistance.[3]
According to his biography at the Huffington Post, Danilovich is "a member of the Council on Foreign Relations, an Associate Fellow of Pierson College (Yale University), a Knight of Malta and the recipient of several national and international awards including the Choate Alumni Seal Prize."[4]