John Lehman
last updated: December 4, 2012
Please note: The Militarist Monitor neither represents nor endorses any of the individuals or groups profiled on this site.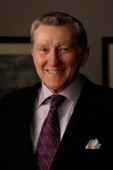 Affiliations
Center for Security Policy: Former Member, National Security Advisory Council
Foreign Policy Research Institute: Chair, Program on National Security; Board of Trustees Member; Former Vice President
Project for the New American Century: Signatory
Committee on the Present Danger: Former Member
Princess Grace Foundation USA: Chairman
OpSail Foundation: Director
University of Pennsylvania School of Engineering: Member of Board of Overseers
LaSalle College High School: Trustee
Heritage Foundation: Washington Policy Roundtable Meetings, Participant

Government
National Commission on Terrorist Attacks Upon the United States (9/11 Commission): Commissioner
Department of Defense: Secretary of the Navy (1981-1987); National Security Council, Special Counsel and Senior Staff Member to Kissinger (1969-1974)
Force Reductions Negotiations: Delegate (1974-1975)
Arms Control and Disarmament Agency: Deputy Director and Chief Operating Officer (1975-1977)
Naval Reserve: 25 Years

Business
J.F. Lehman and Company: Founding Partner, Managing Principal, and Chairman
OAO Technology Solutions: Chairman
Ball Corporation: Director (1987-Current)
Sperry Marine, Inc.: Former Chairman (1993-1996)
Insurance Services Office: Director
SDI Inc.: Director
Elgar Inc.: Director
Racal Instruments, Inc.: Director
Paribas Affaires Industrielles: Advisory Board Member
EnerSys: Director
Paine Webber Inc.: Former Investment Banker
Abington Corporation: President (1977-1981)

Education
St. Joseph's University: B.S.
Cambridge University: B.A., M.A.
University of Pennsylvania: Ph.D.
John F. Lehman is a prominent advocate of militarist U.S. security policies whose private equity business—J.F. Lehman & Company—focuses its investments on industries that stand to gain from increased spending on military and defense.[1] The secretary of the navy under Ronald Reagan and a member of the 9/11 Commission, Lehman served as an adviser on defense issues to both the 2008 John McCain presidential campaign and the 2012 Mitt Romney campaign, both of which promoted interventionist U.S. defense platforms that adhered closely to the policy preferences of Lehman-backed neoconservative groups.[2]
Lehman's support for militarist U.S. foreign policies dates back to the 1970s, when he was a member of the 1970s incarnation of the Committee on the Present Danger (CPD), a hardline anticommunist group that worked to turn back the politics of détente with the Soviet Union. After the 9/11 attacks, Lehman joined a group of neoconservative ideologues in signing the Project for the New American Century's September 20, 2001, letter to President George W. Bush, which notoriously argued that "even if evidence does not link Iraq directly to the attack, any strategy aiming at the eradication of terrorism and its sponsors must include a determined effort to remove Saddam Hussein from power in Iraq. Failure to undertake such an effort will constitute an early and perhaps decisive surrender in the war on international terrorism."[3]
According to the J.F. Lehman & Company's "philosophy": "J.F. Lehman & Company pursues an exclusive and consistent focus on investing in companies in the defense, aerospace and maritime industries and the technologies that originate from them. J.F. Lehman's unique relationships and specialized knowledge enable the firm to effectively address these markets. The firm focuses on the U.S. and U.K. defense markets, which are joined by close strategic and cultural alliances and are well known to the principals. These sizeable markets are further augmented by J.F. Lehman's ability to address companies whose defense-based technologies have attractive commercial applications."[4]
2012 Romney Surrogate
As a surrogate for the 2012 Romney campaign, Lehman was accused of "derailing" Romney's message on foreign policy by trying to raise the specter of a "Soviet" threat to America. During a conference call with reporters in late April 2012, Lehman argued that Obama was "withdrawing from leading the free world in maintaining stability around the world." To support this claim, he said: "We're seeing the Soviets pushing into the Arctic with no response from us. In fact, the only response is to announce the early retirement of the last remaining icebreaker."[5] This Cold War-era discourse was detected in Romney's own statements. During a meeting with GOP officials in April 2012, Romney said that Obama had "entered into an agreement with the Soviets, excuse me, with Russia" in agreeing to a new START treaty limiting nuclear weapons arsenals.[6]
Commenting on the Romney campaign's fixation on a purported Russian "threat," Vice President Joe Biden said, "[Romney] acts like he thinks the Cold War's still on. I don't know where he's been."[7]
Lehman also attacked Obama for using a campaign ad to take credit for the decision to kill Osama bin Laden and imply that Romney would not have made the same decision. Shortly after the Obama campaign released the TV ad—called "One Chance"—in April 2012, Lehman and fellow Romney surrogate Frank Carlucci said in a campaign press release, "We are saddened to see the President of the United States politicize that event even reducing it to a campaign slogan. This is unbecoming of the Commander-in-Chief and it diminishes the credit that should rightfully go to our men and women fighting in the field."[8]
Commenting on the Romney campaign's response to the Obama commercial, NBC's David Gregory said during an interview with Romney adviser Ed Gillespie, "It's interesting, though, if you compare it to the president you worked for, President Bush, and some of the same sort of tactics that were used in a lot of people's eyes … using images from the World Trade Center. A lot of people see that as the very same thing. Is it not? Focusing on leadership moments of a president?"[9]
2008 McCain Surrogate
As an adviser to McCain on defense issues, Lehman frequently defended the senator's policies on Iraq and other national security issues. In a July 2008 interview with the National Journal, Lehman rejected the idea that McCain was a Cold War-era hardliner, saying, "This is a guy who has for 25 years been a major figure in the [annual] Munich national security conference, a guy who knows leaders of all political persuasions in Asia, in Europe, and in Africa. He has been very actively involved in helping to support private [relief groups], and he understands that one of the greatest payoffs we could have in dealing with Islamist fundamentalism is education assistance."[10]
On Iraq, Lehman said, "The senator believes strongly that we are succeeding in Iraq, and that this will enable us to steadily reduce operations. As the Iraqi government takes more and more responsibility, we'll be less directly involved, with lower and lower expenditures."[11]
Iraq and the "War on Terror"
Although a supporter of the 2003 invasion of Iraq, Lehman criticized the Bush administration's handling of the war, arguing that the United States needed to clarify its targets in the "war on terror." U.S conflicts post-9/11, Lehman argued, are not with terrorism in general, but with "violent Islamic fundamentalism." In March 2004, Lehman gave an address at the U.S. Naval Institute in which he argued that the United States was in a "religious war," an argument pushed by right-wing evangelicals and some other hardline proponents of the Bush administration's Mideast policies. He said: "We had failed to grasp, for a variety of reasons, the new phenomenon that had emerged in the world. This was not state-sponsored terrorism. This was religious war. This was the emergence of a transnational enemy driven by religious fervor and fanaticism. Our enemy is not terrorism. Our enemy is violent, Islamic fundamentalism."[12]
In an August 2006 Washington Post op-ed, Lehman complained that "war on terror" was a misleading label that had "muddled" Bush administration thinking. Lehman wrote: "The Bush administration continues to muddle a national understanding of the conflict we are in by calling it the 'war on terror.' This political correctness presumably seeks to avoid hurting the feelings of the Saudis and other Muslims, but it comes at high cost. This is not a war against terror any more than World War II was a war against kamikazes. We are at war with jihadists motivated by a violent ideology based on an extremist interpretation of the Islamic faith. This enemy is decentralized and geographically dispersed around the world. Its organizations range from a fully functioning state such as Iran to small groups of individuals in American cities."[13]
Lehman has argued that the United States is losing the war on three fronts: the home front, where the United States is vulnerable to a WMD attack by radical Islamists; the operational front, which includes attacking al Qaeda bases abroad; and a strategic-political front, where the United States is weakest because it has left itself vulnerable to other aggressors since it got bogged down in Iraq.[14] Iran, Somalia, Pakistan, Indonesia, Malaysia, Egypt, Algeria, Jordan, North Korea, and China—"Not one of these states believes that we can undertake any credible additional military operations while we are bogged down in Iraq," Lehman argued in a 2006 Washington Post editorial.[15]
According to Lehman, there is a growing threat from "homegrown" jihadists in the United States. Echoing neoconservative-aligned groups like Freedom House, which in a 2005 study argued that Saudi "hate ideology" had "invaded" U.S. mosques,[16] Lehman argued that, "The indoctrination and recruiting of jihadists from Indonesia, South Asia, and the Middle East are carried out through religious establishments that are supported overwhelmingly by the Saudi and Iranian governments. Even in the United States, some 80% of Islamic mosques and schools are closely aligned with the [fundamentalist] Wahhabist sect [of Islam] and heavily dependent on Saudi funding."[17] This allegation stands in stark contrast to studies undertaken by other groups, including the Institute for Social Policy and Understanding, which in a 2004 study of Detroit-area mosques found that only 6 percent of the city's mosque-attending population held ultra-conservative Wahabbist beliefs, and concluded that "the vast majority of American Muslims eschew extremist views."[18]
Despite his criticism of the Bush administration's chosen language regarding terrorism, as a Republican Party member of the National Commission on Terrorist Attacks Upon the United States (the 9/11 Commission), Lehman was a reliable supporter of administration aims in the war on terror. Lehman told NBC's Meet the Press on June 20, 2004, that the 9/11 Commission had documents captured in Iraq that "indicate that there is at least one officer of Saddam's Fedayeen, a lieutenant colonel, who was a very prominent member of al Qaeda."[19] Lehman's comments strengthened the administration's faulty claims of an Iraq-al-Qaeda connection; however, the CIA quickly dismissed the assertion, saying that the documents did not support Lehman's allegation.[20]
Early Track Record
Lehman's association with neoconservatism dates back to the 1970s, when he served on the board of the CPD, a hardline advocacy outfit that aimed to roll back the détente policies with the Soviet Union. Also at that time, Lehman served as president of the Abington Corporation, a lobbying firm that employed Richard Perle. Abington Corporation received subcontracts from large defense contractors such as Northrop Corporation, Boeing, and TRW.[21]
Lehman carried his interest in weapons production into the Reagan administration, where he served as secretary of the Navy. Lehman advocated an expansionist policy for the Navy, and he was a strong advocate of a more aggressive nuclear weapons policy. In 1982, as the nuclear freeze movement gained force, Lehman became a prominent critic of some religious figures for their implicit support of the freeze movement. During the same period, his brother, Christopher Lehman, also a conservative, served as an aide to National Security Adviser William P. Clark Jr.[22]
One of Lehman's best-known endeavors was trying to create a 600-ship Navy that would be deployed aggressively around the world. In fending off criticism of his plans, Lehman earned a reputation as an acerbic character. One analyst, describing the "abrasiveness" of the former secretary of the navy, wrote that Lehman "contemptuously dismissed critics of the navy build-up and carriers as 'systems analysts,' 'armchair strategists,' and 'detentists.'"[23]
Inan op-ed about Lehman's tenure under Reagan, the New York Times opined, "Mr. Lehman's certain achievements include his vigorous advocacy of competition among weapons suppliers, which helped reduce the prices of ships and airplanes. In scrapping the Navy Material Command, he abolished an entire layer of bureaucratic bloat…. Less admirable is the purpose and design of Mr. Lehman's new Navy. The Navy's prime roles are providing nuclear deterrence with missile submarines, diplomatic deterrence by showing the flag, and keeping sea lanes open in event of conventional war with the Soviet Union. But gunboat diplomacy doesn't require a large budget, and sea lane patrol doesn't require a large naval force. Worse, Mr. Lehman embraced the reckless concept of sending carriers to attack the Soviet mainland."[24]
Additional Policy Advocacy
Lehman has remained active in policy circles. He served as a member of the National Security Advisory Council of the Center for Security Policy,[25] a hardline policy group led by Frank Gaffney. He has also supported the work of the Foreign Policy Research Institute (FPRI)[26] and the conservative Heritage Foundation. In 2001, Lehman coedited the FPRI volume America the Vulnerable, which contended that "complacency" in the United States had helped make the country vulnerable to the 9/11 attacks. According to an FPRI promo about the book: "Some four years ago, FPRI's leadership became convinced that our national security was slowly but surely eroding under the impact of several trends, not least of which was complacency. In our view, emerging American vulnerabilities could and should be reduced without suffering another 'Pearl Harbor' to awaken us to our responsibilities. Tragically, on September 11, 2001 the United States was attacked in a latter-day version of Pearl Harbor. Suicidal terrorists exacted a horrific toll of civilians, both Americans and those of many other nations…. America now lives in a more dangerous time and we must improve our defenses across the board. America the Vulnerable contains suggestions to do just that." Other contributors to the volume included Donald Kagan, Eliot Cohen, Keith Payne, Henry Sokolski, and Andrew Bacevich.[27]
Lehman has supported the work of two purportedly centrist advocacy endeavors, the Partnership for a Secure America, an organization "dedicated to recreating the bipartisan center in American national security and foreign policy" whose members include many former Republican and Democratic officials[28]; and Securing America's Future Energy (SAFE), "an action-oriented, nonpartisan organization that aims to reduce America's dependence on oil, addressing business and technology, politics and advocacy, and public education and media."[29]
In fall 2007, SAFE drew media headlines when it sponsored a role-playing exercise, which according to the Washington Post was meant to test responses "to a scenario in which explosions disrupt a key pipeline that runs through Azerbaijan, unrest continues in Nigeria, and sour relations prompt a cut in output by Iran and Venezuela. Oil prices were said to hit $165 a barrel in the hypothetical scenario. A star-studded cast played the roles of Cabinet members and military chiefs: former Treasury secretary Robert E. Rubin, former deputy secretary of state Richard L. Armitage, author Daniel Yergin, retired Gen. John P. Abizaid, former Environmental Protection Agency administrator Carol Browner, former Navy secretary John F. Lehman and others." According to the Post, the exercise was meant to underscore SAFE's argument that the United States must reduce "dependence on oil for national security and economic reasons."[30]
Lehman's biography on his personal website describes a number of additional posts he has held in the public and private spheres: "John Lehman is Chairman of J.F.Lehman & Company, a private equity investment firm. He is also Chairman of OAO Technology Solutions, Director of Ball Corporation, Insurance Services Office, SDI Inc., Elgar Inc., and Racal Instruments, Inc. and a member of the Advisory Board of Paribas Affaires Industrielles. Dr. Lehman was formerly an investment banker with Paine Webber Inc. Prior to joining Paine Webber, he served for six years as Secretary of the Navy. He served 25 years in the naval reserve. He has served as staff member to Dr. Henry Kissinger on the National Security Council, as delegate to the Force Reductions Negotiations in Vienna and as Deputy Director of the U.S. Arms Control and Disarmament Agency. Dr. Lehman served as a member of the National Commission on Terrorist Attacks Upon the United States."[31]
Lehman's books include Command of the Seas (1989), Making War (1992), and On Seas of Glory (2001).