Lehrman, Lewis
last updated: April 20, 2011
Please note: The Militarist Monitor neither represents nor endorses any of the individuals or groups profiled on this site.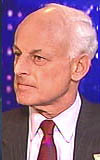 Affiliations
Project for the New American Century: Former Member, Board of Directors
Citizens for America: Co-Founder and Former President
American Enterprise Institute: Former Trustee
Heritage Foundation: Former Trustee
Lehrman Institute: Chairman of the Executive Committee
Lincoln and Soldiers Institute at Gettysburg College: Co-Founder
Manhattan Institute: Former Trustee
Morgan Library: Former Trustee
NAACP Legal Defense Fund: Former Trustee
University Council: Former Chairman, Yale University Committee on Humanities

Government
Republican and Conservative Party: Candidate for New York Governor, 1982
Gold Commission: Member, 1981

Business
L.E. Lehrman & Co.: Senior Partner
TheGoldStarndardNow.org: Chairman
Gerson Lehrman Group: Board of Directors (2)
Ten Squared Investment Fund: Founder (1)
Lehrman, Bell, Mueller, & Cannon (financial forecasting firm) (3)
Morgan Stanley Asset Management (Morgan Stanley & Co.): Managing Director and CEO, 1988-present; Senior Adviser and Director, 1987-1988
Arbusto Energy (George W. Bush's Texas oil business): Partner, 1979 (4)
Rite Aid: President, 1968-1977

Education
Yale University: B.A., 1960
Harvard University: M.A., Woodrow Wilson Fellow
Lewis Lehrman is an investment banker, one-time New York gubernatorial candidate, and former drugstore executive who has dabbled in conservative economic theory, U.S. history, and neoconservative philanthropy and activism. An executive at the Greenwich-based investment firm L. E. Lehrman & Co., Lehrman has supported a number of influential rightwing policy groups, having served as a trustee of the American Enterprise Institute, the Manhattan Institute, and the Heritage Foundation. [1]
Lehrman's advocacy experience also includes serving as a board member of the Project for a New American Century—a neoconservative pressure group founded by William Kristol and Robert Kagan that played a high-profile role pushing support for the invasion of Iraq after the 9/11 attacks—and co-founding Citizens for America, a group created in 1983 at the urging of President Ronald Reagan that supported his hardline anti-communist agenda. [2] According to the defunct GroupWatch project, CFA "worked closely with Oliver North in North's Contra supply efforts," organizing briefings by Contra speakers that targeted congressional offices and encouraged congressional members to vote for Contra aid. [3] CFA was also the principal U.S. sponsor of a 1985 meeting of anti-communist "freedom fighters" held in Angola. The conference was considered instrumental in pressuring the Reagan administration to authorize a $15 million aid package for UNITA in 1986. The conference also exerted pressure on the U.S. Congress and public to support the Nicaraguan Contras and the guerrillas in Afghanistan." [4]
According to a 1983 New York Timesarticle about the Citizens for America, "the organization, to be called Citizens for America, will try to influence Congress and public opinion on the conservative point of view. … [It] will be nonpartisan and not financed by the Republican Party. It aims to establish an office in every Congressional district in the country. Mr. Lehrman plans to contribute $50,000 of the projected $1 million annual budget." [5]
Lehrman has long advocated a return to the gold standard. "Right now, what we need is an institutional reform. We were created as a country of laws, not of men, and institutions have to be shaped so that we can make the dollar once again as good as gold," he said on CNBC's "Closing Bell" in March 2011. [6]
According to the website the Gold Standard Now, "Lewis E. Lehrman has written widely about economic and monetary policy. He has co-authored the book Money and the Coming World Order(1976) with renowned MIT Economist Charles Kindleberger and others. Lehrman has written about economics in publications such as Harper's, The Washington Post, the New York Times, the Wall Street Journal, Weekly Standard, Crisis, Policy Review and National Review. His writings about monetary economics earned him an appointment by President Ronald Reagan to the Presidential Gold Commission in 1981. Along with Congressman Ron Paul, Lewis Lehrman collaborated on a minority report of the commission, which was published as The Case for Gold (1982)." [7]
Lehrman founded the Lehrman Institute in 1972, an organization "dedicated to public policy, educational and historical research." [8] Its website claims, "The Lehrman Institute encourages the freedom and national independence the Founders so valued, for which they risked their lives and fortunes. "How soon we forget history," said America's first President. "Government is not reason. Government is not eloquence. It is force. And, like fire, it is a dangerous servant and a fearful master." [9] The Lehrman Institute has boasted a number of neoconservatives among its past writers and researchers, including Irving Kristol, Fouad Ajami, and Robert Tucker. [10]
Lehrman is also an amateur historian who has written extensively on President Abraham Lincoln. He is the author of the 2008 book Lincoln at Peoria: The Turning Point, which was glowingly reviewed by Harry Jaffa, a Claremont Institute scholar and well known student of Leo Strauss, who wrote: "[W]e are indebted to Lewis Lehrman for focusing our attention on what the angels have always known. … Now, Lehrman has given us in Lincoln at Peoriaa full-length treatment of the 1854 speech that marked Lincoln's initial confrontation with the fateful question of slavery expansion. … The subtitle of Lew Lehrman's book is The Turning Point. The Peoria speech was a turning point in Lincoln's life and career because it represented a turning point in the life of the nation. … Lincoln at Peoria is a salutary, forceful reminder of the future president's powerful entry into the political struggle that led into the Civil War." [11]
Lehrman has been involved in a number of historical scholarship initiatives. According to his bio on his website, "Mr. Lehrman co-founded the Lincoln & Soldiers Institute at Gettysburg College which annually awards the Lincoln Prize for the best work on the Lincoln era. There he has taught the Lincoln Senior Seminar. Lewis Lehrman and Richard Gilder established the Gilder Lehrman Center for the Study of Slavery, Resistance and Abolition at Yale University which awards the Frederick Douglass Prize. With Washington College and George Washington's Mount Vernon, they created the George Washington Book Prize. They built the Gilder Lehrman Collection of original historical manuscripts and documents to teach American History from primary sources (www.gilderlehrman.org). The collection is on deposit for public access at the New York Historical Society. The Gilder Lehrman Institute of American History has developed its teaching program for high schools and colleges throughout America and England (www.historynow.org). In November 2010, Messrs Gilder and Lehrman received the William E. Simon Prize for Lifetime Achievement in Social Entrepreneurship for their work promoting the study of American history through the Gilder Lehrman Institute of American History." [12]