Malcolm Wallop
last updated: April 16, 2011
Please note: The Militarist Monitor neither represents nor endorses any of the individuals or groups profiled on this site.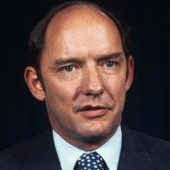 Affiliations
Frontiers of Freedom Institute: Founder and Chairman, 1995-present
Project for the New American Century: Statement on the Defense of Taiwan: Signatory, 1999
Steve Forbes Presidential Campaign: General Chairman, 1996

Government
Gingrich-Mitchell Congressional Task Force on the United Nations: Member, 2005
Commission to Assess United States National Security Space Management and Organization ("Rumsfeld Space Commission"): Commissioner, 2000-2001
U.S. Senate: Wyoming Senator, 1977-1995
Wyoming Senate: Senator, 1973-1976
Wyoming House of Representatives: Congressman, 1969-1972
U.S. Army: First Lieutenant. 1955-1957

Business
Hubbell, Inc.: Former Member of the Board
El Paso Energy Company: Former Member of the Board
Sheridan State Bank:Former Member of the Board
Western Strategy Group: Chairman

Education
Yale University: B.A., 1954
Former U.S. Sen. Malcolm Wallop (R-WY), a long-time promoter of controversial missile defense programs and other hawkish security policies, is the founder and chair of the advocacy group Frontiers of Freedom (FOF), whose mission is "to promote conservative public policy based on the principles of individual freedom, peace through strength, limited government, free enterprise, and traditional American values as found in the Constitution and the Declaration of Independence." [1]
Wallop served in the U.S. Senate from 1977 to 1994. During his tenure, he earned a reputation as a strident defense hawk and vocal opponent of arms control treaties. According to his bio on the FOF website, "In 1978, Senator Wallop was the first elected official to propose a space based missile defense system, a program that later became part of the Strategic Defense Initiative. … [T]hroughout the eighties Senator Wallop served on both the Senate Arms Control Observer group and the Committee on Security and Cooperation in Europe — also known as the Helsinki Commission. … He and Dr. Angelo Codevilla co-authored The Arms Control Delusion, a provocative critique of the arms control process which argued that arms agreements with the former Soviet Union only served to undermine America's military strength while reinforcing Soviet Strategic capacity." [2]
In 1999, Wallop was tapped to serve on the congressionally authorized Commission to Assess United States National Security Space Management and Organization, also known as the Rumsfeld Space Commission. Commission members and staff included a host of long-standing security hawks — many of whom were retired military offices or former government officials who had worked for Pentagon contractors — including chair Donald Rumsfeld, Ronald Fogleman, Charles Horner, David Jeremiah, Thomas Moorman, and Stephen Cambone. The commission concluded in its controversial January 2001 report that it is "possible to project power through and from space in response to events anywhere in the world. … Having this capability would give the United States a much stronger deterrent and, in a conflict, an extraordinary military advantage." According to Rumsfeld, the United States could not allow rival countries to gain an asymmetrical military advantage, so it needed to expand space operations — by force if necessary. [3]
In 2009, Wallop warned that proposed cuts in defense spending by the Obama administration could have dire consequences, particularly with respect to Iran and North Korea. Using a boxing analogy, he wrote: "Dismissing missile and nuclear tests as mere theater reflects genuine ignorance of world history or willful foreign policy naiveté. A boxer's right hook is just a gesture unless someone's chin happens to be in its path. The best insurance that such a gesture doesn't turn into an act of aggression is to keep a glove up — to fully fund the defensive systems that quiet our enemies' threats and make peace possible." [4]
Wallop is also well known for his advocacy of rightwing domestic policies. His FOF bio states, "Both in and out of public office, Senator Wallop has been an outspoken conservative commentator and activist, working on such issues as tax reform, federal deregulation, energy policy, private property rights, and national defense." [5]
Wallop has been affiliated with a number of rightwing and neoconservative advocacy groups. He was the Chung Ju-Yung Fellow for Policy Studies at the Heritage Foundation's Asian Studies Center, where he focused on U.S. trade and security policy toward Asia, with a special emphasis on the future of the Korean Peninsula. He also was a signatory to the Project for the New American Century 1999 "Statement on the Defense of Taiwan," which urged the Clinton administration to "make every effort to deter any form of Chinese intimidation of the Republic of China on Taiwan and declare unambiguously that it will come to Taiwan's defense in statement event of an attack or a blockade against Taiwan." Signatories to the letter — one of several advocacy letters issued by PNAC in an effort to push the U.S. in to adopt a more confrontational international posture — included Elliott Abrams, John Bolton, Norman Podhoretz, I. Lewis Libby, Arthur Waldron, Richard Perle, Robert Kagan, James Woolsey, and Paul Wolfowitz, as well as a number of well known militarist policy advocates.
In 1992, the hardline neoconservative group Center for Security Policy (CSP) gave Wallop its Keeper of the Flame Award, which purports to "recognize those individuals who have enhanced American security through their commitment to a strong military, the propagation of democracy and respect for individual rights throughout the world." CSP reasoned that Wallop was "without exception, the Senate's most formidable intellect on matters bearing on the common defense and foreign affairs. His keen mind, his capacity to retain and make devastating rhetorical use of relevant information and his tenacity in pursuit of what he believes to be right for the country have made him a towering figure in a Congress that is increasingly bereft of individuals with such qualities." [6]