J.D. Crouch
last updated: February 17, 2017
Please note: The Militarist Monitor neither represents nor endorses any of the individuals or groups profiled on this site.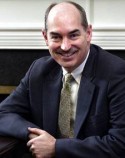 Affiliations
National Institute for Public Policy: Former senior fellow
Center for Security Policy: Former member, board of advisors
Southwest Missouri State University (now Missouri State University): Professor of defense and strategic studies, 1993-2001
Comparative Strategy: Former member, editorial board
Government
United Service Organizations (USO): CEO and President
Deputy National Security Adviser: 2005 – 2007
State Department: U.S. Ambassador to Romania, May 2004-January 2005
U.S. Department of Defense: Assistant secretary for international security policy, August 2001-October 2003
Christian County (MO) Sheriff's Office: Former reserve deputy sheriff
Multi-County Special Response Team: Member
Sen. Malcolm Wallop (R-WY): Military legislative assistant, 1986-1990
U.S. Arms Control and Disarmament Agency: Assistant director for strategic programs, 1984-1986
U.S. Delegation on Nuclear and Space Arms Talks with the Soviet Union: Adviser
Business
QinetiQ North America: Former CEO
PalmGear.com: Co-founder
Education
University of Southern California: BA, MA, PhD, International Relations
J.D. Crouch II is a former deputy national security adviser and assistant to President George W. Bush. Regarded as a protégé of Dick Cheney and Paul Wolfowitz,[1] Crouch was one of the Bush administration's staunchest foreign policy hawks. According to USA Today, his former West Wing office is said to have been "the nerve center for the Bush administration's" Iraq War review, a process that ultimately led to the 2007 U.S. "troop surge" in that country.[2]
In early 2017, after National Security Advisor Michael Flynn left the Donald Trump administration because of his controversial contacts with Russian officials, Crouch was considered a likely candidate for a high level post in the NSC if retired Vice Adm. Robert Harward was chosen to replace Flynn. The former Navy Seal Harward, however, turned down Trump's offer, reportedly because of limits in his ability to choose his own staff, remove Deputy National Security Adviser K.T. McFarland, and the lack of organization at the NSC.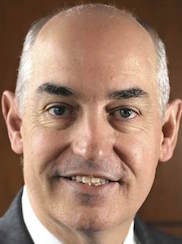 Crouch's experience includes stints in local government, business, and academia. In 2013, he was named CEO of QinetiQ North America, the Virginia-based arm of the UK-based defense firm QinetiQ, a post he held util 2014 when he became CEO and President of United Service Organizations (USO). Previously, according to his former State Department profile, Crouch worked as a reserve deputy sheriff in Christian County, Missouri; cofounded PalmGear.com, "the Internet's leading source of Palm OS software"; and served as a legislative assistant in the 1980s to the hawkish Sen. Malcolm Wallop (R-WY), an early proponent of a national missile defense system.[3] Immediately prior to his work in the Bush administration, Crouch was based at Southwest Missouri State University's Department of Defense and Strategic Studies, a key academic incubator of militarist security policies and home to a number of neoconservative ideologues.[4]
George W. Bush Administration
As the chief deputy to National Security Adviser Stephen Hadley, Crouch reportedly led the review team that produced the Bush administration's "surge" strategy in Iraq,[5] a role that won him praise from hardline hawks and neoconservatives. Said Frank Gaffney, director of the Center for Security Policy (CSP), in a 2006 press interview: "Knowing him as I do, I'm almost certain that he is exercising influence, and influence that is reinforcing the most robust policies and positions of this administration."[6] Crouch at one time served as a board member and national security adviser to CSP.
Crouch's position as deputy national security adviser was his third post in the Bush administration. Before serving as ambassador to Romania—his job before joining the staff of the national security adviser—Crouch was an assistant secretary of defense for international security policy.[7] In this role, Crouch served as a point person for Pentagon nuclear weapons programs. In announcing the release of the declassified version of the 2001 Nuclear Posture Review in January 2002, Crouch strongly hinted that the administration was considering developing a new generation of nuclear weapons: "We are trying to look at a number of initiatives," he said. "One would be to modify an existing weapon, to give it greater capability against hard and deeply buried targets."[8]
Crouch resigned from the Bush administration in 2007, just a few months after successfully pushing for the Iraq surge, praising the troop escalation as "the right thing to do, and I think history will bear that out." His departure was seen by some observers as a rebuke of Secretary of State Condoleezza Rice's decision to push diplomacy and dialogue with North Korea and Iran. Crouch denied these allegations, saying that he had "total confidence in [the president] and in his judgment on these things." He added: "The only bitterness … is that I can't stay here forever and work with this president."[9]
The resignation was regarded with chagrin by other erstwhile Bush administration hardliners, including former ambassador to the United Nations John Bolton, who told the Post: "It's a sad day because he had a very clear-eyed view of Iran and North Korea. He understands the nature of the threat. … He was a very steady voice for sensible policy, and now there will be one less voice in the administration."[10]
Post-Bush
After leaving the Bush administration, Crouch initially continued to work in the public policy arena. He accepted a fellowship at the hawkish National Institute for Public Policy—a think tank closely associated with military contractors—where Crouch coauthored a 2009 report for the "pro-Israel" Washington Institute for Near East Policy arguing that the United States should fund a robust Palestinian security force as a prelude to any peace agreement between Israel and the Palestinian Authority. Arguing that "American forces must be given legal permission to directly supervise training and operations of foreign police," Crouch and his coauthors wrote in the Washington Post that "American efforts can forge a basis for security between Israelis and Palestinians by developing a professional Palestinian security system that would help inhibit Hamas in the West Bank and eventually allow the PA to reestablish its authority in Gaza."[11]
Some analysts critiqued this approach, arguing that it was aimed at stifling dissent in the Palestinian territories rather than building a durable framework for peace. "The important factor for these analysts," wrote Samer Araabi for Right Web, "is not the establishment of a Palestinian state as such — which would of necessity include broad social provisions, checks and balances, transparency and accountability, and systems of representation and legitimacy—but rather the building of a highly capable internal Palestinian security apparatus that is capable of forcingthe population to accept whatever peace agreement their government makes on their behalf."[12]
Crouch also remained an active proponent of developing U.S. "missile defense" installations in Europe, which he advocated installing over Russian objections that they were aimed at neutralizing Moscow's nuclear deterrent. In a 2008 Washington Post op-ed coauthored with Robert Joseph, Crouch attempted to paint the issue as necessary to ensure U.S.-Russian cooperation in the future, despite Russia's strident opposition to the proposal. "On missile defense," they wrote, "the United States must move forward, just as Russia does when its vital interests are at stake. … Waiting for [Russia's] cooperation on missile defense will only delay us further and re-create the form, if not the substance, of our Cold War antagonism, while taking energy from opportunities to work together in areas vital to international security."[13]
In recent years, Crouch has appeared to step back from policy activism while concentrating on private sector work. In 2013, Crouch was named CEO of the military contractor QinetiQ North America after serving as president of the company's "Technology Solutions Group."[14]
Policy Advocacy
Before joining the Bush administration, Crouch worked alongside William Van Cleave at Southwest Missouri State University's Department of Defense and Strategic Studies, a key academic incubator of neoconservative ideas.[15] The department's faculty website reads like a who's who of influential hardliners. Faculty members have included: Keith Payne, founder of the National Institute for Public Policy; Henry Cooper, a former head of the Strategic Defense Initiative and founder of the pro-missile defense group High Frontier; William Graham, a former Reagan administration adviser whose record includes membership on Donald Rumsfeld's Commission on the Ballistic Missile Threat to the United Statesand executive of various defense contractors, including R&D Associates and Jaycor; Charles Kupperman, a former Lockheed executive and director of Empower America; and Ilan Berman, president of the hawkish American Foreign Policy Counciland a member of the neoconservative-led Committee on the Present Danger. Crouch has also been a longtime supporter of Gaffney's Center for Security Policy, one of the more outspoken and widely publicized hardline policy institutes in Washington.
Crouch has published widely on a number of issues, including both domestic and foreign policy. In a 1999 letter to the Washington Times, Crouch blamed the Columbine High School massacre on "30 years of liberal social policy that has put our children in day care, taken God out of the schools, taken Mom out of the house, and banished Dad as an authority figure from the family altogether."[16]
Crouch offered a succinct account of his political views in a 1995 commentary on the 1994 "Republican Revolution" in Congress for the journal On Principle, published by the conservative Ashbrook Center for Public Affairs. With Republicans in control of the congressional agenda, Crouch said they should push an ambitious policy program of welfare cuts for the poor, tax cuts for the wealthy, a robust military budget, loosened restrictions on gun ownership, the abolition of the Departments of Energy and Education, and term limits for legislators, among other suggestions. If Democrats opposed this agenda, Crouch warned, their party "could quite literally go the way of its once powerful 19th-century cousin, consigned to a long period of political ignominity through its support for the entrenched constituents of big government."[17]