Marshall Wittmann
last updated: January 14, 2013
Please note: The Militarist Monitor neither represents nor endorses any of the individuals or groups profiled on this site.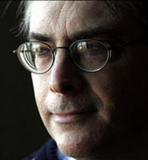 Affiliations
American Israel Public Affairs Committee: Spokesman
Progressive Policy Institute: Former Senior Fellow
Democratic Leadership Council: Former Senior Fellow
Heritage Foundation: Former Legislative Director
Christian Coalition: Former Legislative Director
Hudson Institute: Former Senior Fellow

Government
Office of Sen. Joseph Lieberman: Communications Director (2006-2012)
Office of Senator John McCain: Communications Director (2002-2004)

Education
University of Michigan: BA in Education, MA in Social Work
Marshall Wittmann, spokesperson for the American Israel Public Affairs Committee (AIPAC), is a political operative in Washington, D.C. who has long been associated with militarist and "pro-Israel" factions connected to both the Democratic and Republican Parties. His track record includes serving as a communications director for Sen. Joe Lieberman (I-CT) and Sen. John McCain (R-AZ), two of Congress's more outspoken defense policy hardliners; working with "liberal hawk" outfits like the Progressive Policy Institute (PPI) and the Democratic Leadership Council (DLC); and holding posts at various right-wing and neoconservative advocacy organizations, including the Hudson Institute and the Heritage Foundation.
A well-known figure in Washington media circles, Wittmann's apparently meandering political trajectory has at times been the subject of speculation. The New York Times once characterized him as "a Trotskyite turned Zionist turned Reaganite turned bipartisan irritant turned pretty much everything in between—including chief lobbyist for the Christian Coalition, the only Jew who has ever held that position."[1]
Wittmann was named as AIPAC's spokesperson in September 2012.[2] Since then, he has served as AIPAC's public face on a number of high-profile issues involving the powerful Israel lobbying group. In January 2012, for instance, Wittmann was tasked with explaining why the lobby would not oppose President Barak Obama's nomination of former Sen. Chuck Hagel (R-NE) to be his second-term defense secretary. Hagel, a Republican known for his bipartisanship on foreign policy and outspoken criticism of the Iraq War, was the subject of intense criticism from rightwing factions during his nomination. His track record of reproaching the undue influence of pro-Israel forces in Washington spurred some hardline "pro-Israel" personalities to accuse him of begin an anti-Semite. AIPAC, however, decided not to enter the debate, according to Wittmann, because it "does not take positions on presidential nominations."[3]
Explaining AIPAC's decision, Steve Rosen, a former lobbyist with the group, said: "AIPAC's perspective is that they need to work with the next defense secretary. They can't just look from a standpoint of how you feel about a nomination but also from the day after and how you learn to work with Hagel."[4]
Lieberman Adviser
In 2006, Sen. Joseph Lieberman, an outspoken neoconservative on U.S. foreign policy whose support for the George W. Bush administration's "war on terror" eventually cost him the support of many of his Democratic voters, named Wittmann as head of his communications team. In the farewell entry on the blog "Bull Moose," which was associated with the Democratic Leadership Council, Wittmann evoked the memory of Sen. Henry "Scoop" Jackson (the fervently anti-communist senator from Washington around whom the nascent neoconservative faction organized in the late 1970s) to commend the work of his new boss, Senator Lieberman. He wrote: "For now, the Moose bids adieu to his Mooseketeers. It's been a good run. The Moose has tremendously enjoyed musing, observing, and holding forth on the issues of the day. But, for the time being, this cervine creature will not be seen in cyberspace. The great and grand political development of the past year has been the triumph of Independent Democrat Senator Joe Lieberman. Joe has bravely revived the great tradition of Scoop Jackson that is so critically needed at this time of international challenge and crisis."[5]
During the 2006 primary campaign, in which Connecticut Democrats chose upstart candidate Ned Lamont over Lieberman, Wittmann criticized anti-Lieberman campaigners, calling them "nutroots" and "McGovernites with modems." He sardonically claimed on his blog that anti-war Democrats were forcing the party "back to the glory days of the early seventies. In their reflexive opposition to everything Bush, Democrats too often appear weak on fighting the war against jihadist terror."[6]
Just two years earlier, however, Wittmann himself was vociferously supporting the presidential campaign of Sen. John Kerry (D-MA). Wittmann argued: "Another four years of a Bush presidency would have a toxic effect on American politics. If George W. Bush is reelected, unlimited corporate power, cynicism, and division will ride high in the saddle." Writing for PPI's Blueprint Magazine just ahead of the 2004 elections, Wittmann seemed to think that a Kerry administration might push forward a "neoconservative center-right … politics of national greatness" that the Bush administration had purportedly abandoned. He wrote: "Although this new political perspective was never spelled out in specifics, its adherents (including me) envisioned an energetic federal government that would implement a foreign policy advancing American interests and human rights, along with a domestic policy that would promote national service, and an economics policy focused on benefiting the middle class."[7]
The Neoconservative Pattern
On the surface, Wittmann's has been a bewildering political trajectory. He has worked in the office of a Republican senator, but also at the "third way" Democratic think tank PPI. Wittmann was legislative director for the Christian Coalition and worked for the Heritage Foundation. Commenting on these seemingly contradictory jobs, the New York Times Mark Leibovich wrote about Wittmann: "In his peripatetic soul, he is a Washington Original, a man without a political country going to work for a senator without a political party.[8]
Wittmann told Leibovich: "I think I'm the only person who has worked for both Cesar Chavez and Linda Chavez… I think I'm the only person who's worked for both Ralph Reed and [former aide to President Clinton] Bruce Reed."[9]
So why did Wittmann jump the aisle? As he tells it: "The realization that the religious right had essentially become a front for the money men of the Republican Party was a primary source of my disenchantment with that movement. And without a doubt, the GOP has merely become a vehicle for unbridled corporate power. Such a party cannot provide a home for a movement that strives for national greatness."[10]
Though there are obvious differences, the pattern of his ideological trajectory is similar to that of many neoconservatives. The attachment to rightist Christians, the effort to push Democrats to adopt hardline foreign policies, and a willingness to change parties have been hallmarks of the neoconservative political faction for decades, beginning in the mid-1970s, when many of the group's trailblazers (like Norman Podhoretz, Penn Kemble, and Joshua Muravchik) abandoned the Democratic Party.
However, while many of Wittmann's neoconservative brethren have remained closely identified with the Republican Party since the Reagan years, Wittmann has been decidedly agnostic when it comes to party politics. Witness his fierce loyalty to erstwhile boss Senator McCain, whom Wittmann once called the "modern champion of conservatives for national greatness." While stumping for Kerry in 2004, Wittmann highlighted efforts by Bush supporters to smear McCain during the 2000 Republican primary as "the first real glimpse behind the curtain of Bush World."[11]
He once wrote in Blueprint Magazine: "What the Bushies used against McCain was an unholy coalition of the two primary wings of the Republican Party—the Corporate Warriors and the Prayer Warriors. These unlikely allies united against McCain despite the fact that he had a strong pro-life record and a conservative congressional record. The alliance of Mammon and the religious right was consummated in opposition to McCain's support for campaign finance reform. The embodiment of this coalition was a key operative who implemented the anti-McCain assault in South Carolina—former Christian Coalition leader Ralph Reed, a Karl Rove crony who was also on the payroll of Enron. Reed had been my boss when I worked as legislative director of the Christian Coalition. Before the primaries, Reed warned me that he would implement an under-the-radar slime assault on McCain if he posed a threat to Bush—just what happened in South Carolina after Bush's loss to McCain in the New Hampshire primary."