Mitchell Reiss
last updated: October 22, 2014
Please note: The Militarist Monitor neither represents nor endorses any of the individuals or groups profiled on this site.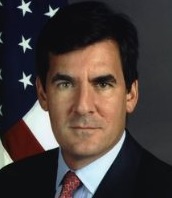 Affiliations
Mitt Romney 2012 Campaign: Advisor
Mitt Romney 2008 Campaign: Advisor
Washington College: Formerpresident
Center for a New American Security: Board of directors
Korean Peninsula Energy Development Organization: Former manager, general counsel
Woodrow Wilson Center: Former scholar
Center for Strategic and International Studies: Senior adviser
College of William and Mary: Former Vice-provost, Dean, and Professor
Colonial Williamsburg Foundation: President and CEO
Government
U.S. State Department: Director of policy planning (2003-2005), Special envoy to Northern Ireland peace process (2003-2007), Former consultant
Former Special Assistant to National Security Adviser (1988-1989)
Business
Covington & Burling: Former corporate lawyer
Education
Columbia University: JD
Oxford University: D.Phil
Tufts University: MA
Williams College: BA
Mitchell Reiss is a former senior U.S. diplomat who is a non-resident adviser at the Center for Strategic and International Studies and president of the Colonial Williamsburg Foundation in Virginia.[1] He held numerous positions during the George W. Bush presidency, including as director of policy planning at the State Department under Colin Powell and as special envoy to Northern Ireland peace process under Condoleezza Rice. He was also the first general counsel of the Korean Peninsula Energy Development Organization (KEDO), a multinational organization that provides energy resources to North Korea as a means of securing diplomatic leverage.[2]
On Iran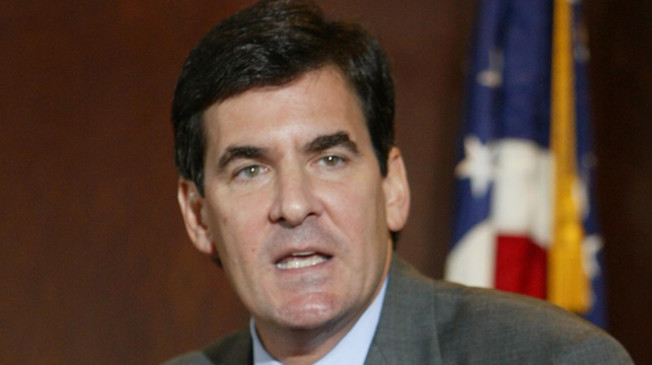 Reiss has been critical of the Obama administration's nuclear negotiations with Iran. In a 2014 Foreign Affairs op-ed written with fellow Iran-hawk Ray Takeyh, Reiss called for broadening the "scope of negotiations" with Iran to "include Iran's sponsorship of terrorism and its systemic violation of human rights."[3]
"It would be a grave error to allow the Islamic Republic to emerge from the negotiations with its nuclear ambitions intact, its terrorist activities undiminished, and its people denied their basic rights," Reiss and Takeyh argued.[4]
Graham Allison of Harvard's Belfer Center for Science and International Affairs and Gary Samore of the controversial group United against Nuclear Iran called Reiss and Takeyh's position on the Iran negotiations "mindless maximalism," arguing: "In negotiation theory's checklist of clues for failure, escalating demands beyond the realistic zone of agreement appears near the top."[5]
Previously, Reiss was part of a well-funded bipartisan effort among former elected officials and government officers to remove the Muhajedin-e Khalq (MEK), an Iranian opposition group that has violently opposed Iran's clerical regime in the past, from the U.S. State Department's list of proscribed terrorist organizations. The MEK was removed from the list in September 2012.[6]
"Our presence here today is a rebuke to those who oppose this cause," Reiss said while chairing an April 2012 panel discussion on the MEK. "We will not be intimidated, we will not be discouraged and we will not be silenced. … There really is no excuse for [Secretary of State Hillary Clinton's] delay in determining the status of MEK."[7]
Reiss's pro-MEK work put him in the company of Iran hardliners like Raymond Tanter, the Iran Policy Committee, and former New York Mayor Rudy Giuliani, as well as some moderate Democrats like former Pennsylvania Governor Ed Rendell and former Vermont Governor Howard Dean. It also puts him at loggerheads with some otherwise hawkish neoconservatives like Michael Rubin, who has attacked supporters of the MEK "terrorist group."[8]
Campaign Adviser
Reiss advised both the 2008 and 2012 presidential campaigns of former Massachusetts Governor Mitt Romney.[9] Because of his support for targeted negotiations with groups like the Taliban,[10] Reiss was often characterized as one of the more moderate members of Romney's advisory term, helping offset the hardline edge provided by neoconservative advisers like Dan Senor.[11]
However, the Romney campaign openly disavowed Reiss' position on Afghanistan, with the candidate telling reporters, "The right course for America is not to negotiate with the Taliban when the Taliban are killing our soldiers. The right course is to recognize they're the enemy of the United States."[12] Ari Berman wrote at the Nation that the incident was characteristic of how "The hardliners on Romney's team have sidelined moderates like Mitchell Reiss."[13]
Professional Experience
Reiss has served as a senior associate of the security program at the hawkish Center for Strategic and International Studies,[14] as well as on the board of directors of the "liberal hawk" Center for a New American Security.[15] Reiss was also the president of Washington College in Maryland from 2010 to June 2014. He formerly taught and served as a vice-provost and dean of international affairs at the College of William and Mary.[16] He is the author of the 2010 book Negotiating with Evil: When to Talk to Terrorists, which makes a qualified case for U.S. diplomatic engagement with international terrorist organizations.