Nick Schulz
last updated: May 6, 2011
Please note: The Militarist Monitor neither represents nor endorses any of the individuals or groups profiled on this site.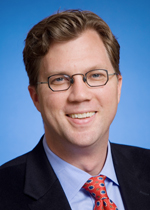 Affiliations
American Enterprise Institute: Fellow (2006- )
Forbes.com: Columnist (2010- )
TCS Daily: Editor (2002-2006)
Foxnews.com: Political editor (2000-2002)
New River Media: Producer (1997-2000)
Empower America: Policy analyst (1994-1997)

Education
Vanderbilt University: BA, Philosophy
Nick Schulz is the DeWitt Wallace Fellow at the neoconservative American Enterprise Institute (AEI), where he serves as editor of AEI's in-house magazine The American, and a columnist for Forbes.com. [1] Schulz has also worked as an editor at Foxnews.com; served as a policy analyst for the now-defunct Empower America, a right-wing pressure group founded by William Bennett; and was editor of TCS Daily (formerly Tech Central Station), an online magazine that is hosted by Ideas in Action. [2]
According to his AEI bio, "Nick Schulz is the editor-in-chief of American.com, AEI's online journal of ideas focusing on business, economics, and public affairs. In 2006, he helped launch the site and has written its "Techno-Ideas" column. Prior to joining American.com, he was the editor-in-chief of the web-based TCS Daily and the politics editor of FoxNews.com. He was an award-winning television producer with the PBS series Think Tank. He has also been published widely in newspapers and magazines around the country, including the Washington Post, the Wall Street Journal, the Los Angeles Times, USA Today, and Slate." [3]
Schulz's writings, which are regularly published on Forbes.com, generally focus on U.S. domestic policy, particularly economics and business. A proponent of tax breaks and free market reforms, Schulz has attacked a number of President Barack Obama's policies, including "ObamaCare," which according to Schulz will doom innovation and discourage "entrepreneurial business models in medical care." [4]
In 2008, Schulz was a featured speaker at a Hudson Institute panel discussing Ben Wattenberg's book Fighting Words: A Tale of How Liberals Created Neo-Conservatism(St. Martins Press, 2008). Schulz's presentation focused on purported confusion over the meaning of the word "neoconservative." Broaching the notion that neoconservatism is often connected to right-wing "pro-Israel" advocacy, Schulz argued that "in the wake of the second Iraq war… [the word] is hurled by critics to mean something Jewish and belligerent, putting Israeli interests over American interests." He added: "Timemagazine's Joe Klein has been making accusations that supporters of an aggressive response to Iran's nuclear ambitions have dual loyalties to the US and to Israel. These are neocons, he says. Indeed I must confess I don't entirely know exactly what neocon is supposed to mean anymore. I consider myself something of a neocon even though I'm Catholic (so I've been accused of having divided loyalties—but to Rome, not to Jerusalem or Tel Aviv). I have never been to Israel. But I do think Iran is a serious problem so if that's what it means to be a neocon today, I guess I'm one, too." [5]
In an August 2010 USA Todayop-ed, Schulz waded into the "Ground Zero Mosque" debate, arguing that "A large majority of the country has understandable reservations about placing an Islamic center so close to Ground Zero" and that President Obama's reaction to the controversy—including his impassioned speech the end of Ramadan calling for religious freedom—amounted to "political obtuseness" because all the president did was "put his fingerprints all over the place without resolving the problem." A real Chicago politico, Schulz argued, would have found a way to give the mayor of New York "incentive to engineer an impossible problem into yesterday's news, and the American people are spared an ugly and divisive debate." He concluded, "there are times when the politics of a given situation doesn't lend itself to a neat and tidy solution. And it's those times when Chicago-style politics could come in handy. The Ground Zero mosque is one of those times. Too bad Obama doesn't know how to practice it." [6]
Schulz is the coauthor with Arnold Kling of the 2009 book From Poverty to Prosperity: Intangible Assets, Hidden Liabilities and the Lasting Triumph over Scarcity(Encounter Books). Former Republican House Speaker Newt Gingrich said of the book, "This book is particularly timely given the current financial crisis. Kling and Schulz demonstrate why a costly, government-driven recovery attempt is unlikely to lead to sustainable growth and may even lead to greater losses in the future. By offering concise, easily understandable chapters that are supplemented with interviews with well-respected economists, Kling and Schulz provide a text that is comprehensive without being burdensome. From Poverty to Prosperitymakes a persuasive argument for limited government intervention in the free market, and empowering the individual." [7]