Norm Coleman
last updated: December 12, 2018
Please note: The Militarist Monitor neither represents nor endorses any of the individuals or groups profiled on this site.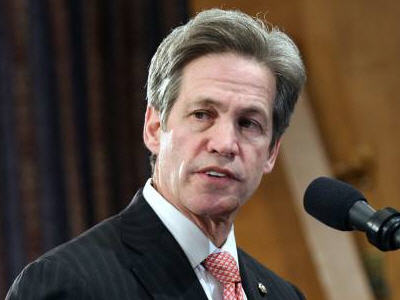 AFFILIATIONS
Republican Jewish Coalition: Chairman, Board member
Mitt Romney 2012 Presidential Campaign:Adviser
American Crossroads: Cofounder
American Action Network: Cofounder

BUSINESS
Hogan Lovells: Senior government adviser
GOVERNMENT
U.S. Senate (R-MN): 2003-2009
Mayor of St. Paul: 1994-2002
Norm Coleman is the national chairman of the Republican Jewish Coalition.[1] He is also senior counsel at the law firm, Hogan Lovells, where he advises clients on foreign affairs and related legislation.[2] He is also a registered lobbyist and adviser for the government of Saudi Arabia and the Georgian Oil and Gas Corporation.[3]
Coleman's efforts on behalf of the Saudis drew attention as U.S.-Saudi relations became strained in the wake of the murder of journalist Jamal Khashoggi and increased scrutiny on the Saudi-led bombing campaign in Yemen. Coleman described his work for the Saudis in an interview with a Minneapolis television news show.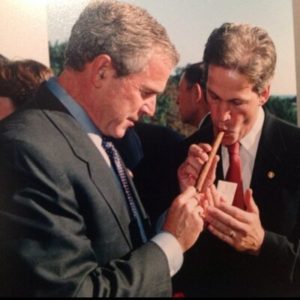 "I'm not advising the royal family but I am working with members of Congress to make sure that Iran is held accountable, make sure Iran isn't able to do the things they do in the region. The Saudis have a big interest in that. I have an interest in that. I have an interest, by the way, independent of whatever I do with the Saudis. I'm the national chairman of the Republican Jewish Coalition, the safety and security of the United States and of Israel, I think it's tied together."[4]
Journalist Eli Clifton speculated that Coleman's work in the House of Representatives may have been a key factor in House GOP leaders—notably, Speaker of the House Paul Ryan (R-WI)—quashing a vote on whether to continue U.S. support for the Saudi war in Yemen. "The House GOP's decision to go to the mat for the House of Saud might be partially explained by the fact that a longtime lobbyist for Saudi Arabia sits in a position to control a significant portion of the party's campaign-related spending," opined Clifton, referring to Coleman.[5]
In 2003, Coleman was elected to the U.S. Senate representing Minnesota. He served one term before being defeated in 2008 by Democrat Sen. Al Franken. He later advised Mitt Romney's 2012 presidential campaign.
Coleman has been a longtime opponent of diplomacy with Iran. In a triumphalist op-ed written after President Donald Trump announced that the United States was leaving the Iran nuclear agreement, Coleman wrote, "So, where does the end of U.S. participation in the JCPOA leave us? Right where we should be, back in the driver's seat, in a position where we can engage with Iran and other world leaders to do what we should have done the first time: End Iran's nuclear weapons program."[6] He did not address the fact that the entire world, including members of Trump's own cabinet, thought that the deal was working.[7]
In May 2018, Coleman facilitated a meeting between leaders of Republican fundraising groups and Republican mega-donor Sheldon Adelson. At the meeting, which occurred just days before Trump's announcement that he would pull out of the Iran deal, Adelson agreed to donate $30 million to republican campaign funds, monies that were desperately needed to combat an expected surge in pro-Democratic voting in the November mid-terms.[8]The timing of the donation led some observers to conclude that it was motivated, at least in part, by Trump's decision, given Adelson's outspoken support for right-wing Israeli policies, especially opposition to the Iran deal.[9]
Coleman was also a passionate supporter of Trump's controversial decision to move the United States embassy in Israel from Tel Aviv to Jerusalem. Just after the ceremony marking the move, Coleman wrote, "As an America at this ceremony my heart filled with pride that our nation has lived up to the commitment Congress made in 1995 to recognize Jerusalem as the capital of Israel. … As a Jew, and as one who has fought for the existential right of Israel in a region where far too many of its neighbors seek its destruction, the emotion is difficult to describe. In many ways it feels like the birth of my own children."[10]
This combination of connections to big money and to many members of Congress makes Coleman a particularly influential lobbyist. "Norm Coleman sits at the hub of some of the House GOP's biggest sources of campaign spending. And Coleman isn't shy about saying what his Saudi employers are expecting from him," observed Clifton. "Coleman's control of Republican Party campaign purse strings positions him as a key influencer of Republican congressional action, or inaction, in curtailing the increasingly aggressive and reckless actions of Saudi Arabia."[11]
Republican Leadership
During Mitt Romney's 2012 presidential campaign, Coleman's portfolio as an adviser to the campaign primarily concerned Latin America and the Middle East.[12] However, he attracted notoriety for predicting that a "whole-cloth" repeal of the Obama administration's health care reform was unlikely, even under a Republican president. "With all due respect to Sen. Coleman," the Romney campaign was compelled to retort, "he's wrong. Gov. Romney can and will repeal Obamacare and is committed to doing so."[13]
Coleman was a willing surrogate for the Romney campaign on foreign policy issues. Appearing on CNN shortly after the May 2012 massacre of Syrian civilians by pro-regime militias at Houla, Coleman said that a Romney administration would take a more actively interventionist role in the conflict. "We should be arming those who are supporting the opposition," Coleman said, endorsing the approach of hawkish Senate leaders like Joe Lieberman and John McCain. "We're at a point where we're at today because of [Obama's] failure of leadership—whether it's been hiding behind Kofi Annan for two months or a lack of leadership for the last year and a half." Expressing impatience with the diplomatic process, Coleman implied his support for unilateral U.S. action on the conflict. "The bottom line is that Assad has to go," he said. "Right now we're playing 'Mother, may I?' in the UN, asking Russia and China for permission before we go forward. … President Romney would not be asking permission."[14]
A board member of the Republican Jewish Coalition,[15] a rightwing "pro-Israel" group whose donors include Sheldon Adelson, Coleman has echoed common Republican criticisms of President Obama's statements on Israel. "Israel's position has been undermined," he told the Weekly Standard in September 2011. "[Obama's] statement about going back to the pre-'67 borders, his statements focused on settlement issues that the problem is coming from Israel. Obama's approval ratings in Israel are in the single digit level for good reason, and by his acts, by his words, he has undermined a confidence that Israel has in the support of what should be its strongest ally."[16] A poll released in December 2011, however, showed Obama with a 54-percent approval rating among Israeli Jews.[17]
In Government
Coleman had a hawkish record during his time in the Senate. "Norm Coleman was an early and unconditional supporter of the idea of war in Iraq to remove Saddam Hussein," reported the nonpartisan MinnPost in 2008. "After four years of toeing the pro-Bush, pro-war line, he wobbled slightly in early 2007[18] by doubting the wisdom of the surge. He has since recanted those doubts, thinks the war is going well and takes basically the same position on current matters as John McCain and President Bush."[19]
Coleman also espoused a hawkish line on Iran, cosponsoring in 2007 a "sense of the Senate" resolution urging the United States to "combat, contain, and roll back" Iran's "violent activities and destabilizing influence inside Iraq," including through the employment of "military instruments."[20] The resolution also urged that the State Department classify Iran's Revolution Guards as a foreign terrorist organization. That same year, Coleman—then the ranking Republican on the Senate Foreign Relations Committee—told the Jerusalem Post that the United States would support an Israeli attack on Iran. "If action is going to be taken," he said, "it's not going to be Israel alone."[21]
A former Democratic mayor of St. Paul, Coleman became a Republican in 1996 as his relationship with the state Democratic Party soured. In 2002, at the urging of the George W. Bush administration, Coleman challenged Democratic Sen. Paul Wellstone, a national liberal icon and Iraq war opponent who was killed in a plane crash days before the election. Coleman went on to defeat replacement candidate Walter Mondale but narrowly lost his 2008 bid for election to comedian Al Franken. After leaving office, Coleman founded the American Action Network, a conservative advocacy organization with ties to Karl Rove's American Crossroads.[22]
[1] JTA, "Norm Coleman Named New Republican Jewish Coalition Chairman," Haaretz, February 25, 2017, https://www.haaretz.com/us-news/norm-coleman-named-new-rjc-chairman-1.5441842
[2] "Norm Coleman," Hogan Lovells, https://www.hoganlovells.com/en/norm-coleman
[3] Short form registration Pursuant to the Foreign Agents Registration Act of 1938 , U.S. Department of Justice, November 3, 2017, https://www.fara.gov/docs/2244-Short-Form-20171103-80.pdf
[4] VIDEO: "Norm Coleman Looks To The Future," CBS Minnesota, November 13, 2018, https://minnesota.cbslocal.com/video/3977552-web-extra-norm-coleman-looks-to-the-future/
[5] Eli Clifton, "GOP Purse Strings Held By Saudi Lobbyist," Lobelog, December 10, 2018, https://lobelog.com/gop-purse-strings-held-by-saudi-lobbyist/
[6] Norm Coleman, "Obama's Iran deal is finally where it should be — dead," The Hill, May 11, 2018, http://thehill.com/opinion/white-house/387253-obamas-iran-deal-is-finally-where-it-should-be-dead
[7] Jessica Schulberg and Nick Robins-Early, "Trump To Violate Iran Nuclear Deal, Vows To Reimpose Sanctions," May 9, 2018, https://www.huffingtonpost.com/entry/trump-iran-deal-sanctions_us_5aeca9d9e4b0c4f193226f92
[8] Jake Sherman and Alex Isenstadt, "Sheldon Adelson kicks in $30M to stop Democratic House takeover," Politico, May 10, 2018, https://www.politico.com/story/2018/05/10/adelson-republicans-midterms-579436
[9] Jim Lobe and Eli Clifton, "Is GOP Mideast Policy "Bought And Paid For" By Likudist Republican Group?" Lobelog, May 14, 2018, https://lobelog.com/is-gop-mideast-policy-bought-and-paid-for-by-likudist-republican-group/
[10] Norm  Coleman, "For Israel, today is one of real miracles," The Hill, May 15, 2018, http://thehill.com/opinion/international/387768-for-israel-today-is-one-of-real-miracles
[11] Eli Clifton, "GOP Purse Strings Held By Saudi Lobbyist," Lobelog, December 10, 2018, https://lobelog.com/gop-purse-strings-held-by-saudi-lobbyist/
[12] Michael Warren, "Norm Coleman Advising Romney on Middle East, Latin America," Weekly Standard, September 21, 2011, http://www.weeklystandard.com/blogs/norm-coleman-advising-romney-campaign-foreign-policy_594030.html.
[13] Julia Pecquet, "Romney adviser Norm Coleman predicts GOP president won't repeal health law," The Hill, January 24, 2012, http://thehill.com/blogs/healthwatch/politics-elections/206077-romney-adviser-norm-coleman-predicts-republican-president-wont-repeal-health-law.
[14] CNN, "Coleman: Syrian situation would be different if Romney was president," May 30, 2012, http://johnkingusa.blogs.cnn.com/2012/05/30/coleman-syrian-situation-would-be-different-if-romney-was-president/.
[15] Republican Jewish Coalition, Biographies, http://www.rjchq.org/About/bioslisting.aspx.
[16] Michael Warren, "Norm Coleman Advising Romney on Middle East, Latin America," Weekly Standard, September 21, 2011, http://www.weeklystandard.com/blogs/norm-coleman-advising-romney-campaign-foreign-policy_594030.html.
[17] Howard LaFranchi, "President Obama sees popularity boost in Israel," Christian Science Monitor, December 3, 2011, http://www.csmonitor.com/USA/Foreign-Policy/2011/1203/President-Obama-sees-popularity-boost-in-Israel.
[18] See CNN, "Key GOP senator opposes Bush's Iraq plan," January 22, 2007, http://articles.cnn.com/2007-01-22/politics/iraq.congress_1_key-gop-senator-iraqi-troops-deployment?_s=PM:POLITICS.
[19] Eric Black, "Coleman and Franken on Iraq: Everything you need to know," MinnPost, August 7, 2008, http://www.minnpost.com/eric-black-ink/2008/08/coleman-and-franken-iraq-everything-you-need-know.
[20] Library of Congress, S.AMDT.3017 Bill Summary, http://thomas.loc.gov/cgi-bin/bdquery/z?d110:SP3017:.
[21] Hilary Leila Krieger and Gil Hoffman, "US Senator Coleman: 'If action is going to be taken, it's not going to be Israel alone,'" Jerusalem Post, October 19, 2007, http://www.jpost.com/International/Article.aspx?id=78971.
[22] Jonathan Salant and Kristin Jensen, "`Shadow Parties' Share Leaders, Republican Roots In Congress Campaigns," Bloomberg, October 15, 2010, http://www.bloomberg.com/news/2010-10-15/-shadow-parties-share-leaders-republican-roots-to-fuel-campaign-spending.html.