Norman R. Augustine
last updated: July 12, 2012
Please note: The Militarist Monitor neither represents nor endorses any of the individuals or groups profiled on this site.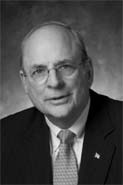 Affiliations
Bipartisan Policy Center: Board member
Center for a New American Security: Board member
American Security Project: Board Member
Center for Security Policy: Former Member, advisory council
Princeton University: Professor, Mechanical and Aerospace Engineering; Former Trustee
American Enterprise Institute's New Atlantic Initiative: Signatory
Business Executives for National Security: Task Force chair (2008-2009)
Rand's Transition 2001 Panel: Member
National Academies Philanthropy Council: Former Chairman
Johns Hopkins University: Former Trustee
Massachusetts Institute of Technology: Former Trustee
National Academy of Engineering: Former Chairman
American Red Cross: Former Chairman
American Institute of Aeronautics and Astronautics: Former President
Scoop Jackson Foundation for Military Medicine: Former Chairman
Council of Governors: Former Chairman
Boy Scouts of America: Former President
Council of Trustees of the Association of the United States Army: Former Chairman
Colonial Williamsburg Foundation: Former Trustee

Government
President's Council of Advisors on Science and Technology: Member
National Aeronautic and Space Administration: Advisory Committee Member
U.S. Department of Defense: Former Under Secretary of the Army (1975-1977)
U.S. Department of Defense: Former Assistant Director of Defense Research and Engineering
Defense Science Board: Former Chairman
Hart-Rudman Commission: Commissioner

Business
Myriant Corporation: Board of Directors
Lockheed Martin Corporation: Chairman, Executive Committee
Martin Marietta Corporation: Former Chairman and CEO
Black and Decker: Former Board Member
Procter and Gamble: Former Board Member
Phillips Petroleum: Former Board Member
LTV Missiles and Space Corporation: Former Vice President
U.S. Savings Bond Campaign: Former National Chairman

Education
Princeton University: B.S.E., M.S.E. in Aeronautical Engineering
Norman Augustine is a former undersecretary of the U.S. Army whose résumé includes heading one the largest U.S. defense contractors, Lockheed Martin, holding a professorship in engineering at Princeton University, and supporting the work of a passel of pressure groups and think thanks that have promoted militarist U.S. defense policies. Augustine has also advised Congress and the executive branch on a host of economic and foreign policy issues, including promoting government investment in alternative energy[1] and encouraging the adoption of "free-market" strategies for boosting America's defense industrial base.[2]
A 2011 U.S. Senate testimony report highlighted several aspects of Augustine's public and private record: "Augustine is a former member of the Board of Directors of ConocoPhillips, Black & Decker, Proctor & Gamble and Lockheed Martin, and of the Board of Trustees of Colonial Williamsburg. He is a Regent of the University System of Maryland, Trustee Emeritus of Johns Hopkins and a former member of the Board of Trustees of MIT and Princeton, his alma mater. He was a member of the Hart/Rudman Commission on National Security, and has served for 16 years on the President's Council of Advisors on Science and Technology."[3]
In November 2011, Augustine was elected to serve on the board of directors of Myriant Corporation, "an industrial biotech company focused on production of bio-based chemicals that substitute for petroleum-based chemicals." Commenting on his election, Augustine said in a press release: "I very much look forward to working with the extraordinarily talented people at Myriant as they seek to help satisfy the need for environmentally-friendly means of producing widely-used chemicals. Advancements in science and technology in recent years have opened far-reaching opportunities not previously available for the production of chemicals."[4]
His public and private record notwithstanding, Augustine's career has also been notable for his longstanding support for numerous non-governmental groups that have promoted hawkish security policies that benefit the defense industry and dovetail with the ideological agendas of neoconservatives and other militarist political factions.
Augustine has served as an advisor to the hardline Center for Security Policy, led by Frank Gaffney, and has participated in initiatives organized by the neoconservative American Enterprise Institute. He has served on the board of the Center for a New American Security (CNAS)—a key promoter of controversial counterinsurgency strategies for conflicts in Iraq and Afghanistan—and spoken at various CNAS events, including a January 2010 panel entitled the "The Contested Commons: The Future of American Power in a Multipolar World." He has also served on the board of the Bipartisan Policy Center, which has used its bipartisan membership as a base for advocating ramping up U.S. military threats to Iran.[5]
Other groups Augustine has been involved with include the policy-oriented American Security Project (ASP) and the lobbying group Business Executives for National Security. ASP is a centrist organization that describes itself as "a non-profit, bipartisan public policy and research organization dedicated to fostering knowledge and understanding of a range of national security issues, promoting debate about the appropriate use of American power, and cultivating strategic responses to 21st century challenges."[6]
Founded in 1982 by Stanley Weiss, a former executive of a mining and chemicals company, Business Executives for National Security (BENS) aims to promote corporate involvement in helping the government do national security "faster, better, and cheaper."[7] In his capacity as chair of a BENS Task Force on Defense Acquisition Law and Oversight, Augustine provided testimony to a House Armed Services subcommittee in early 2010 on how to run defense acquisition as a business. Among the problems he cited in the current defense acquisition model were that government officials, not business people, run the process; poor coordination and communication among war fighters, technology experts, and financial experts; and faulty program execution that results, in part, from not having enough reserve funding to address contingencies.[8]
In 2009, Augustine chaired a blue-ribbon panel on the U.S. space program that pushed for substantial increases in the NASA budget. In early 2010, the Barack Obama administration decided against most of the recommendations, opting instead to cut back several programs and encourage commercial development of space.[9]
Augustine has been involved in both the aerospace industry and government advising for decades. According to his American Security Project biography, Augustine "joined the Douglas Aircraft Company in California where he worked as a Research Engineer, Program Manager and Chief Engineer. Beginning in 1965, he served in the Office of the Secretary of Defense as Assistant Director of Defense Research and Engineering. He joined LTV Missiles and Space Company in 1970, serving as Vice President, Advanced Programs and Marketing. In 1973 he returned to the government as Assistant Secretary of the Army and in 1975 became Under Secretary of the Army, and later Acting Secretary of the Army. Joining Martin Marietta Corporation in 1977 as Vice President of Technical Operations, he was elected as CEO in 1987 and chairman in 1988, having previously been President and COO. He served as president of Lockheed Martin Corporation upon the formation of that company in 1995, and became CEO later that year. He retired as chairman and CEO of Lockheed Martin in August 1997, at which time he became a Lecturer with the Rank of Professor on the faculty of Princeton University where he served until July 1999."[10]