Pierre Prosper
last updated: December 5, 2012
Please note: The Militarist Monitor neither represents nor endorses any of the individuals or groups profiled on this site.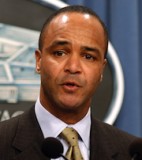 Affiliations
Mitt Romney 2012 Campaign:

Foreign policy adviser

Arent Fox:

Partner

Committee to End Racial Discrimination:

Member
Government
State Department:

Ambassador-at-large for war crimes, 2001-2005
Pierre Prosper is a Los Angeles-based lawyer who served as a foreign policy adviser to Mitt Romney's 2012 presidential campaign.[1] He previously served as the Bush administration's ambassador-at-large for war crimes, serving under Secretaries of State Colin Powell and Condoleezza Rice.[2]
Serving as a surrogate for Romney on an April 2012 conference call with reporters, Prosper drew some derision for criticizing the Obama administration's decision to "[abandon] missile-defense sites in Poland and Czechoslovakia," when the state of Czechoslovakia had dissolved in 1993, nearly 20 years previously. It was around the same time that John Lehman, another Romney surrogate, criticized the Obama administration's failure to act against "the Soviets pushing into the Arctic," leading a Talking Points Memo reporter to quip that the Romney campaign "seems mired in the 1980s."[3]
During Prosper's time at the State Department, word emerged of a mass slaughter of Taliban prisoners in Afghanistan by the U.S.-backed warlord Rashid Dostum in the early days after the American invasion. With estimates ranging from hundreds or even thousands of prisoners killed in captivity, the New York Times reported in 2009 that the incident "may have been the most significant mass killing in Afghanistan after the 2001 American-led invasion." Although Colin Powell assigned Prosper, the department's deputy on war crimes, to investigate the incident in 2002, no formal investigation ever occurred. "The first reaction of everybody [in the administration] was, 'Oh, this is a sensitive issue; this is a touchy issue politically,'" Prosper told the New York Times, hinting that Paul Wolfowitz and Zalmay Khalilzad, both Bush administration officials at the time, had discouraged an investigation because of Dostum's sway in Hamid Karzai's government. "Mr. Prosper said that because of the resistance from American and Afghan officials," reported the Times, "his office dropped its inquiry. The State Department mentioned the episode in its annual human rights report for 2002, but took no further action."[4]
After leaving the Bush administration, Prosper joined the prestigious law firm Arent Fox, where according to his firm biography, his "practice centers on international government relations and trade, mediation and internal assessments, and investigations on behalf of government entities and companies." His bio notes that he has represented the governments of Rwanda and Timor-L'este, among other clients.[5] In October 2011, Prosper successfully argued that Paul Kagame, the president of Rwanda, should be immune from a wrongful death suit filed by the widows of the former presidents of Rwanda and Burundi, who were killed in a 1994 incident that triggered the Rwandan genocide. The widows had alleged that Kagame's Tutsi militia had ordered their assassination.[6]
Prosper's legal work on behalf of Iranian-American prisoners in Iran has also drawn notice. He successfully secured the release in 2010 of Reza Taghavi, an Iranian-American businessman who was accused by the Iranian government of supporting an anti-regime group, and has also represented the family of Amir Mirzaei Hekmati, an ex-Marine sentenced to death for alleged anti-regime activities.[7]